"Hearing on the Hill" Provides Launching Pad
for Hearing Aid Assistance Tax Credit Act

Washington, DC––US Sen Norm Coleman (R, Minn) introduced the Hearing Aid Assistance Tax Credit Act (S 1060) on May 18 in conjunction with the Hearing Industries Association's (HIA) "Hearing on the Hill" event held May 17-18. The new bill was introduced with bipartisan support by Sens Tom Harkin (D, Iowa), Mark Dayton (D, Minn), Jon Corzine (D, NJ), Gordon Smith (R, Ore), and Olympia Snowe (R, Me) as original cosponsors, and was announced during Coleman's remarks at a luncheon meeting on Capitol Hill to kick off the 2005 "Hearing on the Hill" expo on hearing loss and treatment.
The Hearing Aid Assistance Tax Credit Act—which is identical to HR 3101 and S 2055 from the last session of Congress—would provide a tax credit up to $500 per hearing aid to individuals aged 55 and older and families with dependents to help older people and children better afford to treat their hearing loss. If enacted, the Act "will help millions of Americans enjoy something most of us just take for granted," said Coleman during the event. In noting the prevalence of hearing loss in America today, Coleman said that this bill will enable many of the 24 million individuals who currently are not able to afford hearing help to obtain a hearing aid to treat their hearing loss. He stressed that "the ability to hear should not be dependent on the size of a person's bank account." Coleman also commended the interest and dedication of the hearing care community to raising awareness of this issue, and noted that the continuing efforts and commitment of the hearing community would be essential to ensuring passage of S 1060. He urged everyone who supports the bill to "go back to your respective communities and talk to your legislators and give them the opportunity to do something that really is going to make a difference in many lives."
Sponsored by HIA, "Hearing on the Hill" was supported by the "Friends of Hearing Health," a large coalition of providers, consumers, and other national organizations interested in hearing care issues, including the American Academy of Audiology (AAA), American Speech Language Hearing Assn (ASHA), International Hearing Society (IHS), the Deaf and Hard of Hearing Alliance (DHHA), and Self Help for Hard of Hearing People (SHHH). During the event, over 50 Congressional staff members and visitors to the Cannon Caucus Room were able to get their hearing checked and view hearing aid technologies. Additionally, HIA members and event participants were busy during the day, meeting with Congressional members and staff to promote the hearing aid tax credit. As a result of this, and due to previous meetings with HIA members, Sen Mike Crapo (R, Idaho) and Reps Jim Ramstead (R, Minn), Frank Pallone (D, NJ), and Mark Green (R, Wis) also expressed interest in supporting the proposed legislation.
HR 414 is the companion bill to S 1060 (see Feb 2005 HR, p 76-78), introduced in the House of Representatives on January 26 by Rep Jim Ryun (R, Kan). This bill currently has 56 cosponsors. HIA Past-Chairman Jerry Ruzicka made a presentation announcing Coleman and Ryun as the "HIA 2005 Legislators of the Year" for their leadership and support to increase awareness about hearing health and for promoting a responsible solution to help address the problem of untreated hearing loss. In a brief address, Rep Carolyn McCarthy (D, NY), co-chair of the Congressional Hearing Health Caucus (CHHC) and original co-sponsor of HR 414, complimented the efforts of all in attendance who were working to promote hearing healthcare. The day also featured presentations from Patrick Holkins of SHHH, Gail Lim of the Pediatrix Medical Group, and Sergei Kochkin of the Better Hearing Institute (BHI). w
FCC Reaffirms Rules for HAC Digital Wireless Telephones
Washington, DC—The Federal Communications Commission (FCC) on June 9 reaffirmed the timetable for the development and sale of digital wireless telephones that are compatible with hearing aids, and also sought comment on whether additional rule changes are necessary to ensure that people with hearing loss have reasonable access to digital wireless technologies. The FCC originally adopted rules in 2003 to make digital wireless telephones compatible with hearing aids and cochlear implants. The recent affirmation of FCC rules represents a significant victory for the hearing industry and consumer groups who advocated for adherence to the Commission's regulations. (For detailed information of the FCC's regulations, see the August 2003 HR, p 12.)
Ruling on several petitions for reconsideration of its "2003 Hearing Aid Compatibility Order," the FCC reconsidered its earlier conclusion regarding the appropriate interim benchmark for the number of handset models that "Tier I" wireless carriers—meaning the five largest wireless carriers—must make available to consumers this year. The FCC determined that, by September 16, 2005, Tier I wireless carriers must (via air interface) either make four hearing aid-compatible (HAC) handset models available or ensure that 25% of their handset models are hearing aid-compatible. Likewise, by September 16, 2006, the Tier I wireless carriers must, per air interface, either make five HAC handset models available or ensure that 25% of their handset models are hearing aid-compatible. Additionally, the FCC did not alter the obligation for all wireless carriers to ensure that 50% of their handset models are compatible with hearing aids by February 18, 2008.
The FCC also recognized the commitment of the carriers to include hearing aid compatibility information on "call-out cards" as part of the handset display in retail stores, and the commitment to ensure that both low-end and high-end HAC handsets are available. The FCC concluded that the revised benchmark— along with these additional commitments— will facilitate consumers' ability to obtain phones that are suitable for their particular needs.
---
Lauritsen Appointed President of Oticon Inc
Somerset, NJ—Long-time industry leader Peer Lauritsen has been named president of Oticon's US operations, succeeding Mikael Worning who will return to the company's headquarters in Copenhagen to lead its international sales efforts. In his new position, Lauritsen will oversee the management of the company from the its Somerset, NJ, headquarters.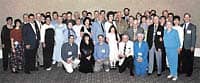 From left to right: Mikael Worning, Niels Jacobsen, and Peer Lauritsen.
As Oticon's former executive vice president, Lauritsen has been actively involved in the management of Oticon's US business for more than two decades—a time of tremendous growth that included the recent expansion of Oticon's state-of-the-art custom lab to meet increased demand for the company's diverse line of quality instruments. "In his more than 25-year tenure with Oticon, Peer has used his experience in engineering, marketing, and sales to effectively broaden the knowledge of dispensing concepts used by hearing care professionals today," says Oticon CEO Niels Jacobsen. "His understanding of operations, sales, and management—and his appreciation of Oticon's commitment to putting people first—will enable him to continue to make significant contributions to our company and our industry."
As the new vice president of international sales, Worning will join Jacobsen and Torben Lindo, general manager of Germany, in managing Oticon's international sales efforts. Worning will also continue his strong collaboration with Lauritsen to ensure Oticon's success in the US marketplace, according to the company.
---
Conestoga College to Offer 2-Year HIS Program
Kitchener, Ontario—A new Hearing Instrument Specialist (HIS) academic program begins its first classes in September at Conestoga College, Kitchener, Ontario. It will join three other non-audiology programs in Canada that train students in the testing of hearing, recommendation of hearing instruments, and subsequent fitting of those hearing aids.
The Conestoga program is positioned as a post-diploma certificate program; for admission, students must possess either a university degree or a college diploma. General college education classes are presumed as completed on the part of the student, so that all the courses in the HIS program can be specific to the profession, shortening the required length of study to 2 years. With the exception of summer practicum placements, all courses are offered in the evenings, so students can maintain full-time employment while studying.
Kitchener is home to three hearing industry manufacturers, and several other manufacturers have their Canadian offices in Mississauga, a neighboring city to Toronto, some 50 miles east of Kitchener. Applicants to the program are, for the most part, mature students who are already employed in professions hearing-related, such as hearing aid manufacturer sales managers, administrative assistants at private practices, etc.
Three other Canadian programs for non-audiologists include a 3-year full-time audioprothesiste program at Rosemont College in Montreal, a 3-year full-time HIS program at George Brown College in Toronto, and a distance-learning program at Grant MacEwan College in Edmonton Alberta.
For more information, click on Continuing Education at www.conestogac.on.ca , or contact Bill Jeffery at [email protected].
---
Mauldin Award Presented to Roeser & Fox

Ross Roeser and his wife, Sharon, share a moment following the ceremony.
Washington, DC––Beltone Electronics Corp, Chicago, awarded its annual Larry Mauldin Award to Ross Roeser, PhD, and Cydney Fox, MA, during a ceremony that was held to coincide with the American Academy of Audiology's annual convention in Washington, DC. Beltone President Todd Murray opened the ceremony by explaining that the award is dedicated to those who exemplify "the highest standards and commitment to the hearing care profession" and for pioneering new ideas and expanding the horizons of hearing care professionals.

Beltone President Todd Murray.
Roeser is the executive director of the University of Texas at Dallas/Callier Center for Communication Disorders. Roeser and UTD School of Behavioral and Brain Sciences Dean Bert Moore have assembled one of the world's most impressive audiology faculties in the form of a research center that concentrates on clinical, educational, and research issues in communication disorders (see article on UTD/Callier Center in the October 2002 edition of HR, p 26). Besides acting as a professor and director at UTD/Callier Center, Roeser's own research interests include the application of hearing instrument technology to improving communications skills. He has helped develop and evaluate tactile aids, cochlear implants, and hearing aids, and has worked to define and expand the role of audiologists in the United States. Roeser has authored many books and papers, including the classic text, Auditory Disorders in School Children, which he co-authored with Marion Downs. He was the first editor of Ear & Hearing, and also serves as the current editor-in-chief of the International Journal of Audiology, the combined journal of Audiology, the British Journal of Audiology, and Scandinavian Audiology. Roeser is a founding member of AAA and the American Auditory Society (where he served as executive secretary) and also served as president of the Better Hearing Institute (BHI) during much of the 1990s. His award was presented by past-Mauldin Award recipient Don Worthington, PhD.

Cydney Fox, director of audiology services at the Tracy Family Hearing Center in Los Angeles, receives the Larry Mauldin Award from Beltone's Steve Hannibal.
Cydney Fox is the director of audiology services at the Tracy Family Hearing Center at Orthopaedic Hospital, Los Angeles, and has been instrumental in many initiatives in the hearing health care field. She is a past-president of the California Academy of Audiology and was instrumental in founding the Larry Mauldin Award. Described as an outspoken advocate for audiological care, Fox has crafted a career based on great intelligence, skill, and caring for those who need hearing help. She was good friends with Larry Mauldin, and as Beltone's Steve Hannibal explained, Fox shares the same qualities of excellence for whom the award was named.