LICENSED FITTER/DISPENSER Pacific Norwest company is looking for an experienced Licensed fitter/dispenser to join our growing multiple office organization. Openings in Sequim, Washington. For consideration fax or mail resume to: Director of Operations: PO Box 1080 Centralia, WA 98531 Fax (360) 736-2652.
---
CERTIFIED AUDIOLOGIST Pacific Northwest company is looking for a Certified Audiologist for a growing retail/vestibular/multiple office organization with in house lab. Candidate must possess knowledge of ENG and ABR, have retail experience. Opening in the Bremerton/Silverdale/Sequim Washington area. For consideration fax or mail resume to: Director of Operations PO Box 1080 Centralia, WA 98531 Fax (360) 736-2652.
---
Regional Sales Manager
Unitron Hearing, Inc. a leader in the hearing health care market, is seeking audiologists with clinical experience looking for a new opportunity in sales. Individuals will service government accounts in either Eastern or Western U.S. Individuals must live near a major city and be willing to travel extensively. Qualified candidates will also possess the following:
Minimum 3 years clinical experience preferred
Bachelors Degree (Masters Degree preferred)
Strong interpersonal, organizational and presentation skills
Industry sales experience a plus
We offer a competitive salary plus commissions and comprehensive benefits package. If you're a dynamic and self-directed individual with the above qualifications, please send letter of introduction with resume and salary requirements to:
Unitron Hearing, Inc.
Attn: Michelle Smith, HR Manager
2300 Berkshire Lane North
Plymouth, MN 55441
[email protected]
Fax: 763-744-3501
---
DISPENSER/DISPENSING AUDIOLOGIST. Practice established on Long Island, New York in 1985, enjoys excellent reputation and patient retention. Possible buy-in for the right individual if interested. Come join our staff and 3 office locations. Call in confidence, William Kent, Sr., Long Island Hearing, Inc, 516 735-9191 or fax resume 516 735-9497.
---
Experienced, Dynamic Sales Professional Wanted! An exciting opportunity awaits highly motivated individuals who are proven sales producers in the hearing health field. SeboTek Hearing Systems, creators of the Innovative PAC style hearing aids is adding independent, disciplined professionals who are leaders, not followers, will be our leading candidates. SeboTek is a Biblically based, privately owned company. Send your resume electronically at [email protected] or fax to SeboTek at 918-836-0880, phone number 800-388-9041.
---
DISPENSING AUDIOLOGISTS/HEARING AID DISPENSERS
Costco is looking for experienced professionals in all states and Canada. We are aggressively expanding and want you to be a part of our growth. We offer excellent salary, benefits (entire family) and 401(K) plan. Costco discourages "pressure sales" while offering the latest in Digital Technology at affordable prices for our members. We provide a fully furnished office with Siemens computerized testing and programming equipment. Contact Ben @ 425-313-8299 or [email protected].
---
NOT ENOUGH BUSINESS? COME JOIN OUR TEAM! We are looking for dedicated and highly motivated individuals with a strong desire to "Do The Right Thing." If you are a Dispensing Audiologist or a Hearing Instrument Specialist and have an interest in becoming a key member of a growing company that offers a base salary, competitive commission, benefit package, training, license fees paid, CEU's, aggressive marketing, and continual support from the home office then we are the organization for you! We currently have several openings in Iowa, Missouri, Tennessee, North & South Carolina, Florida, Arizona, Nevada & Texas and are continually expanding. All inquiries are confidential. Call Kristy Nigh at National Hearing Centers, 1-877-869-4580 ext 101 or email: [email protected].
---
HELP WANTED in the ALBUQUERQUE, NEW MEXICO, FLORIDA AREA: Looking for experienced dispensing audiologist, licensed hearing aid specialists ft/pt positions excellent benefits for more info: contact Brett 904 545-9622 or Fax resume 904 358-1778.
---
FONIX 6500CX and FP40. Hearing aid analyzers with real ear. Demos and used. Frye distributor: Micro Sound Products. Call 1-800-390-6008 or cell 707 480-4543.
---
---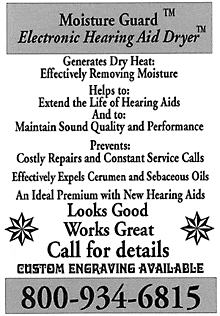 ---
Divorce forces sale of successful hearing aid practice in beautiful central coast California (San Luis Obispo). Five year established business with excellent reputation, profitability and client base – grosses $400k a year. Beautiful medical center with modern furnishings and equipment. Comfortably accommodates two dispensers. Turnkey operation with proven business plan. Alex (805) 541-2864.
---
Well established Hearing Aid Center (12 years) in growing Baltimore County Maryland with very large user and mailing list. Principals call 410-484-9300 or 410-486-8388, if no answer please leave name and phone number including area code to be called back.
---
OSHA 2003 COMPLIANT OCCUPATIONAL HEARING CONSERVATION SOFTWARE. 10% discount for educational and non-profit institutions. Tech Support and advice provided by Dr. Gardner (programmer, CAOHC Course Director, OHC business owner). Ask about our pay-as-you-profit plan. For sample reports, fee schedules, DEMO disk, testimonials, call 1-800-HEARS-2-U (1-800-432-7728) or email to [email protected]
---
OFFICE OF THE FUTURE laminated furniture. Complete HA office available. All you need to remodel or open a new office. Includes reception area and front office furniture and fixtures, fitting station, V.O. station, real ear workstations, computer workstations, audiometers, Hi-Pro boxes, wall charts, office supplies, software, etc. Call 760-941-5630.
---
Open House/Special Events
ENCORE, A TURNKEY OPEN HOUSE company, specializes in patient events for the professional hearing aid dispensing practice. Our professional Open House events allow you to compete more effectively, build your practice and substantially increase your bottom line. Encore virtually eliminates the work allowing you to devote 100% of your time to your practice or business. Our formula for success is simple. We combine a custom designed direct mailer with a state of the art call center, and provide experienced, credentialed and result driven professionals to staff your event. "To effectively compete in today's highly competitive environment, a professionally run Open House is a vitally important component of your over-all marketing plan, and it will greatly increase your profitability." Alan L. Lowell, BC-HS, ACA, President. Schedule your event with us today! Cal Encore Hearing Consultants at 800-583-3728 for complete details.
---
Prepare for NBC-HIS or STATE LICENSING Exam Recorded on-site our Professional Seminars revised in 2001 provide the latest up-dated information. Each program includes a complete set of study materials & sample exam(s). Trust your career to one of the most proven names in the profession. Since 1977, we have helped thousands of hearing healthcare professionals earn their credentials. State Licensing (audio cassette $225.00) (CD $245.00) (DVD $395.00); NBC-HIS (CD $225.00); Discounted Combo Price save 20%. To order please call Alan Lowell Seminars 800-749-4644 or write: 13131 Lakeshore Grove Dr., Wintergarden, FL 34787 Visa/MC/AMEX/Check ($8.00 S&H each program/shipped Priority Mail).
---
HEARING HEALTH INTERNATIONAL INSTITUTE, an ASHA provider, presents quality continuing education classes for hearing professionals in both the classroom (TX) and on the internet. Visit our web site at www.educationservice.net or call 800-770-8977 for more information.
---
Earn up to 16 CEU. We offer a comprehensive Office Repair Course and ongoing classes that will accommodate most schedules. Go to our website CLARITYHEARING.COM for an ONLINE BROCHURE, CLARITY HEARING INSTRUMENTS is a Maine based Manufacturer of finely handcrafted hearing instruments. CALL NOW to schedule a class. 207-236-3213; 800-328-3213; or email [email protected]. ONGOING CLASSES AVAILABLE.
---
RESULTGROUP CAN REDUCE YOUR COSTS AND ENHANCE YOUR PRODUCTIVITY. Web based occupational hearing, spirometry, lab, and screening software provided via hosted application. No startup charges. Use any computer with Web access. Flexible configuration, free trial, excellent tech. support. For overview visit: www.resultgroup.com or call ResultGroup, Inc. 865-680-6331, email: [email protected]
---
Antique Hearing Aid Collection Starting from 1940, vacuum tube & transistor body aids, eyeglass temple, BTE, Shell & canal aids, in a labled "shadow box" office display. The collection will increase in value with time. Only $495 complete. Call Harry 310 474-5876.