Siemens Establishes Artists-in-Residence Program
Piscataway, NJ — The Siemens Artists-in-Residence Program has been created by Siemens Corp in cooperation with the Siemens Arts Program, Munich, and the Silk Road Project in New York City, to help unite cultures and foster trust and cultural understanding through the universal language of music, according to the company.
The Silk Road Project was established by violinist Yo-Yo Ma to draw attention to the Silk Road's historical contribution to the cross-cultural diffusion of the arts, technology, and music traditions. "One of the reasons I formed the Silk Road Project was to lay a strong foundation for cross-cultural communication," says Ma. "The Siemens Artists-in-Residence Program opens the door to a better understanding and appreciation of different cultures. It is my hope that this program and others like it will foster this critical sharing of ideas, talent, and energy worldwide."
The program will award scholarships to six composers from Asian and European countries that lie along the ancient Silk Road trade route. Each composer will reside for two months with the family of a Siemens employee and will work from a studio within a Siemens manufacturing facility. The program affords the artists the opportunity to share their culture with and demonstrate their work to new communities, to learn more about American culture, and find inspiration in the everyday experience of American industry. During the residency, each composer will be encouraged to share his/her talents at community events, as well as gatherings within the Siemens facility.
"As a global company, it's important for us to understand the cultures and people of the countries where we conduct business," says Siemens Hearing Solutions President and CEO William Lankenau.
The first artist-in-residence was Dmitri Yonov-Lanovsky from Tashkent, Uzbekistan. He was selected by the program's panel of judges, which includes Yo-Yo Ma, Dartmouth Professor of Music Ted Levin, Jacques-Yves LeDocte from the Brussels Philharmonic, and composer Kojiro Umezaki. Yanov-Lanovsky is to live with a host family in New Jersey and compose music from a studio in the Siemens Hearing Solutions facility in Piscataway.
"It's important to get to know people from other parts of the world and to foster understanding," says David Sawyer, vice president of marketing. "By sharing the same emotions and feelings about family or music, we're building bridges of understanding and appreciation for one another that can change everything. That's what this program is all about." w
---
US Hearing Instrument Sales Fall by 3% in 3rd Quarter
Alexandria, VA — Hearing instrument sales for the 3rd quarter of 2002 took a sharper-than-expected turn for the worse, falling by 3.3% compared to the same period last year, according to Hearing Industries Association (HIA) statistics. Through the 3rd quarter, sales for 2002 are 1.2% lower (17,860 units) than in 2001—or about 1.5 hearing aids per dispensing office.
Industry analysts point out that the S&P 500 fell by 18% in the 3rd quarter. When combined with the worst consumer confidence ratings since 1993, corporate scandals, and a possible war with Iraq, economic uncertainty among seniors seems to be the most likely culprit in recent declining sales. Carnegie Research of Copenhagen recently downgraded its prediction of 2002 world unit volume growth from 3% to 0%.
Following the trend of the last three years, HIA statistics indicate that DSP instruments continue to make dramatic market gains. During the 3rd quarter, digital aids accounted for 45.6% of the hearing instrument market, while programmable aids accounted for another 25.7%. Combined, these two advanced instrument classes are now approaching three-quarters (71.1%) of all hearing instrument sales; compare this to 2000, when they made up half (50%) of all sales, and it's easy to see how fast these instruments are increasing in popularity. Digital canal and full-shell aids rose slightly higher in unit volume than other models during the third quarter, while digital BTEs declined in volume for the first time since mid-2000.
Amplifon Finalizes Acquisitionof Sonus Corp
Minneapolis — Amplifon USA, a subsidiary of Amplifon SpA of Italy, has completed its acquisition of the assets of Sonus Corp., including all of the capital stock of its operating subsidiaries, Sonus-USA, Inc. and Sonus-Canada Ltd., according to the companies. The total purchase reportedly amounted to $38.4 million in cash, less approximately $600,000 in purchase price adjustments, plus the assumption of approximately $1.1 million in liabilities of Sonus Corp. Amplifon USA is a wholly owned subsidiary of Milan-based Amplifon SpA, a leader in the worldwide distribution and application of hearing aids and owner of Miracle Ear (see August 2002 HR, page 10).
"The acquisition of Sonus expands Amplifon's presence in the US through additional distribution channels offering a broader range of hearing healthcare products," says Alessandro Baldissera, CEO of Amplifon SpA. "We expect continued growth through delivery of high-quality care to our hearing health care patients."
"Amplifon is among the largest global retailers of hearing instruments, operating hearing aid centers at 160 corporate retail and 850 franchise retail locations in the US," says Sonus CEO Dan Kohl. "We feel that the combination of Amplifon and Sonus will produce the necessary financial stability and market presence to serve the hearing health care communities across North America for years to come."
Portland-based Sonus sells private-label and multi-brand products to hearing-impaired patients through 87 company-owned retail stores and 1,400 licensed network affiliates in the U.S. and Canada, according to the company. Amplifon SpA has approximately 1,800 outlets, 3,000 authorized distribution centers, and over 2,000 hearing aid fitting specialists. The company maintains offices in Italy, France, Spain, Portugal, Switzerland, Austria, the US, the Netherlands, Egypt, and, since early 2002, Hungary.
Sonic Innovations Acquires Canadian Firms; Hires Geigel and James
Salt Lake City — Sonic Innovations, Inc. announced the acquisition of two Canadian hearing aid operations, Sentech Systems of Ontario and Orsonique of Quebec. The company states that all Sonic Innovations products have now received federal and provincial regulatory approval, and are currently being distributed within the Canadian marketplace.
The company also announced the appointment of Jeffrey Geigel as general manager of its Canadian operations. Geigel, who has been with the company since November 2001 as a business development consultant, was the previous vice president of marketing and communications of a large corporate dispensing network.
"Growing our business into Canada was a natural progression for us consistent with our desire to establish a direct presence in major markets on a worldwide basis," says Andy Raguskus, president and CEO. "The acquisitions [position] us as a leader in the Canadian marketplace. We are very pleased that Brian Woodhurst and Eugene Alexandrescu, owners of Sentech and Orsonique, respectively, are remaining as managers of their operations. We are also pleased to have hired Jeff Geigel to lead our Canadian efforts. Jeff possesses an extensive knowledge of the North American hearing health care market gained through various senior positions he has held within the industry."
Sonic Innovations also announced the appointment of Michael A. James as its vice president of worldwide field operations. James has experience in the medical device industry, having held executive sales and marketing positions with Medtronic, Abbot Laboratories and Baxter Healthcare.
The company reported net sales of $18,317,000 in the 3rd quarter 2002, up 18% from third quarter 2001. "Last quarter we were pleased to report that we achieved bottom line profitability," says Raguskus. "This quarter we are very pleased to have also achieved operating profitability. Over the last six quarters, our results have steadily improved from a net loss of $2,915,000 to a net income of $403,000. These improvements reflect our increasing sales and our focus on product, manufacturing, and operating costs."
For more information, see the company's Web site at www.sonici.com.
Senator Wellstone's Death Negatively Impacts Industry
Alexandria, Va — The untimely death of Senator Paul Wellstone (D-Minn) in a mid-October plane crash was also a loss for the hearing industry, according to the Hearing Industries Association (HIA). HIA was assisted by Senator Wellstone in numerous legislative activities, and says he "was a good and respected friend of the hearing aid industry and HIA." As a Senator for a state that contains more than a dozen major hearing-related companies, he co-sponsored the past HIA "Hearing on the Hill" events. Additionally, his work on behalf of the hearing care field relative to the FDA Modernization Act helped to end the 510(k) requirement for hearing aids at the Food and Drug Administration, requirements that many experts in the industry and hearing-related organizations viewed as unnecessarily burdensome.
"Throughout his tenure, Senator Wellstone was attuned to the hearing aid industry, as Minnesota is often referred to as 'the Hearing Aid Capitol.'" says HIA Executive Director Carole Rogin. "The Senator was always keenly interested in the needs of hearing aid manufacturers, in the appropriate regulation of their products, and the needs of hearing-impaired Americans. He was always willing to meet personally with HIA members and staff, and his support for the hearing aid industry will surely be missed."
HearUSA Reports Medicaid Billing Problem; Forget Resigns
Tempe, Ariz — HearUSA, Inc (the merged company of HEARx and Helix) announced the discovery of improper Medicaid billing by 8 Massachusetts offices in its network and has reported its findings to state authorities. HearUSA's attorneys, in a letter to the Massachusetts Division of Medical Assistance, reported that the company's preliminary investigation indicates Medicaid was overbilled by about $296,000 in the state. The company reports that the 8 offices were acquired in a recent purchase, and it has retained an accounting firm to verify the actual amount of overbilling.
According to the company, the overbilling was discovered by HearUSA employees working to integrate the accounting and patient management system of Helix Hearing Care of America Corp, acquired in July 2002 by HearUSA (formerly HEARx). HearUSA's vice-president of quality assurance discovered that billing for the 8 Massachusetts hearing care centers, which were acquired by Helix from American Hearing Centers Inc in November 2000, had been improperly submitted to Medicaid for hearing aids and accessories during the period from December 2000 through August 2002.
HearUSA's computerized central billing system, which is now fully implemented in Massachusetts, should prevent any recurrence of improper billing for hearing aids and accessories, the company's lawyers said. The new billing system is said to include safeguards to ensure proper billing. The system has been in operation in the former HEARx centers for over 6 years and has now been implemented in all the acquired Helix centers located in the US. HEARx did not operate in Massachusetts prior to the Helix acquisition.
The company has also announced that Steve Forget, former CEO of Helix and, after the HEARx-Helix combination, president and a director of HearUSA, has resigned as an officer and employee. Forget was a founder of and led Helix from its inception. "We have worked very hard to complete the HEARx-Helix transaction and the integration process is nearly complete. I am deeply concerned about the Medicaid situation in Massachusetts while I served as CEO of Helix. It was my belief all Helix centers were in compliance with all applicable regulation and billing requirements. It is my hope that the company can resolve this matter quickly and move forward on its business plan." Forget says he will remain active in the hearing care field, working with Le Groupe Forget in the Province of Quebec.
HearUSA maintains more than 200 hearing care centers located in California, Florida, New York, New Jersey, Massachusetts, Pennsylvania, Ohio, Michigan, Wisconsin, Minnesota, Missouri and Washington, and the Canadian provinces of Ontario and Quebec.
ASHA Executive Director Spahr Announces Retirement in Dec '03
Washington, DC — Executive Director of the American Speech-Language-Hearing Association (ASHA) Frederick T. Spahr, PhD, has announced his retirement effective December 31, 2003. Spahr will have served 24 years as executive director.
"I am very proud of the Association's growth since 1980 and the part I played as executive director in bringing about that growth," says Spahr. Before assuming his current role, Spahr served ASHA as its associate secretary for professional affairs, director of research and professional development, director of administration, and 9 years as the deputy executive director.
Under his tenure, ASHA grew dramatically in membership, from 35,000 in 1980 and to over 108,000 today, an increase of 211%. ASHA staff has grown from 80 to 218. Spahr monitored the installment of ASHA's first in-house technology system that has grown to include the www.asha.org Web site; with Frank Kleffner, he initiated the revitalization of the American Speech-Language-Hearing Foundation; and with Eugene Menke, he conceived of and established ASHA's continuing education registry program.
Spahr says that, in regard to the National Office, he is most proud of fostering the development of an Office of Multicultural Affairs. He is also proud of increasing the diversity of office staff at all levels, and most recently, for establishing policies and an office culture that allowed the National Office to be designated by Washingtonian magazine as one of the "50 Greatest Places to Work" in the Washington metropolitan area.
"The executive board received the announcement of Fred's retirement with sadness, but with the understanding that he deserves a long and happy retirement," says ASHA President Nancy A. Creaghead. "Fred will leave the association in an extremely strong position, having played a huge role in our success." She says that the executive board has already begun the process of planning a smooth transition to a new executive director over the next year.
---
IHS Celebrates Legislative Gains in 2002
The 51st meeting of the International Hearing Society, held in Reno, Nev, in September took place under considerably better circumstances than the previous year when the Society's Golden Anniversary had to be postponed temporarily due to the terrorist attacks of 9/11. This year's convention attracted about 350 hearing care professionals from around the world for 4 days of seminars, events and an exhibit hall that included close to 70 hearing-related companies and organizations.
At the IHS Annual General Session/Business Meeting, the Society celebrated the announcement that the hearing aid rule has been removed from the Food and Drug Administration's (FDA) regulatory agenda. Outgoing President Scott Austin likened his 2-year term to being only one part of a long succession of 20 ship captains presiding over hundreds of capable crew members during the stormy times of a threatening regulatory atmosphere. He said that the four most recent presidents of the organization—Herb Gorlin, Jon Durkin, Alan Lowell and Kathy Harvey—helped the organization and its members prevail over what he believes was a serious threat to non-audiologist dispensing professionals. He called himself "lucky" to be the president in whose term the threat of FDA action, which began in 1993, was put to rest. "I can sum up my feelings with one word," says Austin. "Proud. I'm proud of what's been done and what's been accomplished…We've followed the objectives of our profession: Put the patient first…Now, the Society can continue to help you do the things you do so well: Take care of the hearing impaired."

Former IHS Presidents John Kenwood (left) and Floyd Loupot share a moment at the IHS President's Reception.

IHS Outgoing President Scott Austin (left) passes the Society's gavel onto Samuel Hopmeier during the IHS Annual Banquet.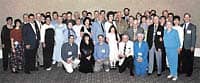 Long-time hearing industry figures Robert and Karen Briskey were among the attendees of an event honoring IHS governors and members.

Richard Nodar, PhD, of the Cleveland Clinic and Dana McSpaden conducted a course on the fundamentals of tympanometry, acoustic reflexes, and reflex decay.

Ted Venema, PhD, of the University of Western Ontario provided a lively lecture on the rationale behind directional hearing instruments and how best to fit them.
Samuel Hopmeier, MBA, took the reigns as the Society's new president. A graduate of the Harvard Business School and a second-generation hearing instrument specialist who has established a large dispensing organization based in Missouri, Hopmeier says that, due to the recent legislative gains, he has the luxury of focusing on those issues that will enhance IHS members' abilities to dispense hearing instrument and provide quality service. He says the Society recently established 4 new committees that will concentrate on the areas of education, progress, hearing care advocacy, and membership development.
Scott Austin announced that Harlan Cato, BC-HIS, of Charlotte, NC, was chosen as the Society's new president-elect. Cato, who will assume office in 2004, says he will endeavor to strengthen relations between all the associated hearing health care partners and earn the support of the membership. Neil Waingrow, BC-HIS, was appointed to finish Cato's term as IHS Southeastern Regional Governor.
IHS Government Relations Representatives Timothy Waters and Karen Seelander of the law firm McDermott, Will & Emory updated members on the current status of the FDA's "proposed rule" changes, HIPAA and other legislative activities. Waters, who has been representing the Society since 1974, said that any time there is a threat of the government raising barriers to quality health care, the ultimate loser is the consumer in terms of higher costs and restricted access. "The proposed rule-making is dead for now, but the old rules still exist and apply," says Waters. "The turf war is unfortunate, but eventually someone will recognize that the public needs access to the complete hearing health care team." He gave credit to Secretary of Health and Human Services (HHS) Tommy Thompson, as well as a groundswell of support from dispensing professionals across the country, for removing (at least for now) the hearing aid rule from the HHS regulatory agenda.
Karen Seelander noted that, in April and May, Congress voted to "encourage the people of the United States to have their hearing checked regularly" (House Concurrent Resolution No. 358, Senate Concurrent Resolution No. 103). She says that this is a great affirmation of the need for hearing health care and the efficacy of hearing instruments, and pointed out that it comes on the heels of the JAMA article regarding the efficacy of hearing aids (see February 2001 HR, page 59) and NCOA study (see January 2000 HR, pages 6-34). Seelander also explained possible ramifications of the upcoming Health Insurance Portability and Accountability Act (HIPAA) which stipulate national standards for conducting electronic health care transactions (see June HR, p. 10). She urged all hearing care professionals—even though it is still unclear how the HIPAA requirements apply to this field—to apply for an extension (a model compliance plan is featured on the IHS Web site).
Next Year
The IHS 2003 Annual Convention will be held at the Radisson Riverfront in Minneapolis on October 29-November 2. For more information, contact IHS: (734) 522-7200; Web site: www.ihsinfo.org.
---
IHS Events
| | |
| --- | --- |
| Scott Austin (left) was presented with The Hearing Review Professional Leadership Award by HR Editor Karl Strom for his work as president of IHS and his professional participation in such events as the Tri-State Convention and dedication in working with hearing impaired individuals. | Alan Lowell (left) was presented with the Joel S. Wernick Award for Dispenser Education by Jerry Laux of The Hearing Journal. Lowell is a former president of IHS, an educator of dispensing professionals, chair of the ACA, and has developed a series of tapes and courses for NBC-HIS board certification. |
| Harlan Cato of Charlotte, NC, was elected as the Society's new president-elect. | IHS staff members and volunteers (from left) Charlie Young, Phyllis Wilson, Carrie Petersen, and Neil Waingrow take a break from their activities in the convention hall. |
---
Correction
• In the October 2002 HR Table of Contents (p. 8), the description of "New Fitting Tools and Processing Strategies" by O'Brien, Scheller & Scheller should have read: "A technical review of a new hearing instrument that uses unified signal processing designed to reduce spectral smearing and features a number of advanced software-based fitting tools." HR regrets the error.