The Hearing Review is pleased to begin a new series featuring selected personalities in the manufacturing/supplier community. With programmable and DSP sales accounting for almost 60% of all units in the 3rd quarter of 2001, we asked Henrik Nielsen, vice president of sales and marketing for GN ReSound North America his thoughts on this trend.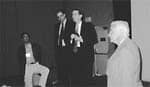 Henrik Nielsen, vice president of sales and marketing, GN ReSound
Q: Where do you see the DSP market going?
A: We predict that we will eventually see DSP technology take over the majority of the market. With more companies introducing digital products, they will replace the popularity of programmable analog and conventional instruments. As evidenced by major manufacturers coming out with instruments at different price points, we will be able to serve our patients in more distinct market niches.
This is an exciting time for the hearing health care professional. We are now able, with DSP technology, to do things for patients that have never been done before. We are now able to achieve a higher level of patient satisfaction because of the patient benefits DSP provides. For example, adaptive dual microphone directionality was not available in an analog instrument. The latest DSP instruments can also suppress feedback without impacting gain response, and with fast-acting noise reduction we can improve patient comfort. The fact that all these features are available in one hearing instrument provides added value to both the patient and the professional.
Q: How will the patient benefit?
A: If I were the patient, I would definitely want to wear a digital hearing instrument with as many advanced features as possible. I would receive benefits that would maximize my hearing in a wide variety of environments. Digital technology also provides a more comfortable fit and reduces listening fatigue. I would also appreciate the one-on-one interaction between myself and the professional. Nothing can replace the relationship element in this profession.
Q: How will the hearing care professional benefit?
A: If I were a hearing care professional, I would want to work with the tool that had the most features to meet the majority of the needs of my patients. Advanced DSP instruments provide a wide variety of tools to address patients' needs without having to make trade-offs in technology or switch to different instruments. The opportunities for the professional to satisfy their patients' listening needs are now greater than ever.
Q: What do you see for the future?
A: Just like the computer industry, DSP technology will continue to evolve. We will see smaller and more powerful DSP chips allowing us to implement features that will continue to increase the quality of life for hearing-impaired individuals. It is an exciting time to be in the field of hearing health care. New technologies will continue to emerge and challenge the professional to stay on the leading edge through continuing education. This field has, more than ever, put the profession in the role of the expert.
Q: How will the Internet affect the industry?
A: I think we will see the Internet emerging as a common way for the hearing health care professional and manufacturer to interface. In addition, there will be more hearing care offices that have their own Web sites, emphasizing a clinic's unique qualities and areas of expertise, featuring a map to the location, and their services. Just as we know we need a Yellow Page advertisement in the telephone book, hearing care businesses will benefit from their own Web site in the future. The Internet is a marketing tool that holds great potential.