GN ReSound & GN Otometrics open new headquarters

Bloomington, MN — GN ReSound North America and GN Otometrics announce their recent relocation to a new consolidated North American headquarters in Bloomington, MN. This office/production facility combines the former Eagan and Minnetonka hearing instrument plants, and the GN Otometrics sales, marketing and service center into one modern building that is reportedly designed with a focus on communication and efficiency in mind. With this move, GN ReSound North America now operates two production facilities in the U.S., with one in Redwood City, California and one in Bloomington. GN ReSound also maintains an ITE production facility in Canada. The addresses are:
GN ReSound North America
8001 Bloomington Freeway
Bloomington, MN 55420
Tel: 800-248-4327;
Fax: 952-769-8001
GN Otometrics North America
8001 Bloomington Freeway
Bloomington, MN 55420
Tel: 800-362-3736;
Fax: 800-367-9710
Telephone numbers (above) have remained the same but the fax numbers have changed. ITE orders addressed to either former Minnesota facility will be forwarded to the new plant location automatically. In addition, new Airborne Express labels for immediate use in shipping orders directly to the new location are being forwarded to all GN ReSound customers.
Phonak to purchase Austrian manufacturer Hansaton
Staefa, Switzerland — Phonak Holding AG has agreed to purchase the Austrian-based hearing instrument manufacturer Hansaton which is located in Salzburg, according to Bloomberg news service (March 26, 2001). Hansaton is one of Austria's largest hearing instrument manufacturing companies, and is reported to have sales of $12 million annually with a market share of about 30% in the country which sells about 35,000 hearing instruments per year. The company participates in both wholesale and retail distribution in Austria.
Phonak Holding has expanded its worldwide market position rapidly in the past year, and recently acquired the Lori/Unitron and Argosy group in North America. Additionally, the group has purchased the manufacturer Auris in Denmark and the retail distributor Ido Laem in Spain during 2000.
---
Madsen, Danplex, Hortmann & ICS Medical combine to form GN Otometrics
Bloomington, MN — Madsen Electronics reports that, along with its own organic growth and the recent acquisitions of ICS Medical in the U.S. (see Jan. HR, p. 16), Danplex in Denmark, and Hortmann in Germany, the audiological division has been transformed into an "umbrella" company called GN Otometrics (see sidebar in this month's news for information about the company's new headquarters). The new name, which is taken from "oto" referring to the ear, and "metrics" referring to measurement, is intended to describe the business and market that the umbrella group now serves.
Under its new corporate identity, GN Otometrics reports that it will not abandon any of the individual brand names, because each has a strong identity in different markets, according to the company. "We have succeeded in integrating a number of diverse corporate strengths and cultures from different countries, representing some 110 years of combined experience, into one homogeneous and effective unit dedicated to the pursuit of innovative solutions for our customers," says Michael Brock, president of GN Otometrics.
---

AAA names Laura Fleming Doyle as new Academy executive director
McLean, VA — The American Academy of Audiology (AAA) has chosen Laura Fleming Doyle, CAE, as its new executive director. Doyle, who has over 15 years' experience in health care association management, will provide leadership for the Academy and oversee association operations, budget and staff.
Doyle has served as executive vice-president for the Assn. of Healthcare Philanthropy (AHP), Falls Church, VA, and as director of council operations for the American College of Radiology in Reston, VA. She is a Certified Assn. Executive (CAE) and holds a Master of Health Services Administration from George Washington Univ. and a BA from the Univ. of North Carolina. She resides with her husband and five children in Herndon, VA.
"We're delighted to have Laura on board," says AAA President David Fabry, PhD. "Her prior experience with health care issues and association leadership skills make her a natural for the Academy."
As AAA executive director, Doyle will work closely with the Academy's board and staff to provide economical, productive and constructive growth. She will maintain strategic organization, establish administrative policies and procedures, and serve as the chief liaison to the board and committees, while overseeing hiring, management and training of staff.
---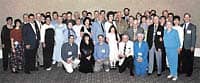 Advanced Bionics receives FDA approval for new Clarion® CII Bionic Ear System
Sylmar, CA — Advanced Bionics Corp® announced that its CLARION® CII Bionic Ear™ System received U.S. Food and Drug Administration (FDA) approval for the treatment of deafness in children and adults. The new bionic ear technology is approved for use in children and adults with profound hearing loss in both ears. The system, which reportedly took five years and $30 million to develop, is available at over 200 medical centers throughout North America and in over 30 other countries around the world.
The new device's hardware is reported to have the capability to deliver high resolution sound information to the hearing nerve up to 1 million times each second, providing recipients with over 10 times more sound information than previous cochlear implant technologies, according to the company. The broadband sound information is filtered into 31 distinct audio processing channels, or about one-third more channels than existing cochlear implants.
The CII Bionic Ear is designed to enable children and adults to hear by delivering electrical stimulation directly to the hearing nerve. The external part of the system converts speech and sound in the environment into digital code, which is sent via radio waves to the device. The CII Bionic Ear utilizes the patented HiFocus® Electrode technology to deliver electrical current to the hearing nerve fibers (for background on this system, see Nov. 1999 HR, pgs. 56-58). The electrode is designed to focus full broadband sound information onto the hearing nerve fibers with high resolution and delivers sound information through 31 distinct stimulation channels for high fidelity sound.
The external sound processing electronics, which digitize sound in the environment, include the CII BTE™, a low profile, convenient, miniature processor. The low power requirements of the device enable the CII BTE to operate for nearly a full day with proprietary rechargeable battery technology. An alternative external processor is the size of a small pager and can be worn on the belt.
"The electronic platform of the CLARION CII Bionic Ear provides the versatility required to implement many exciting advances from research on cochlear implants," says Gerald Loeb, MD, professor of biomedical engineering at the Univ. of Southern California.
Robert Shannon, PhD, Director of Auditory Implant Research at the House Ear Institute (HEI) in Los Angeles and a researcher in the field of auditory perceptual research (see the article on HEI in last month's HR), says that the new device represents a "major leap forward" in implant technology. "The CII provides a host of new research options for the scientific community, which will foster the development of next-generation speech processors to improve speech understanding and sound quality for implant users," says Shannon.
Clinical studies exploring the system are currently taking place at Johns Hopkins University, HEI and the Univ. of California-San Francisco, together with 30 other medical centers.
---
AHAA holds annual convention in Las Vegas
West Chester, PA—Nearly 300 hearing health care professionals from across the U.S. and many of the industry's top manufacturers attended American Hearing Aid Associates' (AHAA) annual convention in Las Vegas in January. The three-day business program included more than 20 sessions that covered business principles and practices designed to improve staff performance and to increase the profitability of the hearing care practices.
One of the highest-rated panels covered taking on a partner and selling a practice. CEO Vince Russomagno cautioned attendees to sell only because they want a return on their investment. The 29 items of information he reviewed as necessary for preparing a practice for sale included the number of patients referred by the top-10 referral sources in the past three years. He also reviewed many different types of partnership agreements (see Russomagno's article on selling a practice in an upcoming issue of HR).
A session on marketing dealt with how to identify and target potential hearing instrument user groups, such as retirement facilities and other senior-oriented communities. Associates got a first-hand look at a series of TV commercials produced by AHAA, which they can purchase and run locally under their own practices' names. The session also emphasized the need for developing relationships with local, high-noise generating companies. One idea was offering the company earplugs for its employees as an entry step to getting future diagnostic and hearing instrument business.
Attendees peppered a manufacturers panel (pictured above) with myriad issues, including giving hearing care professionals more financial support in motivating the public to get tested for hearing loss. A popular presentation by Gyl Kasewurm, AuD, of Michigan focused on the effective use of support personnel to give hearing care professionals more time to treat patients. She said hearing care professionals need to analyze carefully what they are doing that could be done by their support persons with proper training and within the differing limits of state licensing laws. In the area of finance, Bruce Tabor, a CPA from Oregon, discussed the many tax breaks that a hearing care professional can gain from setting up his or her practice as an S-Corporation. Many people found his remarks particularly pertinent, according to AHAA. For example, Taylor mentioned the prospect of being able to write off up to $20,000 of what would be multi-year depreciable capital improvements under other business forms.
AHAA's consulting managed care specialist Jim Benson gave Associates practical tips for increasing their number of managed care patients. First, he said, develop a strong presence in the medical community. "Announce your new managed care contracts to physicians so that they will refer their patients to you," says Benson. He added that the most valuable referral outside of a friend or family member is from a physician. Benson also said that practitioners should make their association with managed care organizations visible to their patients and to public groups they address. For example, ask the HMOs for window decals and countertop displays, and distribute HMO tie-in literature at luncheons and health fairs.
The sessions on motivating staff and measuring staff performance also got high marks. Associates were advised to include all staff members, not just audiologists and hearing instrument specialists, in incentive programs to stimulate and reward for referrals. Collaborative bonuses might even be set up with hearing care professionals and reception personnel. The value of staff meetings, formal salary administration and employee manuals were also discussed.
---
Cochlear Corp. sponsors essay contest for recipients; reports 30K users worldwide
Englewood, CO — Cochlear Corp. is inviting all Nucleus cochlear implant recipients to submit an essay describing how their cochlear implants have made a difference in their lives. The contest celebrates Cochlear's 30,000th Nucleus recipient worldwide. The grand prize winner will receive lunch in New York City with stars of ABC's One Life to Live, Kassie and James DePaiva, who play Blair Cramer and Max Holden on the show, and their son, J.Q., a Nucleus® 24 cochlear implant recipient. An honorable mention winner will receive a cash prize of $250.
Essays should not exceed 400 words, must be written in English, include the entrant's name, address, phone number and age, and be submitted with a contest application. Entries must be postmarked by May 15, 2001. For more details and a contest application, visit Cochlear Corp.'s website at www.cochlear.com or call 203-762-8833.
---
Energizer launches mercury-free zinc air hearing aid battery; boosts capacity by as much as 7%
St. Louis — Energizer® has announced the launch of a mercury-free zinc air hearing aid battery that is also reported to enhance product capacity by up to 7% (depending on the battery size). The new battery will be available first in Europe, and later in the U.S. during 2001.
The mercury free product, which reportedly took 10 years to develop and test, will replace the company's existing product range. Until now, all zinc air hearing aid batteries contained mercury, added at the time of manufacture to prevent impurities in the raw materials from reacting with each other, according to Energizer. In the event of a reaction in raw materials, "gassing" can occur which leads to product deformation and leakage. Through a combination of new product designs, purer raw materials and new manufacturing processes, the company reports that its scientists are now able to produce cells with no added mercury.
The new batteries will be available in four hearing aid battery sizes: 10, 13, 312 and 675. Although some customers have already been receiving the new batteries, new packaging launched in Europe in 2001 will reflect the technology change.
"Energizer has a long history of being at the forefront of developing and implementing technology that is safer for the environment," says Martin Burch, brand marketing director of Energizer Europe. Barclay Smith, director of marketing and sales, intimated that the company will have more surprises for the public in 2001. "We're proud that we've been able to reduce mercury at one of its sources," says Smith. "It's one more step in helping the world's ecology."
Energizer became an independent battery company in April 2000 when it was spun off from Ralston-Purina Co. It is estimated that over 460 million hearing aid batteries are used worldwide each year.
---
Magnatone reports acquisition of Perfect Ear
Casselberry, FL — Effective in January, Magnatone announced that it had purchased Perfect Ear®, also of Casselberry, FL, which has manufactured hearing instruments since 1993. Magnatone reports that it will offer all Perfect Ear customers a complete line of digital and digitally programmable products, rechargeable instruments and an expanded line of non-programmable linear aids. Additionally, the company will warrant all Perfect Ear product service requirements and returns. Perfect Ear staff members Debbie Blair and Judy Stillings have joined the Magnatone staff.
---
estron A/S at AAA
Them, Denmark –– estron A/S, will be displaying its cut and tinned lead wires designed for applications involving hearing instruments. The company produces stranded wires, and cuts and tins them according to customer specifications. The wires are made from pure

enameled copper wire and are offered in diameters of 0.00006" for a single strand, and are available in bright colors with increased flexibility and accurate and narrow pre-tinning. According to the company, there are approximately 700 different litz/solid wires available from stock varying in design, length and color. For more information, visit estron A/S at AAA or contact the company at: ( 011) 45-4056-1836. w
---

Levitt and Boothroyd to be honored at State-of-the-Science Conference
New York City — Harry Levitt (left) and Arthur Boothroyd will be honored at the State-of-the-Science Conference on Assistive Technologies for People with Hearing Loss held on May 11. The conference, co-sponsored by the City Univ. of New York (CUNY) and the Lexington Rehabilitation Engineering Research Center on Hearing Enhancement, will highlight the "state of the science" and possible future directions for research in the areas of hearing instruments, cochlear implants, hearing assistive technologies, as well as methods for assessing outcomes with these technologies.

Faculty for the conference include Arthur Boothroyd, Harry Levitt and Arlene Neuman of CUNY, and visiting faculty Judy Harkins (Gallaudet Univ.), Theresa Hnath-Chisolm (Univ. S. FL), Susan Waltzman (NYU), Mark Ross (Univ. of CT) and Matthew Bakke (Lexington Center for the Deaf). For more information on the conference, visit www.hearingresearch. org or contact Lois O'Neill at [email protected]; tel: 718-350-3203.
---
Marcon holds annual meeting in Cancun
Hopkins, MN — The annual membership meeting of Marcon Hearing Associates, a national member-owned organization comprised of hearing health care professionals, was recently held at the Palace Moon resort in Cancun. Participants attended continuing education programs and also enjoyed outdoor activities, fellowship and idea exchanges. Frank Hirschel (pictured, l), a retiring Marcon member, received the John Kojis Award for his dedication to the growth and development of the organization from Ray Rich (r).
Marcon provides owner/members with benefits including private label batteries, an exclusive territory, discounts on hearing instruments, and marketing assistance, according to the organization.
---
Williams Sound Corp. celebrates 25th anniversary
Eden Prairie, MN — Williams Sound Corp. is celebrating its 25th anniversary. On February 25, 1976, the Personal PA was sold to a small church in Texas and marked the introduction of the first RF wireless hearing assistance to the commercial sound industry, according to the company. Founder Jerry Williams designed the Personal PA system at the request of a church member. From his basement, he manufactured a wireless hearing assistance system using modified AM transistor radios. The system enabled the hard-of-hearing woman to sit anywhere in the church and hear.
Williams developed many more hearing assistance products, including the Pocketalker, for the commercial sound and hearing care industries. Williams retired in 1987 and chose Jim Broz as his successor to lead the company forward. Under Broz's direction, the company has continued to expand their line of hearing assistance products with the addition of amplified telephones, tour guide systems and infrared systems.
"Helping People Hear is our mission," says Jim Broz. "It meshes wonderfully with our purpose, which is to make a difference in people's lives."
---
Central Institute for the Deaf dedicates new building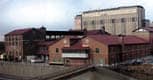 St. Louis—In February, more than 400 people gathered for the dedication of the Central Institute for the Deaf's (CID) new research and administration building, the Harold W. Siebens Hearing Research Center. The late Harold Siebens provided initial funding for the construction of the building and the establishment of the foundation. The $16.4-million dollar Center has 66,000-sq.-ft and contains the Fay and Carl Simons Center for Biology of Hearing and Deafness. It includes state-of-the-art cellular and molecular biology laboratories, as well a meeting rooms, research offices, a conference room and a central cafeteria. The three-level facility, located at the edge of the Washington Univ. Medical School complex, forms a connection via a central reception area with the CID oral school that was opened in January 2000. The new center's completion marks the second of three construction phases, and fund-raising is currently underway to renovate the CID's historic school building so its space can be converted for professional education classes, the CID Hearing Central Clinic and offices. w