AAS Annual Scientific Meeting Celebrates New Findings While Honoring Top Researchers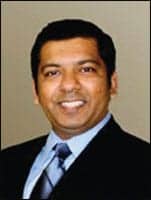 HR thanks Amit Gosalia, AuD, for this report. Dr Gosalia is an audiologist at Audiology Clinic Inc, Vancouver, Wash, who serves on the Meeting Committee of AAS. Correspondence can be addressed to [email protected] or .
The American Auditory Society (AAS) hosted its annual Scientific Meeting in Scottsdale, Ariz, during March. AAS has been focused on research on the auditory system for more than 30 years, and top researchers in all auditory specialties come together at the AAS meeting to discuss current research and future developments. The number of attendees noticeably increased to over 450 this year, including a greater number of student attendees and volunteers. This year's meeting offered 86 general posters, 20 mentored posters, and 16 T35 posters. The National Institutes of Health (NIH) provided a conference grant that lent support for travel scholarships for students and residents, allowing many to present their research at the meeting.
Where Science Meets Your Practice
The conference began with 18 technology updates, each 30 minutes in length, from 18 manufacturers of hearing instruments, diagnostic equipment, cochlear implants, and verification systems. The meeting also included four transitional research topics from renowned researchers. Speakers presented seminars that could be immediately implemented or researched on Monday morning.
The focus of renowned geneticist Mary-Claire King's lab at the University of California-Berkeley is the identification and characterization of genes responsible for complex, common human conditions, and her seminar focused on genetics and hearing. She says that, even though human deafness is complex, there are rare families in whom hearing loss is purely genetic and involves no other phenotype.
Robert Zatorre, PhD, the James McGill Chair in Neuroscience and co-director of the International Laboratory for Brain, Music, and Sound Research (BRAMS), entertained the audience with his "Anatomical and Functional Plasticity in Human Auditory Cortex: Pitch, Speech, and Cross-modal Reorganization" seminar. His lecture concentrated on structural and functional neuroimaging findings related to the organization of the human auditory cortex for the processing of complex acoustic signals, such as music and speech, and how this processing changes as a function of different types of experiences.
| | |
| --- | --- |
| | |
| AAS President Jay Rubinstein, MD, PhD, presents the 2009 AAS Carhart Memorial Lecture Award to brain and hearing pioneer Michael Merzenich, PhD, professor emeritus at the University of California-San Francisco. | James Jerger, PhD, of UTD-Callier was presented with the AAS Lifetime Achievement Award from the Society. |
A thought-provoking lecture on "Prevention of Acquired Hearing Loss" by Jochen Schacht, PhD, of the University of Michigan's Department of Biological Chemistry, demonstrated possible preventative measures for noise-induced, ototoxic, and age-related hearing loss. Some of the studies he presented showed—unexpectedly—no change in hearing loss pre- and post-trauma to the auditory system.
Current AAS President Jay Rubinstein, MD, PhD, director of the Virginia Merrill Bloedel Hearing Research Center, took the recent surge of interest about music and individuals with hearing impairment to a new level with his talk on the "Psychophysical Correlates of Music Perception with Cochlear Implants."
When asked to give a lecture for the Young Investigator Research Presentation, Lisa Cunningham—who is already well known to the field—says she was "thrilled to be called young!" Her talk was so amusing that it only made sense that its title was "If We Knew What We Were Doing, It Wouldn't Be Called Research." Her honest revelations about her journey to her PhD—full of the usual trials and tribulations—were appreciated by attendees.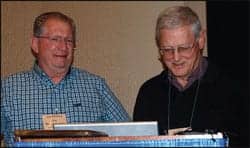 Don Worthington, PhD, received the Wayne J. Staab Award for Outstanding Volunteerism from Wayne Staab, PhD.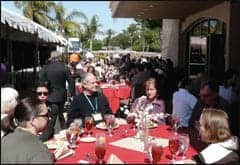 AAS provides a rare opportunity for clinicians and researchers to interact in formal and informal settings, such as seminar halls, lunches, dinners, and various events.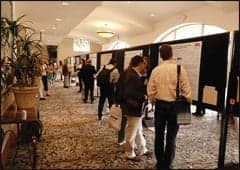 Poster sessions were sponsored in part by a grant from the National Institutes of Health.
Awards and Special Tributes
The annual Carhart Memorial Lecture is usually given by those who excel in auditory research and are held in high honor along with special recognition by the Society. Michael Merzenich, PhD, a professor emeritus at the University of California-San Francisco, was no exception. He gave a detailed, yet easy-to-understand talk on brain plasticity during this year's lecture.
The final special session was about cochlear implants. Laura Holden, AuD, Jill Firszt, PhD, Lisa Davidson, PhD, and Nancy Tye-Murray, PhD, provided a special tribute to the late research pioneer Margaret (Margo) Skinner with talks of past, present, and future directions for cochlear implants.
The AAS Carhart Memorial Lecture was first given by James Jerger, PhD, in 1976; 33 years later, Dr Jerger was honored with the AAS Lifetime Achievement Award. With the weather in the 70s and partly sunny, you could see Jerger frequently conversing with students and offering his insights related to their current research.
Laughter and tears followed with the Wayne J. Staab Award for Outstanding Volunteerism to the Society to the recently retired Don Worthington, PhD. A beautiful crystal bowl ordered for the event had shattered prior to delivery. Always quick on his feet, Wayne Staab offered a glass from his table as the "award." Dr Worthington has a long-standing relationship with AAS as a past-president, and his intelligence, contagious smile, sense of humor, and nurturing personality have contributed greatly to the Society's success.
With all the fun and laughs came two sad notes. First, Immediate Past-President Michael Gorga, PhD, appropriately asked for a moment of silence in remembrance of Judith Gravel, PhD. Dr Gravel had served on the editorial board of Ear & Hearing and was a long-time member of AAS. She was one of the nation's leading pediatric audiologists and early-intervention experts.
Finally, for what may seem like ages, Wayne Staab, PhD, and his wife Lou have dedicated their time and efforts toward building AAS. Their countless hours of preparing, organizing, collaborating, shipping equipment, and running the annual meeting have voluntarily come to an end. It has become evident that, with the increasing number of attendees and presenters, it was time to research and move to a management team to do what the Staabs have done so successfully for years. The Staabs are synonymous with AAS, and although Dr Staab has reassured us that he will attend next year's meeting, their efforts and dedication will be missed.
Author's Note: The AAS provides a wealth of information for all hearing care professionals. As a member of the Meeting Committee, one of my goals is to allow Doctoral level (AuD and PhD) students to volunteer and witness the plethora of information available at AAS meetings. This is the can't-miss scientific meeting in our field. If you have not attended, or are not a member of the AAS, we invite you to take 5 minutes to visit www.amauditorysoc.org and see what you've been missing!

Podcasts
HR Science & Technology Thursday Podcasts, available at www.hearingreview.com/sciencetech, recently featured a special series of interviews about new technology released at the AAA Convention: the Hamilton CapTel text telephone (May 28); Decos Audiology audiometer (May 21); ReSound Custom be (May 14); Oticon Medical bone anchored hearing aid and Phonak hearing aids (May 7); Ear Technology Corp's Clik (April 30); Audioscan Verifit, Otometrics Otosuite, and Siemens eArena auditory training program (April 23); Unitron Passport (April 16); and Starkey S Series.