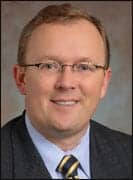 Brian Taylor, AuD
Brian Taylor Joins Unitron Management Team
Unitron Hearing US, Plymouth, Minn, has named Brian Taylor, AuD, as its professional development manager.
Taylor will oversee internal and external education and training on products, technology, and audiology, and the technical support department.
He has amassed more than 18 years of clinical and teaching experience and authored numerous papers on a variety of topics relating to the field of audiology and practice management. Taylor had previously been the global professional training manager for an international hearing aid retailer.
Hear the World Announces First Recipient of Richard Seewald Award
The Richard Seewald Award, funded by the Hear the World Foundation, has been given to the Sorocaba Association for Hearing Impaired (APADAS) in São Paulo, Brazil, as its first recipient. As part of the honor, the independent Brazilian nonprofit organization will receive a $20,000 endowment from the foundation.
The Sorocaba Association conducts research about hearing loss in children, and offers medical care such as prevention, diagnosis, and treatment of hearing loss in infants and children in a catchment area with more than 2.5 million residents. The organization plans to use the award money to build a new treatment center.
The award was named after Richard Seewald, PhD, who is distinguished by his decades of commitment to pediatric audiology. He contributed to the development of the Desired Sensation Level (DSL) method, a process for fitting hearing devices for children. Seewald manages the research department of the National Center for Audiology in London, Ontario, Canada, serves as the chairman of Canada Research in Childhood Hearing, and is a member of the Hear the World Foundation board.
Hear the World, a global initiative by Phonak, whose US headquarters is in Warrenville, Ill, was created to raise awareness about the importance of hearing.
Michael Andreozzi
Beltone New England Opens Record 23 New Hearing Clinics in October
Beltone New England, Warwick, RI, which operates hearing aid retail clinics in nine states and is privately owned by Michael Andreozzi, opened 23 new hearing clinics throughout New England in October, which is unprecedented in the company's history and builds on 5 straight years of 30% average growth from 2002 to 2007.
The new clinics represent a 27% increase over the 85 clinics existing as of the end of September. With more than 160 employees, it is the largest distributor of Beltone hearing instruments in the country and is more than twice the size of any other Beltone distributor, according to Andreozzi.