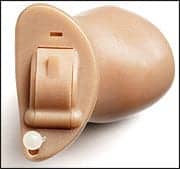 Hearing Device for Severe Loss
Siemens Hearing Instruments, Piscataway, NJ, introduces the NITRO 16 CIC, a completely-in-the-canal hearing instrument designed for wearers with severe hearing loss. NITRO 16 features 16-channel signal processing that automatically adjusts to the wearer's listening environment, and Siemens SoundSmoothing™ technology, designed to automatically distinguish and suppress sudden or impulsive sounds. Features Advanced Speech and Noise Management, as well as up to 70 dB of gain and a datalogging feature that collects information on hearing preferences to assist with faster, more precise fittings. The device's feedback cancellation is engineered to reduce or eliminate whistling sounds. C-Guard™ wax protection system is included. Instrument features a noise reduction system designed to reduce steady-state environmental noises; and microphone noise reduction to reduce low-level, unwanted microphone noise. Manufactured using a special receiver suspension that provides shock resistance, improved reliability, and acoustical stability.
(800) 766-4500
www.usa.siemens.com/hearing
---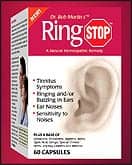 Tinnitus Treatment
EAR Inc, Boulder, Colo, offers RingSTOP™, an all-natural product for people with tinnitus. The product is a homeopathic formula available in capsule form containing amino acids, herbal extracts, antioxidants, and vitamins that have been reported to reduce the symptoms of tinnitus.
(800) 525-2690
www.earinc.com
www.freehearingtest.com
---

Individualized Fit Technology
Starkey Laboratories Inc, Eden Prairie, Minn, presents Inspire OS 2.0 and Destiny 1600. Using best-fitting practices once required a great deal of time. But with Starkey's Inspire OS 2.0 and Destiny 1600, a more accurate, individualized fit is said to take less time than a fitting using averaged data. This new hearing system is designed to work in perfect sync, using real-ear data immediately throughout Inspire OS. Auto Path provides one screen that leads users through a fast, automatic fitting protocol in less than 2 minutes. Additionally, all Destiny instruments have expanded output controls for greater fitting flexibility, access to maximum stable gain through active feedback intercept, and a visible indicator of all screens accessed during the fitting session. All Destiny products will be compatible with the newest Surround Town scene: a dynamic theater that allows the patient to experience a virtual theater environment.
(800) 328-8602
www.starkey.com
---
Impression Material
Precision Laboratories, Altamonte Springs, Fla, offers Blue Ultra ear impression silicone cartridges. This thixotropic formula has a low viscosity that resists slumping and distributes the material evenly. Pressure-free delivery eliminates distortion from stretching of the ear. Blue Ultra responds to the increasing need for high-quality ear impressions—a perfect fit for today's high-tech hearing aids.
(800) 327-4792
www.precisionweb.com
---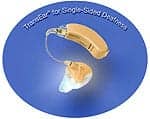 Bone-Conduction Hearing Aid
Ear Technology Corp, Johnson City, Tenn, announces the next generation of the TransEar® bone-conduction hearing aid for single-sided deafness: the TransEar 270. Using a new, improved, and smaller oscillator, TransEar can now fit patients with small ear canals, including children. The new, soft wire connector and half-shell design almost eliminate the possibility of feedback, while making the new model much less visible without compromising performance.
(888) 382-9327
www.transear.com
---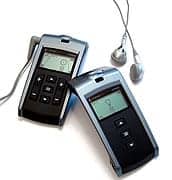 Wireless Communication System
Oaktree Products Inc, St Louis, has introduced the Contego, a full-performance wireless communication system designed to improve and enhance sound quality. The microphone (transmitter) and receiver have built-in zoom microphones that are user-adjustable for maximum customization. The microphones can be set for omnidirectional or directional, based on conditions, and the volume level can be adjusted by remote.
(800) 347-1960
www.oaktreeproducts.com