Linking Software
GN Otometrics has released OTOsuite™, software that links individual diagnostic and fitting tools together and provides users with a single point of entry to Immittance, Audiometry, Speech Mapping and Hearing Loss/Hearing Instrument Simulators. The OTOsuite universe is characterized by a seamless data flow and direct integration with NOAH and external systems. It is designed to eliminate the need to switch back and forth between individual applications and allow users to move freely from one work process to another. OTOsuite's primary benefit is its unique reporting capability. Measurement data from both diagnostic and fitting instruments can be combined into one report, making the documentation process both easier and more professional.
(800) 289-2150
www.gnotometrics.com
---
Renata Batteries/Kessler Sales
Renata invites hearing care professionals to look to them for the best solutions for patients' hearing aid battery requirements. The company reports that it is committed to producing the world's best-performing miniature batteries, and Maratone, its latest generation zinc air battery, is "a worthy contender in the marathon race for very best." Contact your Renata battery supplier or Sy Kessler Sales Inc.
(800) 527-0719
www.sykessler.com.
---
Advanced-Performance Hearing Instruments
Siemens Hearing Instruments Inc, NY, announces ARTIS™ 2 and CIELO™ 2. Designed for advanced performance, the ARTIS 2 is equipped with DataLearning technology that automatically learns and adjusts to wearers' volume preferences. DataLearning allows a faster, more precise fitting by recording usage data that enables the hearing care professional to fine-tune the instrument and counsel the wearer. ARTIS 2 also offers Siemens' proprietary e2e wireless technology, designed to provide a natural and effortless binaural hearing, including precise sound localization, harmonized volume and program settings, and better hearing comfort in noisy environments. CIELO 2 is equipped with a data-logging feature that collects information on hearing preferences, such as duration of instrument use, volume control position, hearing environments, volume changes, and program usage. The information obtained from data logging can be used for easier fine-tuning of the instruments, resulting in a more customized fitting.
(800) 766-4500
www.usa.siemens.com/hearing.
---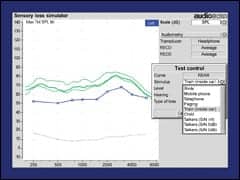 Sensory Hearing Loss Simulator
Audioscan®, Dorchester, Ontario, Canada, introduces its new Sensory Loss Simulator™, designed as an invaluable tool for patient and third-party counseling. The new simulator was developed to replicate accurately a cochlear or conductive hearing loss based on a client audiogram. The Sensory Loss Simulator is integrated into the Audioscan Verifit and RM500 SL.
(800) 265-2093
www.audioscan.com.
---
Instant Earmold Manufacturing
Insta-Mold Products Inc, Oaks, Pa, offers the Insta-Mold process, which allows custom swim molds, noise protectors, earmolds, and communication devices to be made on location in minutes. Patients receive finished molds the same day because the original impression becomes the finished product. The process allows the hearing care professional to insert tubing, acoustic filters, adapter rings, and core holes; vent and modify molds; apply silicone coatings; add handles and cords; and offer floatability in a variety of skin tones, neon colors, and swirl multicolor plugs.
(800) 523-4081
www.instamold.com.
---
Wax Protection System
Rexton Inc, Plymouth, Minn, has released C-Guard, its latest advancement in wax protection, available on all Calibra premier digital custom instruments. C-Guard effectively seals the receiver with a membrane barrier that protects against cerumen and moisture. This low-maintenance technology works without affecting the hearing instrument response curve. It is available on all custom instrument styles, from CIC to full shell, and is fitted during initial production. A replacement kit with removal/replacement tool and additional guards is available for customer use. For best results, C-Guard should be changed every 3 months. A specially designed tool is supplied for removing and inserting the guard.
(800) 876-1141
www.rexton-online.com.
---
Digital Video Recording
Interacoustics USA offers VNG Digital Video Recording, the latest contribution to the growing list of useful features that signify the company's user-friendly VN15 and VO25 VNG systems. The state-of-the-art video recording in VNG version 6.00 builds on the Interacoustics product philosophy with significant performance presented in a straightforward user interface. Users will appreciate features that include: Synchronized eye movements and graphic display; buffered recording to recapture data collected before video recording was initiated; sound recording feature for inclusion of comments or instructions.; advanced video replay with slow, normal, or fast speed rate; virtually unlimited recording period; export via e-mail function.
(800) 947-6334
.
---
Natural Ear Treatment
MiraCell Inc, Orem, Utah, offers MiraCell natural ear treatment, designed to ease cerumen removal, make wearing hearing aids and earmolds more comfortable, and relieve sore, dry, flaking, or itching ears caused by detaching keratin and tympanic membrane plaque. The company offers an income-making opportunity that will reduce returns and remakes.
(800) 748-5040
www.miracell.com.
---
Noise Filter
Hocks Hearing Healthcare Products, Portland, Ore, offers its Noise Braker® filter. The original acoustic filter, this product reduces all sounds to approximately 80 dB. Noise Brakers are available in three styles to suit the wearer's needs. The connector is used when connecting a communication or protection mold to tubing, and the insertion and screw filters are designed to be embedded into a mold (yet, speech-level sounds pass through clearly). Noise Brakers are available in red, white, and blue, and are sold individually at quantity discounts. The filters have no mechanical parts to wear out, contaminate, or injure the ear.
(800) 654-6257
www.noisebrakers.com.
---
Portable Telephone Amplifier
ELT Group™, Nashville, Tenn, offers the PT-tools™ model TA-1 strap-on telephone amplifier. PT-tools TA-1 meets the basic needs for an acoustically coupled portable telephone amplifier for travelers who are hard of hearing by providing acoustic boost of up to 25 dB, while also adding a feature unique to ELT designs: a "dummy" or pseudostereo 3.5-mm output jack to accommodate direct connection to compact headphones and a variety of hearing aid and cochlear implant couplings. The product features a 25-dB acoustic boost; soft rubber acoustic coupler; 3.5-mm "dummy" or pseudostereo output jack for neck loops, DAI, Silhouettes, stereo headphones, earbuds, CI implant patch cables, and other output couplings; woven elastic retaining strap; LED power status indicator; 2x AAA alkaline battery power; neoprene soft zipper carrying case ; and 1-year warranty.
(561) 655-8361 V/TTY
www.eltgroup.com.
---
Pure Tone Screening Audiometer
OTOVATION LLC, King of Prussia, Pa, offers the improved handheld ROTO® pure tone screening audiometer. Steady tone presentation is added to warble tone. ROTO's translucent housing is more compact and comfortable. For screening or threshold assessment, ROTO presents six frequencies (0.5 k to 6 k Hz) at 20 to 70 dBHL through a single TDH-39 earphone. Case included. ROTO is recommended to the hearing aid dispenser, school/visiting nurse, and busy practitioner.
(866) 686-8284
www.otovation.com.
---
Combination Tinnitus/Amplification BTE
General Hearing Instruments Inc, New Orleans, announces the debut of its Combo BTE. For patients experiencing tinnitus and/or hyperacusis in addition to hearing loss, the Combo BTE provides the combination of high-fidelity digital amplification and the same high-quality broadband sound generation featured throughout the Combo product line, with the convenience of a low-maintenance, over-the-ear fitting. The four-channel digital amplifier has a 16 kHz frequency response. Each Combo BTE is equipped with four memories and a telecoil. A long-lasting 13A battery powers the Combo. Each Combo BTE is paired with the SmartWear SFE earmold technology that combines the convenience of noncustom earmolds with the security and comfort of a custom fit by conforming to the unique shape of the user's ear. This is achieved through the patented Memory Form™ design, an ultrasoft silicone body containing a temperature-sensitive Nitinol endoskeleton.
(800) 824-3021
www.generalhearing.com.