2-Channel Infrared Listening System
Williams Sound Corp, Eden Prairie, Minn, introduces the WIR TX90 infrared listening system, which provides hearing assistance in classrooms, auditoriums, meeting rooms, businesses, and other large room facilities. The TX90 connects directly to the existing audio system of a facility and transmits a wireless audio signal throughout the seating area (up to 28,000 square feet in single channel mode). Listeners wear infrared receivers equipped with headsets to pick up the transmitted audio, allowing them to listen at their comfort level. The WIR TX90 features a built-in application preset control, allowing the installer to quickly and easily set up the unit for the most common audio applications: voice, music, or hearing assistance. The WIR TX90 configures itself to the appropriate setting. (800) 328-6190; www.williamssound.com.
Personal Listening System
The Comfort Contego™ Wireless Personal Listening System is now available from Hal-Hen, Garden City Park, NY. The Contego offers a full performance, 30-channel, affordable alternative for wireless communication, providing clear digital sound over a secure connection. With a range of 75 feet, its two zoom microphones—one in the transmitter and one in the receiver—provide maximum sound customization. Using Contego's LCD screen, both the transmitter and receiver microphones can be adjusted for directional or omnidirectional pickup and desired volume. The rechargeable device can be used with headset, earbuds, or induction loop, operating for 16 hrs on a 4 hr charge. Can be linked to TV, telephone, or other system. (800) 242-5436; www.halhenpro.com.
Bluetooth Headset
Oaktree Products Inc, St. Louis, presents the Beetle H-1, the newest Bluetooth® headset for hearing instrument wearers. As the sister product of the NoiZfree Telecoil Induction Earhook, the Beetle H-1 wirelessly connects to a Bluetooth-enabled device (eg, cell phone), enabling individuals with hearing loss to use the device while wearing their hearing instruments—but without any buzzing or interference. No wires, no cell phone buzz, no cell phone interference. (800) 347-1960; www.oaktreeproducts.com.
Custom Hearing Instrument Family
Audina® Hearing Instruments Inc, Longwood, Fla, introduces INTUITION® 4, which addresses a wide range of hearing losses. Expanded fitting range available with the CIC style, fitting up to an 80 dB loss. Advanced adaptive feedback cancellation that is more resistant to entrainment. Works on all frequencies simultaneously and features up to 22 dB added stable gain. Layered noise reduction reduces annoyance and fatigue of background noise while giving clarity and low distortion to speech input. 12-band gain adjustment for precise target matching, low and high frequency shaping and peak shifting. Powerful Dynamic Contrast Detection™ Compression—three-mode adaptive time constants to optimize AGC performance in critical environments without distortion. (800) 223-7700; www.audina.net.
Patient Financing Brochure
The HELPcard, Springdale, Ark, introduces a new patient brochure to help clients see the benefits of financing with no-interest or low-interest payments. The brochure reinforces how attainable it is to hear well when easy-to-budget payments are available As always, The HELPcard has no enrollment fee, instant approvals, and an account manager trained to answer all financing questions. (800) 945-4357, ext. 316; www.helpcard.com.
Fitting Software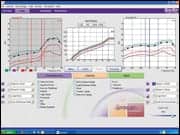 SeboTek Hearing Systems, Tulsa, Okla, introduces InFocus™ Lifestyles™, a software feature designed to make fitting fast and efficient for practitioners and patients, while providing a same-session fitting custom-designed for each patient's individual hearing loss and lifestyle. InFocus Lifestyles is available as part of SeboTek's Pro-VES™ 4.7 software, and can be used to program any SeboTek hearing instrument, including its newest premium-level device, the Voice-Q 721. InFocus Lifestyles provides hearing care professionals with single-click access to sophisticated algorithms for 17 environments. Depending upon the level of device chosen, practitioners can then program up to four memories to match the individual lifestyle and needs of each patient. SeboTek's latest software release also includes additional features such as Auto Relate, enhanced copy/balance functionality, and adaptive feature controls. Pro-VES 4.7 with InFocus Lifestyles is Noah 2.0 and 3.0 compatible. (800) 388-9041; www.sebotek.com.