Miniature Power Device
Phonak, Warrenville, Ill, introduces the microPower hearing system. This miniature power device was specifically developed for active users with significant hearing loss. microPower's Canal Receiver Technology (CRT) reduces the size of the BTE to an ultra small casing. The receiver in the ear provides additional gain and output with a smooth, broadband frequency response. The separation of the microphone and receiver eliminates most sources of acoustic feedback. microPower is the first micro device with an automatic T-coil and FM capability. The device features a soft instant-fit dome, discrete housing and tube connection, and only weighs 2 grams. (800) 777-7333; www.phonak.com.
---

Manual Audiometer
Micro Audiometrics, Murphy, NC, announces the new Earscan 3 Manual Audiometer for schools and physicians' offices. The Earscan 3M is a manual puretone air conduction audiometer, featuring a large easy-to-read LCD screen, and a talk-over feature allowing communication with the test subject. It runs on four AA alkaline batteries or on the AC power adapter (included), weighs less than 10 ounces, and includes a carrying case. (800) 729-9509; www.microaud.com.
---

Hearing Loss/Aid Simulators
Sensimetrics Corp, Somerville, Mass, announces HeLPS, the Hearing Loss and Prosthesis Simulator. HeLPS delivers accurate interactive demonstrations of the communication difficulties caused by individual hearing losses, the improvements possible with custom-fit hearing aids or cochlear implants, and the importance of speechreading and clear speaking. A flexible computer interface enables extensive real-time control of the characteristics of simulated hearing losses, tinnitus, compression hearing aids, and multiple-channel implants. HeLPS provides high-quality audio-visual speech material for speechreading demonstrations, along with control of background noise and reverberation. Only the calibrated headphones (supplied) and a Windows-based computer are required. (617) 625-0600; www.sens.com.
---

Corded Trim Phone
Clarity®, Chattanooga, Tenn, introduces the C200™. This device is the first corded trim line telephone offered by the company. The new trim line design has a dial on the handset of the phone instead of on the base, making the phone convenient to use. The phone also features a large, lighted dial pad and up to 26 dB of amplification. (800) 426-3738; www.clarityproducts.com.
---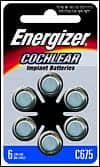 Cochlear Batteries
Energizer®, St Louis, introduces the Energizer Cochlear, a specially formulated series of AC675 batteries for cochlear implants. Because the implant's technology can bypass the damaged part of the ear and send digital sound waves directly to the auditory nerve, it requires more power—three batteries every 2-3 days. Energizer Cochlear has been designed to meet the requirements for increased power. The batteries are available in bulk packs of 10 cards (60 batteries). (314) 985-1637; www.energizer.com.
---

Telephone Demo Board
Beyond Hearing Aids, Florence, Ky, introduces a telephone demonstration board that can be placed in any office area. It encourages patients to hear what a good quality amplified phone sounds like compared to the phone they have at home. The acrylic telephone display board comes with a phone line simulator and choice of amplified telephone, and is designed to take up little space on any table or desk. The kit also includes color brochures of the most popular ALDs available. (800) 838-1649; www.beyondhearingaids.com.