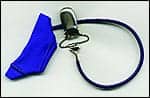 Protection/Security Devices

Ear Gear, British Columbia, Canada, introduces two new models to its line of hearing instrument protection and security devices: Ear Gear Cochlear, designed to fit various processors from both Cochlear and Advanced Bionics, and Ear Gear Mini for the open-fit hearing aids.

The devices offer protection from loss, sweat, moisture, and dirt. With its side loading and ability to accommodate the Cochlear cable, Ear Gear Cochlear is said to be the first security/protection device designed specifically for cochlear processors. The Ear Gear Mini, available in both square and curved shaped models, addresses the needs of the rapidly increasing open-fit market. (888) 766-1838; www.gearforears.com.
---

High Power UV LED Gun

Lightning Enterprises, Limington, Me, announces the LED-100, a UV curing system powered by an advanced Light Emitting Diode (LED) with an output of 1 W/cm2 . The compact, hand-held unit operates from a Lithium Ion battery and is completely portable. Its microprocessor provides accurate control of timing functions and an LCD display shows operational status. Its user-friendly advanced design is an excellent approach to UV curing for hearing aid repair and manufacturing. (877) 546-1797; www.lightningenterprises.com.
---

Captioned Telephone

Ultratec, Madison, Wis, offers CapTel™, the telephone that displays text captions of everything the other party says while also allowing users to hear what the caller says. Captions are provided automatically by a service that uses voice-recognition technology to transcribe the caller's words into written captions. The captions appear on a display window in the CapTel phone. CapTel requires a standard analog phone line (or analog port). The cost of the captioning service is free to users, as it is covered by Telecommunications Relay Service funds under the Americans with Disabilities Act. (888) 269-7477 (V); (800) 482-2424 (TTY); www.captionedtelephone.com.
---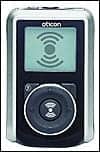 FM System
Oticon Inc, Somerset, NJ, introduces an FM solution, the new Oticon Amigo. Amigo features a built-in LED light in the FM receiver that lets users know the system is working. The design features a durable rigid centerframe, rubber coating, polycarbonate faceplate, and silicon rubber keypad. It prioritizes voice over noise, so the cleanest signal gets sent. The Amigo transmitter also functions as the programmer, eliminating the need for carrying cumbersome equipment for programming or troubleshooting. (888) 684-7331; www.oticonus.com.
---

Wireless CROS/BiCROS ITE
Unitron Hearing US, Plymouth, Minn, announces the availability of the WiFi Mic ITE-to-ITE system. It is designed for patients with asymmetrical hearing losses. Available as either a Digital Wireless CROS or Digital Wireless BiCROS, the ITE-to-ITE system transmits sounds originating on the side of the unaidable ear to the other hearing ear. It features remote microphones for a more discreet hearing solution. By engaging BiCROS, users can take advantage of the benefits of digital hearing aids, including noise reduction and feedback management. WiFi Mic ITE-to-ITE is available with Conversa.NT™ and Unison™ 6, 3, and Essential product families. (800) 888-8882; www.unitronhearing.us.
---

VNG Software
Interacoustics, Eden Prairie, Minn, introduces its new version of the software for the VO25 and VN15 VNG systems. The new software features an improved eye-tracking algorithm, manual editing function of nystagmus marks together with normative data available for a number of tests. The new editing function allows the examiner to add or erase nystagmus beats in the Spontaneous Nystagmus test, the Multi Condition test, the Smooth Pursuit test and the Caloric test. In addition, the Culmination Phase Area in the Caloric Test may be defined according to the examiner's own preference. (800) 947-6334; www.interacoustics.com.
---

Corded Telephone With Answering Machine
Clarity, a division of Plantronics Inc, Chattanooga, Tenn, introduces the Clarity C320™. This corded telephone with a built-in digital answering machine allows messages to be played back either through the external speaker or the telephone handset. This product is designed for people with mild to moderate hearing loss that are also in need of an answering machine. (800) 426-3738; www.clarityproducts.com.
---

Algorithm Upgrade
MedRx Inc, Largo, Fla, now offers the AVANT REM Speech™ system with the most recent DSL v5.0 algorithm as a standard selection in the Real Ear modalities. The latest version of the DSL Method includes the DSL multistage input/output algorithm. The system performs Live Speech Mapping using the standard Long Term Average Spectrum for use of man-made stimulus, and a second method that shows targets for actual Live Speech and allows for measurement of everyday speech while comparing results to new targets. (888) 392-1234; www.medrx.com.
---

Multiple-Use Earplugs
Howard Leight, a division of the Bacou-Dalloz Hearing Safety Group, San Diego, introduces its redesigned and updated AirSoft® multiple-use earplugs. It features an internal air pocket design that incorporates a series of patented, noise-blocking fins within the pocket. As the air pocket compresses in the ear canal, the fins interweave to create a noise-blocking barrier optimized to the wearer's ear canal. A fourth flange has been added to its profile, and the center shaft has been stiffened to facilitate insertion and removal. AirSoft is now made with TPE material for increased comfort. (800) 430-5490; www.hearingportal.com.
---

Hearing Aid Hybrids
AMI Semiconductor, Pocatello, Idaho, offers the Orela™ 4500 series of DSP-based, mixed-signal hearing aid hybrids. The open system, software-programmable design provides a flexible range for hearing aid applications. Features include: selectable system clock speeds of 5.12 MHz, 3.84 MHz, 2.56 MHz, 1.92 MHz, and 1.28 MHz; 87 dB system range; low-power consumption; low group delay; IP protection; multiple inputs; and a "smart" power management unit that provides safe operation under any battery condition. (208) 233-4690; www.amis.com.
---

Fitting Software
Interton, Plymouth, Minn, offers CompuFit fitting software. Users can connect to the program, read the instrument, click AutoFit, and program the instrument. Under the Basic Tab, users can adjust and set the volume control and memories. Using the Fine tab, users can adjust the gain by channels, the microphone noise reduction, and the feedback manager. For more precise fine-tuning, the Expert tab allows adjustments by individual band, by channel, or by the entire response. It also includes an AGC tab to adjust kneepoints, compression ratios, and attack and release time. (800) 247-4741; www.interton-usa.com.
---

Omni-Directional Microphone
Oval Window Audio, Nederland, Colo, introduces the TM-1, an omni-directional table top conference microphone designed for use with assistive listening systems and conference recording systems. The 2-inch triangular-shaped boundary microphone picks up speech signals up to 6 feet away. Several of the microphones may be linked for larger area coverage. The TM-1 is compatible with the manufacturer's small area induction loop systems, wireless microphone transmitters, and other audio devices that utilize electret microphones. (303) 447-3607; www.ovalwindow.com.