Digital Hearing Instrument
Frye Electronics Inc, Tigard, Ore, introduces a new Open Fit Coupler for testing open ear fitted hearing instruments. This new coupler has internal dimensions and resonance characteristics similar to a real ear so that the hearing instrument can be easily inserted and tested. It is designed to work with the coupler mode of all FONIX analyzers. The Open Fit Coupler is lengthened so that its resistance peak is similar to that of a real ear. A damping element is inserted in the coupler to adjust the 2,700 Hz resonant peak to about 12 dB. The substitution system used in FONIX analyzers does not use a pressure equalization microphone, thus eliminating the measurement artifact. (800) 547-8209; www.frye.com.
---
Dosimeter Software Compatibility
Quest Technologies Inc, Oconomowoc, Wis, introduces the NoisePro Series Personal Noise Dosimeters' compatibility with QuestSuite Professional II. The addition of the NoisePro Series helps enhance QuestSuite Professional II's end-user experience. New key features include: customized reports; condensed reports; reports in PDF format; a centralized database; USB support; and automatic updates. (262) 567-9157; www.Quest-Technologies.com.
---
Database Software
VIASYS NeuroCare, Madison, Wis, in cooperation with Biocoustics, Columbia, Md, introduces AudBase, a database software that is compatible with GSI 61 and GSI Arrow audiometers, and the GSI TympStar middle ear analyzer. The AudBase software works in conjunction with the data output from the GSI diagnostic devices in order to provide a database and report writing features. It is available in stand-alone and network configurations. (800) 700-2282; www.viasyshealthcare.com.
---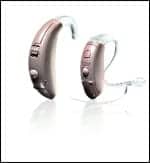 9- and 17-Channel Hearing Solutions
Beltone, Glenview, Ill, introduces its newest hearing devices: the 9-channel LinQ and the 17-channel One! hearing aids. Both are available in BTE and mini-BTE styles along with open configurations. The One! offers Shadow Technology featuring: Sound Cleaner, Beltone's new noise-reduction algorithm; Smart Beam, adaptive directionality with three beam-width choices; and Speech Spotter, a microphone system that automatically switches to adaptive directionality when the circuit determines the noise level is too high. Both instruments offer Satisfaction Manager technology that records each automatic and manual adjustment, and analyzes the data to provide more information about the types of environments the patient typically encounters.  (800) 621-1275; www.beltone.com.
---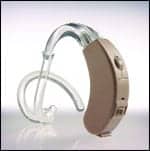 Tinnitus Sound Generator
General Hearing Instruments Inc, New Orleans, introduces The Tranquil BTE tinnitus sound generator. The device provides the same broadband noise generating capabilities as ITE models, and features a free-field or non-occluding earmold, leaving the lower portion of the ear canal open to receive surrounding sounds in a normal manner. A built-in gain control trimmer lets the tinnitus management professional adjust the Tranquil BTE's overall output. The Tranquil BTE comes with presentation case, instruction booklet, battery, travel pouch, and non-custom free-field earmold. (800) 824-3021; www.genearlhearing.com.
---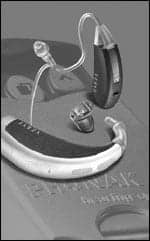 Self-Learning Hearing Instrument
Phonak, Stäfa, Switzerland, introduces Verve. This device introduces SmartVoice and SelfLearning. SmartVoice technology allows Verve to use clear spoken messages to deliver information, such as alerts and status information. Verve can also adjust and correct itself based on the user interaction. The SelfLearning feature helps reduce the necessity for wearers to undergo repeated adjustments as this ongoing learning process takes place directly inside the hearing instrument. It features a smooth silhouette and low-visibility design. Part of the Phonak Verve program. (800) 777-7333; www.phonak.verve.com.