Visible Speech System
GN Otometrics, Schaumburg, Ill, introduces the AURICAL™ Visible Speech. With its wireless 100 binaural measurement unit, and new NOAH-compatible Visible Speech software, the system produces more efficient hearing instrument fitting and verification. Features also include Bluetooth® wireless technology for data transmission, and integration with NOAHlink programming interface. The electronics are housed in a body-worn device, freeing up the dispenser's desktop space. The system makes the fitting process visible on-screen, and features a hearing loss simulator and a hearing instrument simulator. (847) 534-2150; www.gnotometrics.com.
---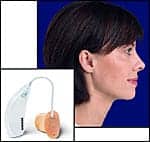 Miniature Power Device
Phonak, Warrenville, Ill, offers the microPower hearing system, a miniature power device developed for active users with significant hearing loss. Utilizing Canal Receiver Technology (CRT), the hearing instrument's receiver is placed in the canal, and the size of the BTE can be reduced to an ultra small casing. The microphone and receiver are separate thus eliminating most sources of acoustic feedback. It also has automatic T-coil and FM capabilities. microPower weighs .07 oz, and uses a soft instant fit dome. (800) 777-7333; www.phonak.com.
---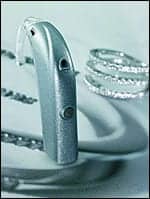 Premium Hearing System
Bernafon, Somerset, NJ, introduces ICOS, a premium hearing system. ICOS features Personalized Audio Navigation™, designed to allow for the best hearing response in any listening situation. It is programmed according to an individual's listening needs and priorities along with a Lifestyle Profile to determine ICOS's automatic features. Using Audio Recognition™, the device is constantly scanning and detecting the presence of speech, noise, and wind noise, automatically applying noise reduction and adaptive directionality as needed. The ICOS Tracker logs the activity of special features, and tracks a user's real-life listening environments. (888) 941-4203; www.bernafon-us.com.
---

Technology Adjusts to Environments
Siemens Hearing Instruments, Piscataway, NJ, offers Centra™, a hearing aid that automatically adjusts to a user's preferences in a variety of different environments. DataLearning™ technology records wearer data then actively applies that data to improve the hearing experience. SoundSmoothing™ technology is a sound suppression system that reduces impulsive non-speech sounds while leaving speech signals intact. The ear-to-ear wireless technology enables hearing devices to talk to each other, adjusting and synchronizing automatically in a process similar to natural hearing. This technology has been developed specifically for binaural use. (800) 766-4500; www.usa.siemens.com/hearing.
---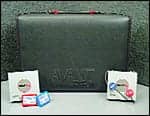 Portable Testing and Fitting System
MedRx, Largo, Fla, introduces the AVANT Mobile Office, which provides a portable computerized testing and fitting system. The AVANT Mobile Office consists of the AVANT A2D audiometer, a 2-channel, air-bone-speech audiometer, the AVANT REM Speech Live Speech Mapping, and REAL EAR measurement system. Both devices weigh less than a half-pound each, connect to the USB ports on any laptop computer, and come in a compartmental carrying case. The entire system weighs less than 7 pounds. (888) 392-1234; www.medrx.com.
---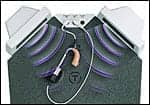 Directional Hearing Instrument Test
Audioscan, Dorchester, Ontario, Canada, offers a real-time directional hearing instrument test on its Verifit REM/HIT analyzer. Utilizing the Verifit dual-speaker technology, each speaker delivers a broadband signal. Each signal is independent of the other, making it possible to decipher which speaker the signal originated from, even after the hearing instrument has processed the signal. The response from each speaker is shown in real time so the directional effect can be seen. (800) 265-2093; www.audioscan.com.