Siemens to Open New Manufacturing Facility in California

Siemens' new manufacturing facility in La Mirada, Calif, will feature its LasR™ Lab technology.
Piscataway, NJ — Siemens Hearing Instruments has announced plans to open a new state-of-the-art 28,000-sq-ft manufacturing plant in La Mirada, Calif. The new facility is being built to increase manufacturing capacity for Siemens' growth needs, according to the company, and it will house its LasR™ Lab, which is designed to create more accurate and comfortably fitting hearing instruments. The official opening is scheduled for late 2002.
Using computer software and laser scanning technology, the new LasR process is said to create, more accurately, the outer shell of the hearing instrument. Siemens will provide an audiology team and customer service, sales, and manufacturing departments at the new La Mirada facility. Additionally, the custom hearing instrument factory will utilize the latest in digital mechanical assembly technology to assure the highest quality.
"The La Mirada facility will allow us to deliver the best products with world class quality and reliability, customer service, and quick turnaround, to continue to meet the needs of our hearing care professionals and their patients," says Siemens CEO William J. Lankenau. w
---
First Half Sales for 2002 Indicate Flat Market Conditions
Alexandria, Va — According to Hearing Industries Association (HIA) statistics, net unit sales of hearing aids for the first half of 2002 in the US were almost exactly the same as in 2001—falling by only 0.1%. Second quarter 2002 sales were down by 0.6% compared to 2001.
HIA statistics also indicate that digital hearing instruments continue to increase in popularity, and now account for 40.1% of all hearing aids dispensed in the US (compared to 27.2% for all of 2001). Programmable analog aids accounted for 28.8% (compared to 31.8% for 2001). These numbers are essentially identical to the June 2002 HR Dispenser Survey figures (39% and 29%, respectively).
If the trend holds, the statistics suggest that high-performance instruments (ie, DSP and analog programmables) should make up an astonishing 75% of the market by year's end.
---
Bernafon Gains ISO 9001 Certification

The staff of Bernafon US celebrates its recent ISO 9001 certification
Eden Prairie, Minn — Bernafon US announced that it has gained ISO 9001 certification. In order for Bernafon US to become ISO 9001 certified, every aspect of the company was scrutinized under an audit, including customer service, manufacturing, managerial, and human resource processes. "The processes ensure that everyone is doing a job the same way every time, which will ensure that our customer service and our hearing instruments are the same every time," says Brett Fricke, Bernafon quality manager. "Because consistency is the main benefit from becoming ISO 9001 certified, every time you call the company for assistance, you will know what to expect, and every time you purchase a hearing instrument from Bernafon, you will also know what to expect."
The company reports that a side benefit of the new certification has been an increase in efficiency and a shortened turnaround time on hearing instruments. "ISO 9001 certification is a huge accomplishment," says Bernafon President Peter Van Nest. "Only a handful of companies are ISO certified in the US."
---
Crystal Ear Device Ruled an Assistive Device By Florida Court
Lutz, Fla — A Florida court has ruled that the Crystal Ear device, marketed by Crystal Care International Inc, Lutz, Fla, is an assistive device and not a hearing aid. It says that it is, therefore, not subject to the medical/physician waiver condition rules applying to hearing aids.
The state prosecutor's office claimed during a 3-day trial that the device was a hearing aid and was therefore subject to regulation and prescription. Crystal Care President Michael Nehr faced charges of fraud and falsely representing a product, but the jury cleared him of the charges, taking only 30 minutes to deliberate before reaching its verdict. Nehr faced up to 30 years in prison if convicted.
Crystal Ear, a $300 one-size-fits-all instant-fit device designed for people with mild to moderate losses, has a history of being a controversial product. Several people in the hearing care field and hearing industry have contended that the device fits the physical definition of a conventional linear hearing aid, but is instead marketed as a "sound enhancer" for the purpose of side-stepping regulations governing the design, manufacture, marketing, sales, and distribution of hearing aids. The Food and Drug Administration (FDA) has ruled that the product is a hearing aid.
Crystal Care has long stated that the Crystal Ear is an assistive listening device that can be equated with non-prescription glasses in the eyewear industry—products that have been sold over the counter for years. No prescriptive fitting (ie, testing for a personal hearing loss) is performed in obtaining the Crystal Care device, and it functions only as a basic amplifier. Users adjust a volume wheel to set the gain of the instrument to their preference.
---
FDA Approves Implant for Patients with Ossified Cochlea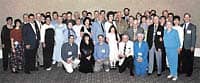 Nucleus® 24 Double Array designed for patients with ossification in their cochlea.
Denver — Cochlear Americas announced that the Food and Drug Administration (FDA) has approved the Nucleus® 24 Double Array cochlear implant for use in patients with ossification (bone growth) in their cochlea. Bone growth may block the space inside the cochlea, preventing the use of conventional cochlear implants, which consist of a single array of electrodes.
The Nucleus 24 Double Array, developed in collaboration with Professor Lenarz at the ORL Clinic at the Medical Univ of Hannover (Germany), is designed to allow patients with significantly ossified cochlea to gain the benefits of cochlear implantation by offering two shorter electrode arrays. Unlike a single electrode array, these shorter electrode arrays are surgically implanted into two different positions in the cochlea, bypassing ossification that may be obstructing the passage way.
"The Nucleus 24 Double Array is an innovative solution offering patients with ossified cochlea the option to benefit from cochlear implants," said Cochlear Americas President Jim Miller. "We are delighted that the collaborative efforts of our company and Professor Lenarz resulted in a product that provides an alternative to patients who, due to this disorder, could not normally benefit from a cochlear implant."
The product features two electrode arrays, providing 22 channels of stimulation, and compact arrays, each consisting of 11 electrodes that are designed to provide maximum sound information over the shortest distance. The new device supports SPEAK, CIS and ACE speech coding strategies and is compatible with the ESPrit 3G™ and Sprint™ speech processors.
---
HINT Now Available in Five Additional Languages
Los Angeles — The House Ear Institute's (HEI) Hearing In Noise Test (HINT) will soon be available in Japanese, Mandarin, Cantonese, Spanish, and Canadian French language modules for the first time since it was released for commercial use in 1996.
The HINT is used to evaluate the functional hearing capabilities of hearing aid users, cochlear implant users, and those in critical-listening jobs. It is hoped that hearing scientists will now be able to compare data and measure benefits across different language groups. Clinicians in the US can apply the new foreign-language modules in their treatment of hearing loss patients who do not speak English. Additionally, it is expected that data in different countries will be able to be pooled for collaborative international studies on functional hearing results.
Hearing researchers in Hong Kong, Taipei, Beijing, Osaka, Ottawa, and several Latin American countries have collaborated with HEI, Maico Diagnostics, Nidek Corp, and Cochlear Corp to develop and manufacture the foreign language modules for release in 2002.
The HINT requires patients to recognize and repeat short sentences. The subject's sentence reception threshold is obtained under four test conditions that sample the range of binaural directional hearing ability in noise: speech in quiet or with noise coming from three different directions. Noise is presented at a fixed level of 65 dB, and the level of speech is adaptively varied, depending on the response of the subject.
For information, visit the HEI Web site at www.hei.org.
---
Soundbridge Middle Ear Implant Approved for Military Personnel
San Jose, Calif — The US Department of Defense (DoD) has validated treatment and approved coverage for the Vibrant Soundbridge middle ear implant for both active and retired military personnel in all branches of the military, according to Symphonix Devices Inc. The device is FDA approved for use by those with moderate to severe sensorineural hearing loss.
Currently, otologists and audiologists at two facilities—the San Diego Naval Medical Center and the Medical Center Portsmouth Naval in Virginia—will perform the procedures and program the devices, with other facilities to follow. The Medical Center Portsmouth Naval, one of the country's first commercial centers to implant the device, has recently concluded a successful pilot program using the middle ear implant.
Unlike acoustic hearing aids, which increase the volume of sound that goes to the eardrum, the Soundbridge bypasses the ear canal and eardrum by directly vibrating the small bones in the middle ear. Because of its design, no portion of the device is placed in the ear canal itself.
"The approval by the DoD, spearheaded by the Naval Hospital in San Diego, signals a real commitment by the US government to take care of their servicemen and women, even years after active duty," says Symphonix CEO Kirk Davis.
There are currently 1.4 million active and over 2.0 million retired military personnel. Recent studies conducted by the US Navy Environmental Health Center indicate that Navy servicemen and women suffer hearing loss at a rate of double that of the civilian population. "The DoD acceptance comes on the heels of our launching pilot programs with the VA and Kaiser Hearing Centers of Northern California," says Terence Griffin, CFO of Symphonix. "We look forward to continuing our efforts at expanding coverage by third parties."
Active duty military and retired personnel, as well as dependents, are eligible for coverage of the procedure commencing with the DoD's fiscal year October 1, 2002. For more information, visit the company's Web site at www.symphonix.com.
---
Meningitis Vaccination Program Announced
by Advanced Bionics
Valencia, Calif — Advanced Bionics® Corp has announced a Bacterial Meningitis Vaccination Reimbursement Program for users of its cochlear implant technology. The Program is designed to facilitate vaccination and remove any potential barriers to obtaining the pneumococcal meningitis and Haemophilus influenzae type b (Hib) vaccines that were recommended by the US Food & Drug Administration (FDA) for cochlear implant users July 24, 2002. The Bacterial Meningitis Vaccination Reimbursement Program provides that Advanced Bionics will reimburse North American Clarion® cochlear implant users who make any medical payments that are not covered by their insurance carrier (including co-payments) for these vaccinations between August 5, 2002 and January 1, 2003.
"Our goals are to have every Clarion implant user talk to their primary care physician or pediatrician about vaccination, to increase their understanding of the disease's symptoms, and to have any of those symptoms, including middle ear infection, treated promptly," says Douglas Lynch, director of corporate marketing. "We believe this reimbursement Program and our public communications on meningitis will help us meet these goals." The company recently warned cochlear implant users of a potential greater risk of meningitus associated with some of its devices (for details, see the August 2002 HR News, page 10).
Additional information on the program and a copy of the program's patient form is available at www.BionicEar.com.
---
CID Announces Results of 5-year NIH Cochlear Implant Study
St Louis — During the recent AG Bell Association 2002 International Convention, Central Institute for the Deaf (CID) scientist Ann E. Geers, PhD, reported the latest findings on how cochlear implants affect speech and language development in deaf children.
Geers and colleagues looked at the speech, language, and reading competence of 181 children ages 8-9 in 33 states and 5 provinces. Each child was deafened before age 3 and implanted by age 5; all had used an implant for more than 3 years. Geers and her colleagues found that deaf children who used implants exhibited substantially improved performance over what had been observed in deaf children who used hearing aids. When results were controlled for the external influences and implant characteristics, it was found that children who received oral education exhibited significantly better post-implant outcomes than children educated in total communication settings. Additionally, the study suggests:
Children implanted for 4-7 years averaged 50% open-set speech perception through listening alone and almost 80% through lipreading and listening together.
On average, more than 60% of the children's speech was intelligible to people with no experience listening to deaf children.
More than 50% of the children achieved language and reading levels comparable to those with no hearing loss.
"Parents and teachers can do little to change the child's intelligence or type of implant array," says Geers. "However, they can ensure the child acquires the most up-to-date cochlear implant technology and choose an educational program that consistently emphasizes speech and auditory skill development in all communication."
---
Corrections
In the August 2002 HR article by Francis Kuk, PhD, and Carl Ludvigsen, MS (pages 22-32), the credit for Figures 1-4 was inadvertently left off the graphs. The graphs originated from Larry Revit and Frye Electronics. They originally appeared in Revit's 1992 Hearing Instruments (Vol 43, No 12, pages 16-18) article, "Two techniques for dealing with the occlusion effect." Additionally, in Figure 2 of the article, the line that cites a "0.06" mm vent should read "0.6 mm."

A spelling error occurred on the cover of the August issue. The correct name of the National Acoustic Laboratories (NAL) fitting method for non-linear hearing instruments is "NAL-NL1."