UV Curing Unit
Lightning Enterprises, Limington, Me, announces the release of its new Dual-Lite UV Cure Unit. Specifically designed for hearing instrument repair and modification, Dual-Lite utilizes two 9-watt UV lamps and a mirrored interior, which can be cleaned or replaced for maximum intensity and light reflection. With its small footprint, measuring 7 3/4" x 4" x 3 3/8", the device also works as a space-saver for your workstation. The product is made of durable plastic. (877) 546-1797; www.lightning-enterprises.com.
---

Microphone Series
Knowles Electronics introduces the thin MicTM microphone family, including the TO, TD, and TP series. The TO series omnidirectional microphone is the thinnest microphone offered, at 1.3mm (0.051") thick. The TD series directional microphone maintains the 1.3mm (0.051") thinness of the TO microphone while offering a supercardioid polar pattern. The TP series omni-plus-directional conjoined pair combines the benefits of the TO and TD microphones in a compact package size. The TP series provides both an omnidirectional and a directional microphone while using only two sound ports (versus three sound ports needed for traditional stand-alone omni-plus-directional mics), reducing mounting time and minimizing any acoustic tubing required.
---

Digital Hearing Aid
Unitron Hearing, Kitchener, Ontario, Canada, introduces Unison™, its new line of digital hearing aid products. The product, available in either the Unison 2 or Unison 4 lines, features four selectable processing schemes, four bands for detailed frequency shaping, adjustable crossovers, multiple listening programs, programmable directional microphones, manual volume control, feedback manager, low battery warning, high power BTE, and optional telecoil. The Unison 2 features a two-channel WDRC that provides the ability to adjust high and low channels independently and amplify soft and loud sounds with precision; the Unison 4 offers a choice of four processing types. (519) 895-0100; www.unitron.com.
---

Programming Instrument
The Hearing Instrument Manufacturer's Software Association (HIMSA), Copenhagen, Denmark, introduces NOAHlink™, its new hearing instrument programming interface. The product utilizes a high-speed wireless technology that provides speed and flexibility. Through elimination of wires to a PC, NOAHlink™ allows patients to be up to 16 feet from a computer during fitting with no "line of sight" requirements. It is also powered by rechargeable batteries, allowing for easier portability, and fits in the palm of the hand. In addition, since it is worn around the neck, its cables are shorter and thinner than those used with HI-PRO, the interface that the new product replaces. (800) 435-9246; www.himsa.com.
---

BTE Processor
Cochlear Corp, Englewood, Colo, introduces the ESPrit™ 3G behind the ear speech processor, designed for cochlear implant recipients. The product offers a built-in telecoil that allows recipients wireless access to hearing aid compatible telephones; a whisper setting which improves the audibility of soft and moderate speech; high power zinc air batteries that provide an average of 54 hours of battery life; three separate coding strategies designed to allow users to hear clearly in all environments; and a new tapered profile with a weight of 15 grams and an adjustable titanium earhook. In addition, it contains two program locations allowing users to select alternate settings for use in different listening situations. (800) 458-4999; www.cochlear.com.
---

Software Program
Interacoustics, Eden Prairie, Minn, introduces the EP 25 stand alone ABR system for audiologists. This Windows® based software program features off line filtering and a wave reproducibility index, eliminating the need to run time consuming replications. A data bank allows the system to automatically mark your waves for each collection. In addition, a professional customized report provides the finishing touch that displays a quality image for your clinic. (800) 947-6334; www.interacoustics.com.
---

Infant Earmold
Hearing Components Inc, Oakdale, Minn, introduces a new compliant earmold for infants with hearing losses, made with Comply™ Soft Wrap foam strips. This earmold enables audiologists to fit hearing aids instantly and safely on infants without the need for impressions and custom earmolds. Parents can easily and safely manage the compliant earmold as well. The product will allow the natural growth of the infant's ear canal without any pressure from hard materials. All research shows that hearing impaired infants should have hearing aid amplification as quickly as possible. (651) 739-9427.
---

Impression Materials
Magnatone, Casselberry, Fla, introduces a line of impression materials and syringes, designed for CIC impressions. The CopyCast™ is designed specifically for use with cartridge impression guns, and flows freely with minimum pressure. It cures quickly in the ear and leaves no oil or residue. The SunCast™ is made with two dosing spoons, making it easy to use with a silicone syringe. It leaves no residue and does not shrink or irritate the skin. In addition, Magnatone is also offering powder and liquid impression material, alcohol wipes, and Oto-blocks. (800) 327-5159; www.magnatone.com.
---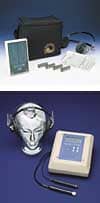 Battery Dispenser
Energizer, St Louis, introduces the EZ Change, a hearing aid battery dispenser that eliminates the need to handle batteries. The product allows hearing aid wearers to insert the batteries into their hearing aids quickly and accurately, without having to use tabs. As a result, hearing professionals are also able to prescribe hearing aids to patients regardless of patient problems with dexterity. In addition, the company has announced that it is expanding the life of its hearing aid batteries by up to 18%, an increase that will be phased in all size 10, 13, 312, and 675 batteries by the end of summer, 2002. (314) 985-2169.