William Demant and Starkey to work jointly on wireless technology
A platform for new assistive devices and future wireless peripheral products for the hearing health care field is being jointly developed by William Demant Holding A/S, Hellerup, Denmark, and Starkey Laboratories, Eden Prairie, MN. The new wireless platform is based on one currently being developed by William Demant Holding A/S, parent company of Oticon and Bernafon.
ALDs can be designed for wireless RF transmission of speech to hearing instruments, and many experts in the hearing industry believe that wireless technology will play an increasingly important role for hearing instrument manufacturers' offerings of complete listening systems (e.g., see David Hawkins and Robert Sweetow's comments in the March 2000 HR, p. 48).
Starkey and William Demant Holding A/S have agreed to use the same platform for future wireless products and accessories. It is their belief that cooperation between the two companies will leverage future investments and bring new advanced products to the market. The companies contend that ALD development is "still in its infancy," and a common wireless platform can accomplish seamless operation with hearing instruments and the needed standardization of frequency bands and channels. They report that new products can be expected before the end of 2001.
In related news, GN Great Nordic announced that one of its companies, GN Netcom, will be ready to market and ship the world's first Bluetooth-enabled telephone headsets this month. However, the bluetooth chips are reportedly not yet available in large quantities and will probably remain scarce until mid-2001, according to Danish financial industry sources.
---
HEAR USA acquires www.hearingaids.com and is purchased by HCA
Scottsdale, AZ — HEAR USA, Inc. acquired the Internet domain name www.hearingaids.com, then in September, signed a letter of intent to be purchased by Helix Hearing Care of America, the Montreal-based owner of 124 hearing health care clinics in North America. HEAR USA owns approximately 100 domain names, including www.hearingaidbatteries. com, www.tinnitus.com, www.audiologists.com, www.audiologistonline.com and www.hearingshop.com, according to the company. Additionally, it operates hearing centers in the Phoenix area.
Helix says that HEAR USA's model is the hearing industry's equivalent of www.contactlenses.com, owned by
1-800-CONTACTS, Inc., which dispenses prescription contact lenses over the Internet. "We are creating the turnkey equivalent of a 1-800-CONTACTS Inc. for the hearing health care sector," says Helix President Steve Forget. "Specifically, for our industry, the clear advantage is that we have established the first 'bricks and clicks' model offering a seamless hearing care delivery system."
"Not only have we achieved a great offensive strategy," says Forget, "but we have effectively eliminated our competitors' ability to match us in overall depth and design. The transaction was completed on favorable terms, which when bundled together, should provide immediate synergy to enhance our overall valuation."
The total cost of the acquisition to Helix is reportedly about $500,000 ($US), paid in cash and 800,000 shares, with an additional 2.4 million shares available upon achieving certain approved performance milestones. Duke Rodriguez, president of HEAR USA, will join Helix's senior management team upon completion of the transaction.
---
GN ReSound Observes National Customer Service Week

Minneapolis, MN — GN ReSound North America recently participated in National Customer Service Week from Oct. 2-6, a week dedicated to recognizing and promoting the important contributions to customer service that all employees within the company play.
"At GN ReSound, we do our best to ensure expert customer service from each and every employee 365 days a week," says Kim Hicks, event coordinator. "During these five days, we do our best to motivate and thank our employees who are successful in meeting that goal on a daily basis."
In addition to internal recognition, the company conducted a variety of activities and programs throughout the week designed to highlight the important role customer service plays, including alerting customers to the company's unique program.

The objectives for GN ReSound this year included: Boost morale, motivation and teamwork in the Customer Service Department; reward outstanding achievement and effort in the area of customer service; raise company awareness of the important contributions each employee plays in delivering excellent customer service; thank all departments for their support of the customers service team and effort; let customers know about the company's commitment to customer satisfaction
Throughout the week, employees were treated to a 30-minute stress-relief massage, and the event culminated with an all-company ice cream social. At that gathering, Dave Smriga, vice president of industry and public relations, summarized the week by stating, "In this highly competitive world, we must continually look for things that set us apart in the industry. We've taken the best of our customer service skill set, highlighted them during the week and, as a result, have a program and staff in place that is second-to-none."
---
AHAA adds 1000th Associate
Concordville, PA — American Hearing Aid Associates (AHAA) recently welcomed the 1000th Associate into its nationwide network of hearing health care professionals, according to the company. The network is made up of ENT physicians, audiologists, hospitals and dispensers with more than 1500 locations around the U.S.
Since its founding in 1995, AHAA has experienced rapid growth through what it calls a "virtual franchise" designed to unite associates under one business resource umbrella while the associates retain business and financial independence. "Our goal was to reach 1000 [associates] by our fifth year in 2000, and we made it," says founder and CEO Vince Russomagno. "We are, by far, the largest network of independent hearing health care providers in the country."
AHAA has divided the country into 18 regions and staffed the regions with managers who furnish their associates with customized business and marketing guidance, education, entry into a national advertising campaign and objective feedback on daily managerial, operational and marketing progress, according to the company.
---
Siemens to offer two International Symposiums in 2002
Piscataway, NJ — Siemens Hearing Instruments will offer two international symposiums in 2002. The 13th International Symposium, called "Old World Charm," will be held in Budapest and Vienna from June 24-July 1, 2002, followed closely by the 14th International Symposium, called "New World Adventure," in Port Douglas and Sydney, Australia from July 18-26.
Each of the symposiums are designed to be different, but will include extensive educational programs so participants will have the opportunity to gain CEUs from AAA, ASHA and NIHIS, according to the company.
Held in alternate years, this June's 2000 Symposium took place in Paris and Monte Carlo (see Sept. 2000 News At-A-Glance, p. 22). According to Siemens, the popularity of the symposiums was one reason for expanding the venues of the two trips in 2002.
---
Beethoven's hearing loss may have been caused by lead poisoning
Argonne, IL — Chemical analysis of composer Ludvig van Beethoven's hair revealed a lead concentration of up to 100 times that found in people today, which might help to explain one of the most famous and tragic cases of hearing loss, according to the McCrone Research Institute in Chicago and the Argonne National Laboratory (Associated Press, Oct. 19).
In some cases, lead poisoning causes deafness. Lead poisoning may also explain some other eccentricities of the great composer. He was well known for his fits of rage, filthy appearance, long unkempt hair and his propensity to walk down the streets of Vienna in an oversize top-hat and overcoat humming off-key while making observations in a notebook. He died in 1827 at age 56 from pneumonia and complications of abdominal problems that had plagued him for decades—the possible result of lead poisoning.
While nobody knows the source of the poisoning, which occurred while he was an adult, they suspect it may have been the mineral water he swam in and drank during stays at spas.
In some ways, the chemical analysis of his hair fulfills one of Beethoven's last wishes. In a letter to his brothers in 1802, he asked that doctors posthumously determine the cause of his terrible abdominal pains. Previous speculation on Beethoven's death included that he died of poisoning by mercury which was used at that time to treat syphilis. No mercury was found in the samples to support this assertion. The analysis also shows that Beethoven avoided painkillers during his long ailment, possibly indicating that he eschewed drugs to keep his mind clear for composing music.
---
OTOhealth debuts at IHS Convention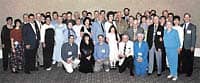 Anaheim, CA — Members of OTOhealth, a national group of experienced hearing health care professionals with headquarters in Bloomfield, CT, offered attendees of the International Hearing Society Convention an opportunity to see their organization and services. The new dispensing group maintains offices throughout New England, New York, New Jersey, Texas, North Carolina, South Carolina, Arizona and Hawaii, with personnel that include BC-HIS hearing instrument specialists, audiologists and audioprosthologists. Company Secretary John Kenul (pictured, far left) says the goal is to improve and standardize all aspects of the hearing instrument fitting, delivery and follow-up system and raise the ethical standards in the profession to the highest possible level. The executive director of the group is Mitchell Sorensen and the president is Rudy Szavey. The company's address is: OTOhealth, Inc., One Regency Dr., P.O. Box 30, Bloomfield, CT 06002-0030; tel: (800) 265-4092; email: [email protected]
---
Sonus reaches 500 company-owned and franchise locations
Portland, OR — In August, Sonus Corp. (AMEX: SSN) announced that it reached a corporate milestone of 500 company-owned and franchised hearing care centers.
Beginning with 12 hearing care offices in 1996, the company has used acquisitions and franchising opportunities to build one of the largest dispensing networks in the world. The Sonus Network was established in 1998 as a complement to its internal growth and acquisition strategy, allowing further national growth without incurring the added costs of company-owned centers, according to Sonus. Since July 1999, franchised locations have increased from 102 to 394, representing a four-fold increase. Franchised locations reportedly now outnumber company-owned centers by four-to-one.
"The Sonus Network symbolizes the evolution of Sonus from simply a consolidator of hearing health centers to a creator of a national network of leading hearing health care centers across North America," says Sonus Chairman and CEO Brandon M. Dawson.
The Network reportedly offers exclusive three-year warranties, three-year supply of batteries and a 75-day return policy, and includes private label manufacturing agreements with several hearing instrument manufacturers. The company also provides business and marketing consulting, and it owns HearPO, one of the largest national providers of hearing care benefits in the U.S.
---
PCO School of Audiology begins Fall classes for AuD degree

In October, the Pennsylvania School of Optometry (PCO) began its fourth session (Fall 2 session) with more than 70 students in its AuD program. Over 100 audiologists have applied to the distance-education program and many others are in the process of completing the Evaluation of Practicing Audiologist Capabilities, according to George Osborne, PhD, dean of PCO's School of Audiology. He says audiologists from nearly every practice setting—academic, private practice, clinics and public schools—have applied: "We have students from New Zealand, Pakistan, Canada, and Alaska…We are especially pleased with the reports from students that they find the courses very challenging and informative, providing them with practical information they can incorporate into their daily practices."
The proctored comprehensive examination, which addresses applicants' clinical strengths in audiology, is being received as vital to the overall integrity of the program and degree, according to Osborne. Prometric (formerly Sylvan Learning Centers) is facilitating the professional examination. "It is gratifying to observe that audiologists applying to AuDonline.org view the program as an 'opportunity to learn' about many areas that were not available to them in their previous training," says Osborne. "Their enthusiasm is, in part, related to the fact that they do not need to take courses in areas in which they are experienced or competent and the relatively large offering of so many excellent courses." He also reports that audiologists have applauded the elimination of the dissertation (research) component usually associated with graduate school education.
PCO recently received a letter of support from the American Academy of Audiology (AAA), written by its president, Robert Glaser, PhD, who said, "The distance education you have proposed appears to be an excellent, fair and reasonable way to facilitate the transition of qualified practitioners to the AuD degree. Your proposal is creative and realistically addresses the needs of the profession in this time of a critical shortage in training funds. We believe that the PCO School of Audiology distance-education proposal represents a standard the Academy would like to showcase…"
The average curriculum, although varied and tailored for each applicant, consists of 11 classes, with a range from 5 to 27. The average cost of the entire program is reported to be about $5,000 over an estimated two-year period. For additional information, visit the PCO website at: www.audonline.org; email: [email protected]; tel: 215-780-1238.
---
Walker moves to new headquarters in Chattanooga
Ringgold, GA — The Walker Division of Plantronics, Inc. reports that it has moved to improved facilities for the company's marketing product development, sales and sales support activities. The company provides assistive and communication devices such as telephone amplifiers and handsets. Walker's new contact information is: Walker, A Div. of Plantronics, Inc., 4289 Bonny Oaks Dr., Ste. 106, Chattanooga, TN 37406; tel: (423) 622-7793. The company's toll-free number (800-HANDSET) remains the same.
---
Oticon launches directional microphone hearing instrument
Sommerset, NJ — In October, Oticon Inc. launched its new directional hearing instrument, DigiFocus II Direct, that is designed to combine state-of-the-art directionality with easy fitting and direct user control. According to the company, the instrument offers an increase in speech intelligibility in noisy situations from 35-85% in the directional program for a typical, moderate hearing loss.
Oticon has worked closely with Knowles Electronics, Itasca, IL, to set new standards in microphone matching and has implemented this new system in its product. The quality and match of an instrument's microphone system determines the degree to which the signal can be processed and "cleansed" of the incoming noise signal, reports the company. After this processing, the instrument uses two proprietary algorithms, the ASA2 and SKI, to shape and sharpen the signal.
DigiFocus II Direct offers users the ability to activate the directional program only in situations where it is needed, and programming of the instrument is similar to that of digiFocus II, but with the addition of omni-directional and directional modes which are accessed in the company's OtiSet fitting software.
---