AAA Makes History in Philadelphia

Philadelphia — The American Academy of Audiology's (AAA) 14th Annual Convention and Expo was held April 17-20 at the Pennsylvania Convention Center. More than 6,400 people attended the event, which featured more than 150 seminars and instructional courses and 30 feature sessions presented by over 700 audiologists from around the world. The convention's exposition hall featured more than 190 exhibits of manufacturers, suppliers, and organizations related to the hearing health care field.
AAA President Angela Loavenbruck (above photo) provided information on what she stressed are defining issues for audiologists, including doctoral-level autonomy through the AuD degree, definition of the profession through licensure with a full scope of practice, direct access to hearing-impaired clients, renewed commitment to research and the PhD program, and a profession that is defined by its code of ethics.

Amy Tan (pictured with audiologist Robert Sweetow), author of The Joy Luck Club, provided a touching and often funny perspective on her and her family's struggles in coping with the effects of inherited BOR syndrome and hearing loss (a symptom she has been fortunate not to have). For detailed information on the AAA convention, see next month's issue of The Hearing Review.
---
Pharmaceutical Treatment for Traumatic Hearing Loss Licensed
San Diego — A pharmaceutical technology developed by the Naval Medical Center in San Diego for the prevention and treatment of hearing loss resulting from noise and chemical exposure has been licensed by American BioHealth Group LLC of San Diego. The technology, which uses a family of antioxidant compounds, has reportedly been shown to effectively prevent and restore hearing loss in animal models exposed to various noise insults and cancer therapies.
The pharmaceutical approach, developed under the direction of Army Colonel Richard D. Kopke, MD, by researchers at Naval Medical Center, San Diego, and researchers at the State University of New York at Buffalo, is designed to aid those who are at risk for sensorineural hearing loss. Kopke presented findings from his research on the protection and restoration of inner ear hair cells and implications for future regeneration strategies at the 2000 ADA Convention held in San Diego (see January 2000 HR, page 56). The Armed Forces have a large stake in preventing and treating hearing loss, as 22,000 new hearing loss claims are filed annually for the Navy, Marine Corps, and Air Force, with noise-induced hearing problems costing the Navy some $69 million each year.
Under the terms of the exclusive license agreement, American BioHealth Group will conduct clinical research, product development, and have an exclusive license to market the products for the protection and restoration of hearing loss. The compounds that will be developed and commercialized by the company have already been approved by the FDA for other indications and have acceptable safety profiles, according to the company.
"For the first time, physicians will be able to treat individuals suffering from sensorineural hearing loss using a pharmaceutical product that has gone through the rigorous safety and efficacy testing required by FDA," says Mark Mugerditchian, president and COO of American BioHealth. "We believe that our first product, once approved, will be the first pharmaceutical product in the marketplace targeted at these indications. Our goal is to develop a series of products based on this technology that addresses this significant unmet medical need."
"Dr. Kopke's team of talented researchers have committed years to the specific discipline of finding a cure for sensorineural hearing loss, says David Karlman, chairman and CEO. "This agreement further verifies the magnitude of their contribution and will result in needed pharmaceutical products to help tens of millions of Americans who today have no pharmaceutical treatment options for the prevention or restoration of sensorineural hearing loss."
---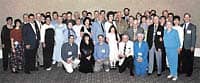 Cathy Jones to Lead Phonak US; Fabry, Gleitman Join Company
Warrenville, Ill — Phonak announced the promotion of Cathy Henderson Jones (left) to company president (US), responsible for production, distribution, and marketing in the US. Jones, who has an MS in Audiology and more than 18 years of industry experience, succeeds Michael Jones, who was recently promoted to CEO of Unitron Hearing's worldwide business (see April HR, page 12).
As one of the largest manufacturers of hearing instruments in the US, Phonak will strive to focus on and continuously improve its customer satisfaction, according to the company. With her industry experience as director of training, managing director of a West Coast facility, and director of education and customer relations at Phonak, Jones will lead what she describes as a growing corporate awareness of what is needed not only by the end consumer, but also by the hearing health care professional servicing this audience. "My vision is to put the focus where it belongs—on the customer," says Jones.

Additionally, Phonak announced that David Fabry, PhD,(left) has joined the company as its new director of clinical research. Fabry worked as a research audiologist at Walter Reed Army Medical Center until 1990, when he joined the staff at Mayo Clinic, and served as section head of audiology and the research chair of the Department of Otorhinolaryngology. Fabry is known to the field for more than 50 research papers, numerous presentations, and his work as former president of AAA, associate editor of Ear and Hearing, and editor of the American Journal of Audiology. In his new role at Phonak, Fabry will be responsible for designing and implementing clinical trials and basic research studies, as well as playing an active role in the design and development of products.
The company has also appointed Ron Gleitman, PhD, as its director of practice development. Gleitman owned and operated a multi-office practice for 8 years in the Chicago area and has authored numerous articles and seminars on practice marketing and management issues.
---
Oticon Presents Focus on People Awards

Those recognized by Oticon (represented by Oticon President Mikael Worning, third from right) at the Oticon Focus on People Awards included (l to r) audiologist Robert Sweetow, world kayak champion Erik Jackson, first-place "youngster" winner Callie Daniels, Worning, student Jessica Malone, and practitioner Claire Kantor.
Philadelphia — The 2002 Oticon Focus on People Awards honored 12 hard-of-hearing people who have proven that hearing loss does not limit a person's ability to live a full, productive, and even inspiring life. The national awards competition celebrated the accomplishments of first-place award winners Callie Daniels of Ridgeland, Miss; Jessica Malone of Tabernacle, NJ; Brian Farrell of Brooklyn Park, Minn; and Betty Timon of Bellevue, Ky. A special award recognizing the critical role of hearing care professionals in improving the world of hearing impaired people was presented to three practitioners: Claire Kantor, PhD, of New Providence, NJ; Robert Sweetow, PhD, of San Francisco, and Dennis Hampton, PhD, of White Plains, NY.
---

Siemens Names Lankenau New President; Krauter CFO
Piscataway, NJ — Siemens Hearing Instruments announced that William J. Lankenau (left) has been promoted to president and CEO. Having worked for Siemens for almost 12 years, Lankenau has extensive experience in the hearing health care industry. Since joining Siemens in 1990 as vice president of manufacturing, he has held the positions of vice president of operations and, most recently, chief operating officer. Lankenau is a graduate of Columbia University, with an MA in engineering.

The company also announced the promotion of CFO John Krauter (left) to the position of senior vice president and chief financial officer. Krauter joined Siemens in 1992 as vice president of finance. Before joining Siemens Hearing Instruments, he was director of accounting for Siemens Medical. He is a CPA and a graduate of Seton Hall University.
---
AuDNet and ADA Make Plans to Establish New Dispensing Group
Burnsville, Minn — AuDNet, a new company formed by audiologist David Smriga with the endorsement of the Academy of Dispensing Audiologists (ADA), is initiating plans to create a buying and business management network for ADA members, who are estimated to purchase 16,000-20,000 hearing instruments monthly—representing about 10% of the US hearing aid market.
According to Smriga, the need for the new company comes from the increasingly competitive marketplace faced by independent audiologists, along with the need to promote hearing care and the AuD degree for the professional development of audiology. He says AuDNet is designed to evolve into three distinct functions, and will be implemented in phases: 1) a buying group offering volume-based hearing instrument pricing; 2) a financial services organization offering retirement programs, insurance, savings and checking accounts, etc; and 3) a consumer advocacy and independent research network (IRN) that will be designed to scientifically validate various signal processing and amplification strategies through a consortium of independent clinical facilities throughout the country. Additionally, the IRN program will create standardized comparative electroacoustic and clinical data for the purpose of increasing dispenser and consumer confidence in hearing health care products.
AuDNet will reportedly share half its profits with ADA, with the proceeds being used by the organization to create an audiology-focused marketing and positioning resource library and national education campaigns. The proceeds will also be used to help promote and facilitate the profession's AuD movement. "The profession of audiology needs to take hold and assume responsibility for our own destiny," says ADA President Robert Manning. "It has become increasingly important for the independent professional to take more control in managing and promoting audiology to the consumer."
For more information, visit the AuDNet website at www.aud-net.com.