Friendly Competition at Trivia Bowl XIV
More than 600 attendees from the 2003 American Academy of Audiology Convention, in San Antonio, gathered for friendly competition at the XIVth Annual Trivia Bowl, which was held on April 5, 2003. Sixty teams compared their collective knowledge during the event, which was co-sponsored by Siemens Hearing Instruments Inc, Knowles Electronics, and Rayovac®.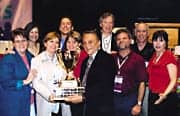 Members of the "Nearly Dead Zones," the first place winning team in Trivia Bowl XIV held at the American Academy of Audiology Convention, 2003, include: (front row, from left) Catherine Palmer, Mary Kay Chisholm, Gail Gudmundsen, Chuck Berlin, Robert Sweetow, and Brenda Ryals; (back row, from left) Liz Fabry, Dave Fabry, Dennis Van Vliet, and David Hawkins.
The competition gives audiologists a chance to test their technical and related trivia knowledge, as well as share professional camaraderie with their peers. During the event, Siemens Hearing Instruments president and CEO William Lankenau presented a donation to the Advancement of Audiology and Hearing Science Foundation to further support the education of audiologists.
Prepared by the program's masters of ceremonies, Gus Mueller and Jerry Northern, the questions challenged the participants on trivial events drawn from audiology history, clinical applications, recent news items, and trade journals. The competition resulted in three winning teams, one winning student team, and one winning team for the best name competition.
The "Nearly Dead Zones" team took first place. The "Up Chuck Berlin's" took second place, and "Trapezoid Bodies" placed third. "Simply Ear-Resistible," this year's winning student team, included members from Utah State University. The award for the team with the best name went to "Viva Las Tragus!"
The members of the "Nearly Dead Zones" team and the winning student team will have their names engraved on Trivia Bowl XIV trophies on display at the American Academy of Audiology headquarters.
---

Terry Silance
Patient Financing Company Appoints Audiology Division Sales Manager
CareCredit®' Anaheim, Calif, a national patient financing company, has appointed Terry Silance as the sales manager for its audiology division. With more than 20 years of experience in sales and marketing in the hearing health care arena, Silance will oversee CareCredit's development in the audiology market.
Silance formerly held the positions of Southwest Regional Sales Manager and Director of New Business Development for Rexton Hearing Instruments Inc. He has also served as a Regional Sales Manager for the Medical Equipment Division of Pharmacia Deltec Inc, as well as the California Sales Representative for the Cardiovascular Division of Qmed Inc.
For more information on CareCredit services, call (800) 300-3046, ext 519, or e-mail [email protected].