Over 100 Attend Oticon's Marketing Boot Camp
More than 100 hearing care professionals from across the United States participated in Oticon's 2012 Advanced Marketing Boot Camp, held June 22 to 24 in San Jose, Calif.
The 3-day educational event focused on how to brand hearing care practices as powerful and trusted forces for better hearing in their communities.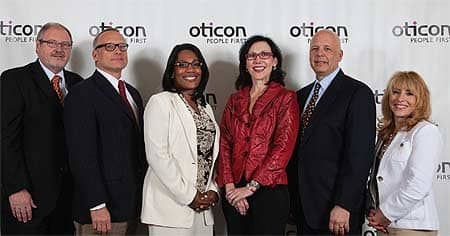 At the Boot Camp: (L-R) Oticon president Peer Lauritsen; David Roback, director of strategic marketing for Oticon; Sheena Oliver, Oticon vice president of marketing; Karen Post, president of Brain Tattoo Branding; Shep Hyken, CEO of Shepard Presentations; and Nancy Palmere, senior marketing manager for Oticon.
"In today's dynamic marketplace, the ability to communicate the value that independent hearing care professionals bring to the hearing care equation is vital to short- and long-term practice success," said Sheena Oliver, Oticon vice president of marketing.
The Advanced Marketing Boot Camp is the latest addition to a series of special marketing-oriented conferences that Oticon introduced in 2008. The 2012 Boot Camp event featured presentations by leaders in the field of brand building who tailored successful marketing strategies from a variety of industries to the unique demands of independent hearing care practices.
The featured guests included Karen Post, an international consultant and president of Brain Tattoo Branding. Post shared insights on building a memorable practice "brand" that creates loyalty and adds value to the client experience.
Shep Hyken, CEO of Shepard Presentations and best-selling New York Times and Wall Street Journal author, emphasized the importance of active listening skills in creating loyal customers versus simply satisfied customers.
Kelly O'Keefe, director of AudiologyDesign, showed participants how to incorporate online media to optimize communication to existing and potential clients.
Throughout the weekend event, interactive workshops and hands-on activities helped participants to develop comprehensive and diversified marketing strategies designed to establish their practice brand and build market presence.
---
Protein May Lead to New Therapies to Prevent Hearing Loss
New research suggests that the protein AMPK plays a role in protecting sensory cells in the inner ear from permanent damage and helps maintain hearing after extreme noise exposure. The finding may lead to new strategies and therapies to prevent hearing loss.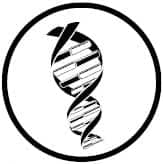 Scientists from Germany and Canada show that AMPK, which protects cells during a lack of energy, also activates a channel protein in the cell membrane that allows potassium to leave the cell. This activity is important because the mechanism helps protect sensory cells in the inner ear from permanent damage following noise exposure. This new information could lead to novel strategies and therapies to prevent and treat trauma resulting from extreme noise, especially in people with AMPK gene variants.
Researchers compared two groups of mice. The first group was normal and the second lacked the AMPK protein. Hearing of the mice was tested by measuring sound-induced brain activity. All mice were exposed to well-defined noise causing an acoustic trauma and leading to hearing impairment. Prior to noise exposure, the hearing ability was similar in normal mice and mice lacking AMPK. After exposure, the hearing of the normal mice mostly recovered after 2 weeks, but the recovery of hearing in AMPK-deficient mice remained significantly impaired. The findings provide a target for new preventive strategies, and perhaps even a treatment for earbud deafness syndrome.
---
Battat, Healy, Isherwood, Kochkin, and Ostergaard Join Ida Institute's Judging Panel for Global Ideas Competition
The Ida Institute has announced five new members of the judging panel for its Ideas, Speak Up—Action and Awareness for Hearing Loss competition.
The global competition is an open call for ideas that have the potential to generate better understanding of hearing loss, change public perception, and encourage people to take action. The judging panel will help to select the three winning ideas that will be announced at the 2013 AAA conference.
The new members include: Brenda Battat, executive director of the Hearing Loss Association of America (HLAA); Tom Healy, a writer, poet, and chairman of the Fulbright Foreign Scholarship Board; Bob Isherwood, former worldwide creative director of advertising firm Saatchi & Saatchi; Sergei Kochkin, executive director, Better Hearing Institute (BHI); and Helle Østergaard, executive director of the Crown Princess Mary Foundation.
For more information, visit the Web site at: www.awarenessforhearingloss.com/ideas