40 Years Ago to May 1972. Anthony DiRocco, executive director of the National Hearing Aid Society (later the International Hearing Society) wrote an editorial in Hearing Instruments magazine reminding readers that May is Better Hearing Month and commented:
Oticon staff members who participated in its educational seminar at the Union City, NJ headquarters included (back row, l to r): Fred Hughes, Fred Waymack, Oren Bishop, Joe Ficarra, (front row, l to r) Rod Rosandich, Glenn Kennedy, HJ Skadegard, and Ole Berland.
"Many of our dealers regularly conduct school hearing screening tests. It is hard to imagine a more worthwhile effort, for stories abound about children who have been considered 'day dreamers' and 'slow learners' until the correct nature of their problem is discovered. While all hearing disabilities cannot be attributed to hearing loss, it does occur with sufficient frequency to make it worth checking."
Also in this issue, Davavox Inc was offering its 696 CX Compression instrument series, Sonotone embarked on a public service television campaign, and Oticon conducted an educational seminar for its staff at its Union City, NJ, headquarters.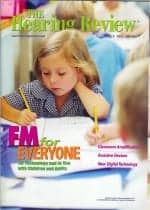 May 2002 Hearing Review
30 Years Ago to May 1982. Hearing Instruments Associate Editor Karen Cranmer published the results of an HI dispenser survey that showed, in 1981, BTEs made up 58% of the market, ITEs 36%, eyeglass aids 4%, and body aids 2%. For the first time, the HI survey asked respondents about the price of hearing aids, and respondents reported an average price of $403 ($1,017 in 2012 dollars). Three quarters of all fittings were monaural (today, binaural fittings make up about 75% of fittings); mercury hearing aid batteries held slightly more market share than zinc air (48% vs 46%, with the rest being silver oxide); and 31% of dispensers unbundled the price of hearing aids from services (50% of dispensing audiologists vs 19% of hearing aid specialists).
20 Years Ago to May 1992. Rexton acquired the marketing rights to Rastronics' real ear measurement systems , and Madsen Electronics North America President George Pay was honored by special instruments distributors during the American Academy of Audiology Meeting in Nashville, according to HI.
10 Years Ago to May 2002. HR reported that Cathy Henderson Jones had been appointed president of Phonak, and David Smriga announced the formation of AuDNet.