Salus University President Announces He Is Stepping Down
Long-time Salus University president, Thomas L. Lewis, OD, PhD, whose leadership of the Pennsylvania College of Optometry (PCO) led to the establishment of Salus University, as well as its audiology program, has announced that he is stepping down on June 30, 2012.

Thomas L. Lewis
Jo Surpin, chair of the University's Board of Trustees and president of Strategic Health Alliance, LLC, noted in the press statement, "Tom Lewis' vision has had an extraordinary impact on this institution. Always with a focus on students, the results of his leadership are seen in the university's programs and clinical facilities and its ability to implement new initiatives at a time when some institutions have postponed their plans."
Lewis, the institution's second-longest serving president, led the transition of the Pennsylvania College of Optometry from a single to a multipurposed institution with the addition of a variety of degree programs that built on PCO's legacy of educating health care professionals. As a result of this growth, Salus University was established in 2008.
Today, the university consists of four distinct colleges that offer 10 accredited degree programs in optometry, audiology, physician assistant studies, blindness and low vision rehabilitation and education, and public health.
Initiatives accomplished during Dr Lewis' tenure as president include establishing the university's Doctor of Audiology (AuD) professional degree and the George S. Osborne College of Audiology, which encompasses residential and distance learning programs.
Lewis informed the Salus Board of his decision to step down some time ago. The Board's executive committee currently is in the process of choosing a search firm for his replacement.

Leslie Barbour

Mark Fern
Audiotoniq Announces Two New Hires
Audiotoniq, a new Austin, Tex-based high-tech hearing health technology company, has announced the addition of two new executives. Mark Fern has joined the company as director of information technology and Leslie Barbour has been named social media manager.
"We're excited to have bright, experienced professionals join our growing Audiotoniq team," Russ Apfel, CEO of Audiotoniq, said in a press statement. "We are preparing to launch multiple products this fall, and Mark and Leslie will play important roles in those efforts."
As director of information technology, Fern is responsible for project management, for software development, and for IT services delivery. He has more than 10 years of experience in the information technology field. Previously, he served as service delivery manager with eLoyalty. Fern has a bachelor's degree from the University of Texas at Austin and a JD degree and a MBA degree from the University of Tulsa.
As social media manager, Barbour is responsible for developing and managing Audiotoniq's social media platforms and initiatives. Prior to joining Audiotoniq, she was owner and social media manager for Kick Butt Creative. Previously, she was marketing director and a consultant for Momentum Consulting. She has a Bachelor of Science degree in advertising from the University of Texas at Austin and an associate's degree in sign-language interpreter training.
Audiotoniq recently announced the development of its first-generation hearing system, which consists of the Audiotoniq hearing test and the Audiotoniq hearing aid. The hearing test system will be available to the public in the fall of 2011, according to the company.
Oticon WIA Conference Highlights Strength of Women in Hearing Health Care
The third Women in Audiology (WIA™) conference, sponsored by Oticon Inc, Somerset, NJ, was held in Los Angeles on July 22-24. More than 150 women in hearing health care attended the national conference, which featured a series of educational sessions led by outstanding women in audiology.
The conference also included a keynote address by Leeza Gibbons, Emmy award-winning television and radio personality, social entrepreneur, and AARP Ambassador of Care. Gibbons spoke about the benefits of becoming "women of strength," not only for professional and personal growth, but also to inspire the people and patients who they interact with on a daily basis.
The conference also included a presentation from Kristin English, PhD, associate professor, University of Akron/NOACSC, who discussed women's natural relationship building skills, which can enhance patient interaction and empower patients to better understand, remember, and use information to improve their listening ability.
Attendees also heard from Jackie Clark, PhD, clinical associate professor, of UT Dallas' School of Brain & Behavior Sciences, who spoke live via satellite from Malawi, in southern Africa, with Christine Yoshinaga-Itano, PhD, professor of audiology, Institute of Cognitive Science, Center for Neurosciences, at the University of Colorado, Boulder. Their satellite presentation was apropos, since the two women discussed the importance of finding new ways to extend advances in hearing care and hearing technology to underserved communities around the world.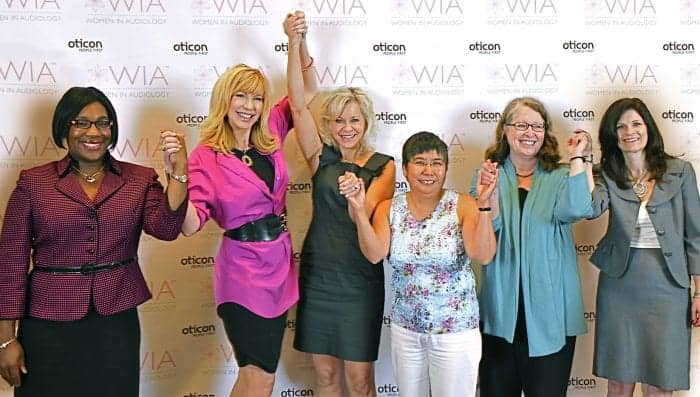 Featured speakers (l-r) included: Oticon VP of Marketing Sheena Oliver, AuD; keynote speaker and award-winning television and radio personality Leeza Gibbons; Marcia Bloemendaal of Bloemendaal Capital Strategies; Christine Yoshinaga-Itano, PhD, of the Institute of Cognitive Science, Center for Neurosciences, at the University of Colorado, Boulder; Kris English, PhD, of the University of Akron/NOACSC; and Oticon Manager of Distance Education Kelly Austin, AuD.
Finally, conference attendees also joined in a unique bowling for charity event on Saturday evening that benefited "Dress for Success," a charitable group that promotes the economic independence of disadvantaged women. Oticon made a donation for each pink bowling ball knocked down during the event. The final score added up to a total donation of $3,000 to Dress for Success.