LEGISLATION
President Signs Technology Access Bill into Law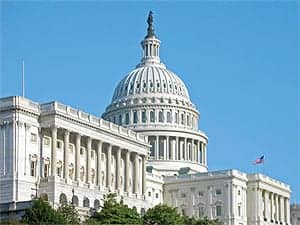 The US Capitol.
CC-BY-SA/UpstateNYer at Wikipedia
It's official. Both houses of Congress have finally passed the 21st Century Communications and Video Accessibility Act, and President Obama signed the bill into law on October 8, 2010. The new law requires that smartphones, television programs, and modern communications technologies are accessible to people with vision and hearing loss.
Twenty years ago when the Americans with Disabilities Act (ADA) was signed into law, few could have predicted how new technologies such as smartphones, DVD players, and the Internet have become part of the workplace, the classroom, and daily life. Many of these products remain inaccessible to people with vision and hearing loss, despite the fact that a growing number of Americans need technology to include accessibility features.
The new legislation gives individuals with vision or hearing loss improved access to television programming, smartphones, the Internet, menus on DVD players, program guides on cable TV, and other common electronics. Specifically, the law will:
Mandate mobile phone companies to make Web browsers, text messaging, and e-mail on smartphones fully accessible.
Restore and expand requirements for video description of television programs, in addition to requiring cable companies to make their program guides and selection menus accessible to people with vision loss.
Provide $10 million in funding each year for assistive technology for deaf-blind individuals.
Ensure that Internet-enabled mobile phones are hearing aid compatible.
In a rare act of bipartisanship, the 21st Century Communications and Video Accessibility Act passed Congress with support from both parties, and a number of members played a key role in moving the legislation forward. In the US Senate, the bill was championed by Senator Pryor (D-Ark), with the support of Senator Kerry (D-Mass), Senator Rockefeller (D-WVa), Senator Hutchison (R-Tex), and Senator Ensign (R-Nev). In the US House, it was championed by Representative Markey (D-Mass), with the support of Representatives Waxman (D-Calif), Boucher (D-Va), Barton (R-Tex), and Stearns (R-Fla).
Court Reporters to Help with Closed Captioning for New Disability Act
Now that the 21st Century Communications and Video Accessibility Act is law, millions of citizens who are deaf or hard-of-hearing will have newfound access to video programming on the Internet through closed captioning. Working behind the scenes to make captioning of live Internet broadcasts possible will be real-time court reporters who serve as broadcast captioners, translating speech to text at speeds of 225 words per minute or faster, according to the National Court Reporters Association (NCRA).
The new law requires any and every video that is broadcast on television and then distributed via the Internet to include closed captioning. Additionally, devices that display video, such as smartphones, MP3 players, and DVRs, must be capable of closed captioning and displaying video description and emergency alerts.
For the large and growing amount of video content that will be broadcast live in the years ahead—on television and over the Internet—there will be a growing need for, and appreciation of, stenographic court reporters who work as broadcast captioners. That is one reason the US Bureau of Labor Statistics suggests that the court reporting profession will experience major growth in the years ahead, estimating that the profession will grow by 18% in the next 8 years.
Stenographic court reporters, using real-time technology, have often worked with the deaf and hard-of-hearing communities to ensure that captioning of live television programming has been possible over the past three decades. Using a sophisticated system of symbols and abbreviations, known generically and simplistically as "shorthand," broadcast captioners enter shorthand into their real-time stenographic machines, which then filters through a computer and simultaneously appears on a video screen or monitor in English for users. This sophisticated system ensures that those who are reading the proceedings—rather than listening to it—never miss a moment of the action.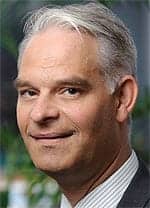 Jan Metzdorff, vice president, international sales, will lead the new European sales office.
OPERATIONS
Unitron Opens International Sales Office for Europe
Unitron, Kitchener, Ontario, has established a new international sales organization in Stäfa, Switzerland, that will enable the company to grow its European markets. The new organization will be led by Jan Metzdorff, vice president, international sales, and will provide sales, marketing, and training resource support to customers in key international markets.
Cameron Hay, Unitron's president and CEO, explained in a press announcement, "Unitron has great growth potential, particularly in Europe and Asia, and this new international organization puts us in excellent proximity to these markets. With his exceptional sales development and management expertise, Jan Metzdorff is an ideal choice to lead the new organization."
A long-standing member of the Sonova Group, Metzdorff was most recently managing director of Phonak UK, and has played senior roles in the hearing industry for many years. In his previous role, Metzdorff was instrumental in strengthening and managing both the Unitron and Phonak brands in the UK. He has also worked in senior management positions within the industry in Japan and Canada.