Unitron Names Eric Sumner as New Vice President of Sales
Unitron, Kitchener, Ontario, announced the appointment of Eric Sumner as vice president of sales for Unitron US. With the new position, Sumner will oversee the company's commercial sales, inside sales, customer service, and professional services departments.
| | |
| --- | --- |
| | |
| Eric Sumner | Patricia Kricos, PhD |
Unitron, a member of the Sonova Group, develops hearing aids and other advanced hearing instruments.
"Eric brings more than 25 years of sales, marketing, management, and executive management experience to Unitron," states Rodney Schutt, president and chief executive officer of Unitron US.
Ida Institute Welcomes Four New Advisory Board Members
The Ida Institute, Nareum, Denmark, has announced the appointment of four additional experts in hearing health to its Advisory Board. The new members are: Michele Clapin, BSpThy, MAud, and MHSM MAudSA (CCP), executive manager of clinical practice for Australian Hearing; Berth Danermark, PhD, professor of sociology, Örebro University, Sweden; Patricia Kricos, PhD, professor of audiology and director of the Center for Gerontological Studies, University of Florida; and Joseph Montano, EdD, associate professor of audiology in Clinical Otolaryngology, Weill Cornell Medical College, New York.
Oticon Honors 12 Who Defy Stigma of Hearing Loss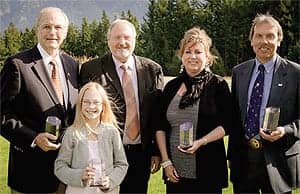 2010 Oticon Focus on People Award winners. Pictured (l-r, in back): Bill Rogers (Advocacy), Oticon President Peer Lauritsen, Jacqueline Rogers Scholl, AuD (Practitioner), Jim Detterline (Adult), and front, Hayleigh Scott (Student).
Stevenson, Wash—The Oticon Focus on People Awards has honored 12 individuals with hearing loss who live a full, productive, and even inspiring life.
This is the 13th annual award ceremony. In its 13 years, the Focus on People Awards has brought well-deserved recognition to more than 195 extraordinary people who defy the stigma of hearing loss. This year, the national awards competition, sponsored by Oticon Inc, celebrates 12 individuals whose courage, vision, and commitment are changing the perception of what it means to have a hearing loss.
Oticon's president, Peer Lauritsen, stated, "Our award winners have taken their unique circumstances and transformed their lives with a positive outlook that has enabled them to overcome challenges and accomplish goals well beyond what many thought possible. And they didn't stop there; each found his or her unique way to direct that positive energy to make the world a better place for others with hearing loss."
Among this year's winners are: Jim Detterline (Adult Category), a highly accomplished mountaineer and a former park ranger who has been recognized for his service in rescue with the prestigious Medal of Valor from the Department of the Interior; Bill Rogers (Advocacy Category) who helped to found HEAR Nashville, an easily accessed resource for low-income people in middle Tennessee who need hearing help; 11-year-old Hayleigh Scott (Student Category) who holds a provisional patent from the US Patent Office for her unique hearing aid charms designed to help people let their hearing instruments shine; and Jacqueline Rogers Scholl, AuD, (Practitioner Category) who helped to ensure that vital hearing services would continue to reach a rural population where the incidence of hearing loss is great.
The Oticon Focus on People Awards program is designed to focus attention on common misconceptions about hearing loss, correct negative stereotypes, and motivate people with hearing loss to take advantage of the help that is available to them. Each year, hundreds of nominations representing people from all walks of life are reviewed by a judging panel comprised of leading hearing care practitioners. Each nominee has a unique story and has made a unique contribution to changing negative perceptions of hearing loss. "We are both humbled by their accomplishments and inspired by their ability to make a meaningful difference for people with hearing loss," says Lauritsen in the press announcement.
In addition to a $1,000 prize, first-place winners received a $1,000 donation from Oticon Inc to the nonprofit organization of their choice. First place winners in the Adult, Student, and Advocacy categories also received a pair of advanced technology Oticon hearing instruments.
The winners were selected by an independent judging committee composed of leading hearing care professionals. This year's program judges included: Carol Clifford, AuD, of Albuquerque Hearing Associates, Albuquerque, NM; Meg Kalady, MS, FAAA, of Valley Forge ENT of Phoenixville, Pa; and Kiley Stephenson, AuD, of Green Clinic, Ruston, La.