TOP NEWS and HEADLINES in November
Sonova Acquires Advanced Bionics for $489 Million
Words, Gestures Are Translated by Same Brain Regions, Research Finds
ReSound Introduces Next Generation: dot2 by ReSound
Sonic Takes Top Honors In Consumer Electronics Show (CES) "Health and Wellness" Category; Starkey's Sweep Wins CES "Innovations Award"
Popular Science Gives Lyric Hearing Aid "Best of What's New" Award
Bilateral Cochlear Implantation: Concepts, Indications, Results
Maney Publishing Acquires Audiology Titles From Wiley-Blackwell
Research Shows Impacts of Enlarged Vestibular Aqueduct
New Brain Findings on Dyslexic Children: Good Readers Learn From Repeating Auditory Signals, Poor Readers Do Not
"Escaped" Proteins Add to Hearing Loss in Elderly, Say Researchers
Specialists in Hearing, HIV Come Together to Study AIDS Patients
Sennheiser Introduces Its Next Generation of TV Listening Systems
"Golden-eared" mouse developed. What do you get when you cross a mouse with poor hearing and a mouse with even worse hearing? Ironically, a new strain of mice with "golden ears," or mice that have outstanding hearing as they age. The new mouse is expected to offer clues about how some lucky folks—approximately 5% of people, mostly women—are able to retain outstanding hearing through old age. The research leading to the mouse strain was conducted at the University of Rochester Medical Center, Rochester, NY, and published online in Neurobiology of Aging, as well as presented by lead-author Robert Frisina, PhD, at the Phonak Hearing Care for Adults 2009 Conference on November 16-18. The new mouse gives researchers a tool to explore protective factors that allow some organisms to retain outstanding hearing for their whole lives, rather than focusing on the factors that contribute to hearing loss. "This allows us to really take a detailed look at good hearing in old age," says Frisina. "Which chemical pathways are most active, for instance? This is about what goes right with age, not what goes wrong.
This new mouse also opens up a new, clear window into the aging brain. It really allows us to look at the auditory systems in the brain in a very pure way, without distortion from the ear."
Researchers unlock "sound of learning," linking sensory and motor systems. Learning to talk also changes the way speech sounds are heard, according to a new study published in Proceedings of the National Academy of Sciences by scientists at Haskins Laboratories, a Yale-affiliated research laboratory. The findings could have a major impact on improving speech disorders. "We've found that learning is a two-way street: motor function affects sensory processing and vice-versa," says David J. Ostry, senior scientist at Haskins Laboratories and professor of psychology at McGill University. "Our results suggest that learning to talk makes it easier to understand the speech of others." As a child learns to talk, or an adult learns a new language, Ostry says, a growing mastery of oral fluency is matched by an increase in the ability to distinguish different speech sounds. While these abilities may develop in isolation, it is possible that learning to talk also changes the way we hear speech sounds. Ostry and co-author Sazzad M. Nasir tested the notion that speech motor learning alters auditory perceptual processing by evaluating how speakers hear speech sounds following motor learning. They simulated speech learning by using a robotic device, which introduced a subtle change in the movement of the jaw during speech. "Our study showed that speech motor learning altered the perception of these speech sounds. After motor learning, the participants heard the words differently than those in the control group," says Ostry. "One of the striking findings is that the more motor learning we observed, the more their speech perceptual function changed." The team previously found that the movement of facial muscles around the mouth plays an important role not only in the way the sounds of speech are made, but also in the way they are heard.
---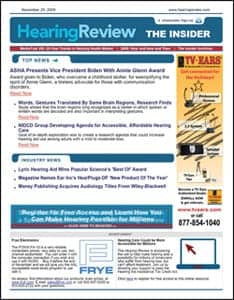 Want the inside scoop?
Every week The Hearing Review sends out THE INSIDER, a weekly FREE e-newsletter devoted to the top hearing-related news, research, product introductions, fitting topics, and marketing research stories that are influencing your business or practice, as well as the industry at large. [register]Sign up for your free subscription[/register].