OPERATIONS
Comfort Audio Opens US Headquarters
Comfort Audio Inc, which has offered assistive listening devices in Europe since 1994, has opened a full-time office in the United States. The new facility is located in Park Ridge, Ill, and is under the direction of Patrik Liljekvist, sales and marketing director of the Americas. Liljekvist was previously based in the company's headquarters in Sweden.
"We know that, for a variety of reasons, only one in five individuals who experiences hearing problems is being served by industry professionals in the United States," Liljekvist says. "We want to reach out to consumers and professionals to make sure they are aware of solutions other than hearing aids—products that work in conjunction with hearing aids, and at times instead of them."
Comfort Audio sells only through authorized distributors and licensed hearing care professionals. For more information, visit www.comfortaudio.us.
CONFERENCES
Upcoming AFA Conference on Professional Education Expands
The Audiology Foundation of America (AFA) Conference on Professional Education II: Positioning Audiology for the 21st Century is scheduled for October 4 through October 5 in Mesa, Ariz. The conference is intended as a 20-year review of AuD education progress, and as a help in determining future goals and improving current models of AuD education delivery.
AuD programs will be represented by program directors and recent graduates. Information and an up-to-date list of participating AuD programs and attendees are available at www.audfound.org.
AWARDS
Oticon Accepting "Focus on People Award" Nominations
Oticon Inc has announced it is seeking nominations of outstanding individuals who have any degree of hearing loss for the 2008 Oticon Focus on People Awards. The national awards program, created by Oticon in 1996, was established to honor hearing-impaired students, adults, and advocacy volunteers whose accomplishments demonstrate that hearing loss does not limit a person's ability to make a difference in their families, their communities, or the world.
The program offers awards in five categories that include student, adult, advocacy, practitioner, and pediatric practitioner. Deadline for nominations is September 8, and winners will be announced in October.
First-place category winners receive a $1,000 award and a $1,000 donation by Oticon to a not-for-profit cause of their choice. Second-place winners receive $500, and third-place winners receive $250. All nominees will receive a certificate of recognition. Applications may be completed at oticonusa.com in the Professionals section.
First Callier Prize Awarded to Cochlear Implant, Hearing Aid Researcher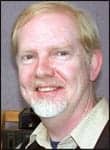 Hugh J. McDermott
Hugh J. McDermott, PhD, has been selected as the first recipient of the Callier Prize, a biennial award from The University of Texas at Dallas' Callier Center for Communication Disorders. McDermott is the chair of the University of Melbourne's Department of Auditory Communication and Signal Processing, as well as a leading researcher and designer of cochlear implant systems and digital hearing aids.
The Callier Prize recognizes individuals for leadership in fostering scientific advances and developments in the diagnosis and treatment of communication disorders. The award, which rotates between the fields of audiology and speech-language pathology, includes a $10,000 prize.
"Dr McDermott's work truly speaks for itself," says Ross Roeser, PhD, chair of the Callier Prize's selection committee. "Patients with severe-to-profound deafness from around the world are living happier and more productive lives as a result of his commitment to research focusing on improved technology."
McDermott will receive the award March 7, 2009, in Dallas at a conference sponsored by the Foundation for the Callier Center.