Siemens Director of Engineering Honored with National Award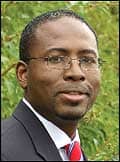 Fred McBagonluri, PhD
Fred McBagonluri, PhD, director of engineering at Siemens Hearing Instruments, received the "Black Engineer of the Year—Most Promising Scientist" honor February 16 at the 22nd Annual Black Engineer of the Year Conference in Baltimore.
The award—sponsored by the Council for Engineering Deans of Historically Black Colleges and Universities, Lockheed Martin Corp, Career Communications Group, USBE, and Information Technology magazine—honors individuals in the beginning of their careers who exhibit extraordinary accomplishments in the areas of leadership, professional and technical achievements, potential, and their contributions to their organization.
Siemens credits McBagonluri as a top technical expert, author, and skilled business manager, and reports that, since joining the firm in 2001, he has been a driving force behind revolutionizing the technology in the hearing instrument market. McBagonluri is being honored for his involvement with advancements in the use of 3D image processing, artificial intelligence, materials engineering, and rapid prototyping.
"Thanks to all my colleagues at Siemens for their support and this recognition, which I accept in humility for myself and the Siemens family," McBagonluri says. "Without the company's support and encouragement for the past 6 years, this would not have materialized."
Widex Promotes Three Audiology Professionals
| | | |
| --- | --- | --- |
| Janice Smith | Karen Naftel | Denise Passerieux |
Widex has promoted three audiology professionals from within the company who have demonstrated "leadership and commitment to the company."
Janice Smith has been promoted to software development supervisor. Smith began her tenure with Widex in March 1999 as an audiologist. She earned the promotion to audiology software development specialist in September 2005. Since that time, according to Widex, Smith has continuously demonstrated her strong work ethic, vision, and commitment to the company and to its internal and external customers. In her new role, she will be a liaison with Widex Denmark and other organizations regarding new software developments.
Karen Naftel has been promoted to audiology queue supervisor. Naftel began her tenure with Widex as an audiologist in May 2000. The company reports that during this time Naftel has demonstrated leadership, initiative, and quality technical support and assistance to customers. Naftel's new assignment makes her responsible for supervising the echnical support content of the audiology queue.
Denise Passerieux has been promoted to assistive listening technologies specialist. Passerieux joined the company in September 1999 as an audiologist, and since that time has shown leadership, initiative, and quality support and investigative abilities, which have benefited Widex customers. Passerieux will now be responsible for providing knowledge and verification of the functionality of Widex hearing aid products with pertinent assistive listening devices.
Freeman and Van Vliet to Join Starkey
Barry Freeman
Starkey Laboratories Inc announces Barry Freeman, PhD, has joined the company as director of education and training, and Dennis Van Vliet, AuD, has been named regional director for the Western Region (California, Arizona, and Nevada). They will begin their new assignments in early 2008.
In his new assignment, Freeman will work closely with product development, marketing, and sales in developing and delivering professional training and education materials, as well as leading the department of education and training. Freeman comes to Starkey from Nova Southeastern University in Ft Lauderdale, Fla, where he spent the last 10 years as chair and professor of the school's Audiology Department. In 1996-1997, he served as president of the American Academy of Audiology (AAA), and continues to serve on the advisory board for the National Association of Future Doctors of Audiology (NAFDA), on the board of directors for the Accreditation Commission for Audiology Education (ACAE), and as co-chair of the Organization of AuD Program Directors. In 2004, Freeman received the AAA Presidential Award for Contributions to the Profession of Audiology, and in 2003 was presented with the Larry Mauldin Award for Excellence in Education.
"To bring such a renowned audiologist like Barry Freeman to Starkey is a great thing for our company," says Brandon Sawalich, vice-president of sales and marketing. "His expertise in audiology along with his leadership skills will be a tremendous asset to the Education and Training Department."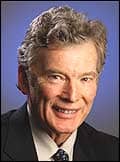 Dennis Van Vliet
Van Vliet is assigned to manage a team of inside and field sales executives, as well as regional trainers in the West. He will be responsible for sharing the latest Starkey innovations with hearing care professionals while strengthening existing Starkey customer relationships. Van Vliet is currently a trustee with the AAA Foundation and will assume the chair position in July. He has been an active member of the Independent Hearing Aid Fitting Forum (IHAFF) and a board member of AAA and the California Academy of Audiology, and served as AAA convention chair in 1998. He is also frequently invited to present on a variety of hearing aid technology and professional issues.
Van Vliet holds an AuD from Central Michigan University and an MA from California State University, Fullerton. He earned his undergraduate degree from the University of California, Irvine. A Vietnam veteran, he served in the US Navy from 1966 to 1970.
"Dennis Van Vliet's experience as an audiologist and industry leader will serve our Western Region and Starkey extremely well," Sawalich says. "We look forward to him bringing continued growth and success to the region."