Promotions Emerge at Sonus
| | | |
| --- | --- | --- |
| Rob Thompson | Jon Nau | Jordan Burch |
North American hearing care network, Sonus, recently announced promotions for the following: Bryan Grant, senior business manager/inside sales manager, has been promoted to Sonus Network director. In his new assignment, Grant will continue to oversee the Sonus managed-care division, HearPO. Rob Thompson, operations program manager, has also been assigned the responsibilities of inside sales manager. Thompson will work with Damien Fogg, who has been promoted to inside lead. Together, Thompson and Fogg are assigned to manage the day-to-day activity of the Sonus inside sales team. Jon Nau, regional manager for the Mountain region (Colorado, Montana, Utah, Wyoming, Arizona, New Mexico), and Jordan Burch, regional manager for the Northwest region (Alaska, Hawaii, Washington, Oregon, Idaho, northern California), have been promoted to senior regional training managers. In their new positions Nu and Burch will be responsible for ensuring Sonus team members receive consistent and timely education intended to meet the demands and needs of Sonus Network members.
Dan Casey Joins Sonomax as President and COO
Sonomax Hearing Healthcare Inc, Montreal, has appointed Dan Casey as president and chief operating officer. Casey will report to Barry Schwartz, chairman and chief executive officer. Casey was formerly executive vice-president of Future Electronics, where he reportedly played a prominent role in the company's growth and expansion into a global multibillion dollar company.
Sonomax reports it has succeeded in adapting its proprietary intra-ear technologies to a unique range of last-mile, in-ear devices for the entertainment and communications markets, as well as the world's military organizations. Casey's depth of experience will be key among sales and marketing and operations leadership, as the company introduces this suite of products to the global marketplace.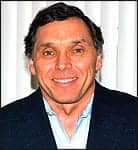 Dan Casey
"The founders of Sonomax have always said that when the time was right, they would put someone at the helm who could take the company into the big leagues," Schwartz says, "someone who had been a key player in an important success story. That time is now, and that person is Dan Casey.
"Nick Laperle and Adam Schwartz have stood up to Sonomax's many challenges since the company's inception without once flinching—Dan will be able to count on them," continues Schwartz. "As co-president, Nick will continue to create important business opportunities for Sonomax as he has in the past, and he will continue in his role as the company's investor relations liaison. Adam will continue to be Sonomax's executive vice-president, responsible for research and development and production. Adam and his team achieved a major breakthrough when they succeeded in adapting the company's patented technologies to applications in vastly bigger markets…and there is every reason to believe that they can build success upon success in developing new and exciting products for our company."
"I'm delighted to be joining Sonomax, particularly at this juncture in its development," says Casey. "The company has established itself firmly in the industrial market with its state-of-the-art hearing protection. Now it has universalized its core technology and made it adaptable to MP3 players, BluetoothTM headsets, hearing aids, and communications products. Each of these business silos represents a multibillion dollar marketplace. I look forward to leading Sonomax through its transition from product development company to a global marketing and sales company."
Catherine Gottfred Assumes 2008 ASHA Presidency
Catherine H. (Kate) Gottfred, PhD, a leader in the field of literacy development, began her 1-year term as president of the American Speech-Language-Hearing Association (ASHA) on January 1. Gottfred succeeds Noma Anderson, PhD, who will continue to serve on ASHA's 2008 board of directors.
Gottfred will conduct the duties of ASHA's top elected office with 26 years of volunteer experience at the association as well as a strong history of leadership in the communications sciences and disorders community. As founder of the nonprofit Leap Learning Systems in Chicago, Gottfred has spent the past 19 years overseeing the development and delivery of literacy training programs and curricula to educators working with underserved youth.
"2008 promises to be an exciting year," Gottfred says. "My primary goal is to make ASHA's new governance model truly what it is meant to be: a nimble, effective voice for and of our association members."
AG Bell Honors Harkin, Downs, and Sussman
The Alexander Graham Bell Association for the Deaf and Hard of Hearing (AG Bell) has announced the 2008 recipients of its highest association honors, recognizing individuals or organizations that make a significant contribution to the hearing loss community. Begun in 1963, AG Bell's association awards recognize individuals or organizations whose efforts have made a significant impact on the hearing loss community or have raised public awareness of hearing loss issues. Past recipients include individuals with hearing loss, such as Internet pioneer Vinton Cerf and former Miss America Heather Whitestone; US presidents and elected officials; and organizations such as the National Geographic Society, AT&T, and ABC Television.
The 2008 award recipients are:
Sen Tom Harkin (D-Iowa)—The Alexander Graham Bell Award of Distinction: Harkin is a longtime advocate of early hearing detection and intervention, and communication access, and is a primary sponsor of the Americans with Disabilities Reauthorization Act of 2007.
Marion Downs—The Volta Award: Downs, a world-renowned pediatric audiologist, is regarded as the pioneer of early detection and intervention for children with hearing loss.
Kathleen D. Sussman—The Honors of the Association: Sussman is a past president of the AG Bell board of directors, current member of the AG Bell Academy board of directors, and director of the Jean Weingarten Peninsula Oral School for the Deaf in Redwood City, Calif.