Up-to-the-minute access to hearing-related news, products, marketing stats, access to the HR archives, and much more
Top Online & Insider Headlines in May
Hearing Aid Assistance Tax Credit Introduced in Congress
Clinical Trial Initiated on Combination Hearing Aid-Cochlear Implant
Sonion Sells Part of Facilities in Poland to William Demant
New Findings Uncover Disparity in Attitudes About Hearing Loss
Scott Haug Hill Country Audiology Retreat To Be Held in September
Intricon (RTI) to Acquire Tibbetts Industries
Sebotek Files Lawsuit Alleging Patent Infringement
HEAR Act To Eliminate Exclusion of Hearing Aids from Medicare
The Second-Worst Diagnosis: YOU HAVE SPIDERS IN YOUR EARS!
Starkey Foundation Launches "Don't Say What" Campaign
AG Bell Appoints Former ASHA Head Frederick Spahr
ASHA Sponsors NPR's "Morning Edition"
---
Highlighting "Hearing on The Hill '07," Reps Carolyn McCarthy (D-NY) and Vern Ehlers (R-Mich) introduced the Hearing Aid Assistance Tax Credit Act (HR 2329) in the House of Representatives on May 15, and Sen Norm Coleman (R-Minn) introduced the companion bill (S 1410) in the Senate.
Widex has opened a new Office of Research in Clinical Amplification (ORCA), ORCA Europe, in Stockholm, Sweden, under the direction of Karolina Smeds, PhD. The ORCA facility in the United States is located in Lisle, Ill (near Chicago), and is headed by Francis Kuk, PhD.
Of those suffering from hearing loss, 57% of women and 37% of men have not sought treatment, according to a new study funded by Cochlear Americas. The study also indicates men are more likely than women to say pressure from a spouse or significant other would prompt them to seek treatment for their hearing loss (35% men versus 14% women).
According to a recent survey conducted for Energizer, almost seven out of 10 consumers (67.1%) said they were concerned about experiencing hearing loss, but only 30% felt it was important to actually get their hearing checked. Furthermore, only 11.5% have had their hearing tested in the past year, making the other 88.5% overdue for a hearing screening.
AG Bell reports that 34% of babies who failed the newborn hearing screening did not receive a confirmation of a diagnosis after the initial screening—down from nearly 50% between 1999 and 2004. Additionally, nearly one quarter (23%) of babies who did receive a confirmed diagnosis still failed to be referred to early intervention services that could help them.
Avada reports that the company has increased net sales by 14.4% in Q1 2007 over Q1 2006. The significant sales increase has primarily been driven by organic sales, as well as recent acquisitions, according to the company.
The Hearing Loss Association of America (HLAA, formerly Self Help for Hard of Hearing People) has reached a consensus agreement with the wireless industry on increasing the accessibility of wireless telephones over the next few years.
Want the inside scoop? [register]Subscribe to HR's FREE weekly e-newsletter, The HR INSIDER[/register].
---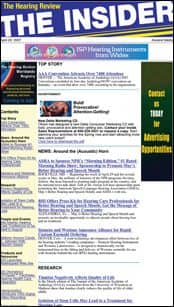 Get Your Weekly Edition of THE INSIDER
Every week The Hearing Review sends out THE INSIDER, a weekly e-newsletter devoted to the top hearing-related news, research, product introductions, fitting topics, and marketing research stories that are influencing your business or practice, as well as the industry at large. Sign up for your free subscription.