Career Opportunities
As a major force in the hearinginstrument market,and the largestmanufacturer in the US,Siemensprovides some of the best careeropportunities a ailable.
We are now seeking qualifiedcandidates to become part of ourprogressive team of dynamic profes-sionals in the following areas.
---
Sales Representatives
(field/inside)
Work with hearing care providers,currentand prospective accounts,providingproduct/services information as well asstrategic business consultation.Requires2+years of proven successful salesexperience.Must have outstandingcommunication skills,including theability to evaluate business needs anddevelop/propose appropriate solutions.
Inside Sales Representative –
Government Services
Manage and direct all inside salesactivities to maintain and develop unitand dollar sales,product mix andmarket share in the Government-WestSales Territory.Requires Master of ScienceDegree,Audiology with 3-5 yearsdispensing or clinical experience and2+years proven sales experience in retailsales is a plus.Must have outstandingcommunication skills,including theability to evaluate business needs anddevelop/propose appropriate solutions.
Audiologists
Provide audiology support to hearing careproviders and manufacturing,usingtechnical expertise and problem solvingskills to assure best fitting/patientsatisfaction with Siemens hearinginstruments.Requires a Master 's de reein audiology,2-3 years of currentdispensing experience,and excellentwritten/verbal communication and pro-blem solving skills.
Field Education Specialist
This position provides in-office technicaland competitive training to customers aswell as internal staff.Requires a Master 'sde ree in audiology or 4-10 years relatedexperience and/or experience in trainingof large roups or equivalent combinationof education and experience with CCC-Ain Audiology.Must have excellentwritten and verbal communication skills.
If you are interested in pursuing acareer with Siemens,please visit ourwebsite and apply online at www.usa.siemens.com/hearing.
EQUAL OPPORTUNITY EMPLOYER

---
Salesperson: Global manufacturer of hearing aid batteries seeks an experienced, motivated salesperson to join our retail sales team and spearhead new account development. The qualified candidate will have a college degree with 2-4 years selling experience within the hearing aid industry. Compensation includes competitive salary, health benefits, car allowance and commission. Interested applications should fax resume in confidence to (914) 684-1890.
LICENSED FITTER/DISPENSER Washington company is looking for an experienced State of Washington Licensed fitter/dispenser to join our growing multiple office organization. For consideration fax or mail resume to: Director of Operations: PO Box 1080 Centralia, WA 98531, Fax (360) 736-2652.
Dispenser/Audiologist: Practice in Arizona, Nevada, and California, is looking for staff for a new rapidly growing practice. If you are interested in becoming part of a growing company with benefits, salary plus commission, and paid training, then contact us. Move to the warm and sunny southwest and become part of a customer service orientated company with a future and exclusive territory. Fax resume and salary history to (928) 505-7233 or email to [email protected]
Audiologist/Dispenser — Come join one of the nations leading retail organizations. We have openings in Washington, Oregon and Nevada. You must have strong audiological, management, leadership, and people skills. Must be proficient with digital technology and have experience with hearing aid sales. Salary, commission and competitive benefits package. This is the opportunity of a lifetime for the right persons. Please send resume to: [email protected] Fax: (702) 736-4391.
CERTIFIED AUDIOLOGIST Washington company is looking for a Certified Audiologist for a growing retail/vestibular/multiple office organization with in house lab. Candidate must possess knowledge of ENG and ABR, have retail experience. Competitive Salary, bonus and benefits package. For consideration fax or mail resume to: Director of Operations PO Box 1080 Centralia, WA 98531, Fax (360) 736-2652.
Established South West Washington, Kelson/Longview area. Independent owned Beltone office looking for motivated Dispenser/Audiologist with experience and a proven sales record. Partnership buy-in will be considered for the right candidate. Please contact Mr. Metzs at (360) 882-1489.
Nu-Ear Electronics, a front-runner in hearing aid technology and marketing innovation, is searching for hearing aid dispensers and audiologists interested in acquiring and operating their own offices. We provide protected territories, training, marketing and fully equipped offices. Existing offices are also available for purchase. Office locations will be determined based on availability and demographics. Qualified applicants need to send a resume or contact Denny Denton or Jeff Brunker @ Nu-Ear Electronics, 6769 Mesa Ridge Rd., Ste. 100, San Diego, CA 92121 or call (800) 626-8327 ext 4478. Applications will be held confidential.
GREAT OPPORTUNITY! Beltone 2001 President's Cup Winner in Northern Virginia seeks an experienced Audiologist or Hearing Instrument Specialist. Depending on experience, sales earnings should exceed $50,000 plus. Benefits include: health, life, short term disability, 401K, plus bonus. Send resume to: Fax: (540) 667-7745 or call: (800) 934-4054. Ask for John Megale.
HELP NEEDED IMMEDIATELY My associate suddenly became ill — desperately need hearing instrument specialist and/or audiologist for one of the largest, busiest offices in Orange Co. in So. Calif. Will assist in relocation. Excellent, busy practice, 23 years in same location. Aggressive marketing – Excellent commission. Fax resume to (949) 830-6926 or call (949) 830-5330 or (800) 553-4327.
---
An Exciting Opportunity!
For Sales Professionals
Are you a proven sales producer? SeboTek Hearing Systems is currently seeking industry professionals looking for that elusive "ground floor" opportunity! The PAC hearing instrument is nothing less than revolutionary, and sales territories are available for proven sales winners.

Are you looking for a corporate culture that fits you? Character, integrity, putting others first. SeboTek is seriously dedicated to the proposition of caring for employees and customers the same way you want to be treated – a unique culture based on the Golden Rule. Sound appealing?

Great company. Leading edge products. A culture that values you. If you can sell, we can provide the rest. Send your resume to [email protected], or stop by Booth #607 at AAA in Salt LakeCity.

SeboTek Hearing Systems.
The future looks – and sounds – great!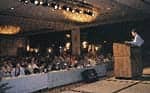 www.SeboTek.com
1.800.388.9041
---
AUDIOLOGIST/REGIONAL
SALES MANAGER
Join Bernafon's outside product sales representatives as a regional sales manager. Responsible for product sales and account training on software fitting support. Extensive travel required to visit and work directly with customers.

The position requires degree in Audiology and 3 years selling experience within the hearing health care field.

Please contact John Luna, President at [email protected]
---
WORK IN A SPORTSMAN'S PARADISE! Hearing Aid Business for Sale. Located near the Missouri River in SE South Dakota. Nationally renowned hunting and fishing surrounds you. Business operates four days a week giving you plenty of time to pursue your hobby. Modern, beautiful office. Large lobby, two offices, test room with sound booth, mail/break room and complete lab. Currently building our own hearing aids on site but could be strictly retail. Large two-story building with 3 rental apartments above. Large, well-established (10+ yrs.) client base – lots of referrals! $130 to $160K yearly gross. Perfect for Audiologist or Hearing Instrument Specialist. State reciprocity may be available. Also included are two additional buildings, one large building suitable for rental business and another smaller one suitable for storage. $110,000 includes all! Call (800) 848-6324 Mon-Thurs.
Clinical and dispensing audiology practice in Santa Fe, NM. Established in 1979. Well respected with a strong referral base and large clientele. Potential for growth. Great location. Long term lease. Don't miss this opportunity to own a thriving Audiology practice in the beautiful southwest. (505) 988-9818.
Hearing Aid Business for Sale in the beautiful Pacific Northwest, Oregon. Well established Beltone Practice; Fully Equip; Turn-key operation; Same location for over 10 years; Gross over $200,000 annually. Owner retiring. Price for a quick sale @ 30K. Offers excellent growth potential. Call John @ (503) 708-3441.
Divorce forces sale of successful hearing aid practice in beautiful central coast California (San Luis Obispo). Five year established business with excellent reputation, profitability and client base – grosses $400k a year. Beautiful medical center with modern furnishings and equipment. Comfortably accommodates two dispensers. Turnkey operation with proven business plan. Alex (805) 541-2864.
---
Prepare for NBC-HIS or STATE LICENSING Exam Recorded on-site our Professional Seminars revised in 2001 provide the latest up-dated information. Each program includes a complete set of study materials & sample exam(s). Trust your career to one of the most proven names in the profession. Since 1977, we have helped thousands of hearing healthcare professionals earn their credentials. State Licensing (audio cassette $225.00) (CD $245.00) (DVD $395.00); NBC-HIS (CD $225.00); Discounted Combo Price save 20%. To order please call Alan Lowell Seminars 800-749-4644 or write: 13131 Lakeshore Grove Dr., Wintergarden, FL 34787 Visa/MC/AMEX/ Check ($8.00 S&H each program/shipped Priority Mail).
---
Market WithOut The Risk…Profit WithOut The Effort Let us take the risk out of Marketing and skyrocket your profits in just one week. National Profit Builders is a professional open house team that specializes in highly effective marketing strategies that will increase your bottom line, guaranteed! There is absolutely no up front cost to you. Our highly ethical, professional and low pressure closing along with our proven marketing system will guarantee the success of our services. No risk involved. Call National Profit Builders today at (877) 727-0400 for a free market analysis and let us start marketing for you.
Want to increase your immediate cash flow with no advertising? We can guarantee success with our proven "Open House" methods of practice building. Our years of experience have resulted in high closure rates and repeat sales promotion requests. We encourage you to call our referral list. For limited time only a $500.00 saving bond will be issued in your name upon completion of your "Open House." Call now to reserve your week. Toll Free (866) 248-5171 or (877) 217-6957.