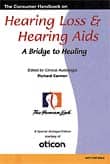 Ear Q, founded in 1999, offers a full line of advanced hearing aids, including the Ear Q-Intelligent Hearing Aid. The company offers digital technology, and features a support team network of authorized hearing health care professionals. HR recently spoke with company president Ed Keller.
Tell us a little about the history of your company.
Ear Q was founded as a private practice in 1999 with a focus on customer service. As a startup, we sought marketing assistance from established buying groups in the industry, but realized there was a need for more quality, innovative marketing concepts, and support. After research and experimentation, we developed our own system to market and provide a high level of service to the public through the development of the Ear Q brand. Today, the Ear Q Group is a unified network of like-minded hearing healthcare professionals working together to collectively build traffic in our offices.
What trends are you seeing in the industry right now?
Today's hearing aid industry is becoming highly competitive, both technologically and from a marketing perspective. Technology is allowing us to provide hearing help better than ever before. However, most hearing aid marketing has been ineffective in reaching beyond the 20% market penetration. As fellow practice owners, our Board of Directors realizes how critical it is to maximize marketing dollars. The power of your message can make or break your company. In order for us to influence the 80% of non-hearing aid owners, our industry must collectively offer better solutions and a clearer message. This will motivate a broader market to understand the benefits and seek our services.
How does your company respond to the trends?
We are excited about the advances being made in hearing technology, but we know that technology is only as good as the skills of the professional fitting it. The Ear Q Group is directed and managed by current practice owners throughout the country, so we respond to the trends with a first hand knowledge of their impact on the hearing healthcare professional. For example, 10 years ago our private practice focused on the trend of marketing the CIC [completely in canal] hearing aid. Seven years later, trends shifted the marketing focus to programmable and digital technology. Now, our latest attempt is to transition our member network to focus on promoting feature-based technology through education in marketing. In our mission to expand the market for quality hearing healthcare, our goal is to be proactive in the marketplace rather than reactive. From innovative programs like our Hearing Healthcare Benefits Plan and R.E.A.D.Y. Plan to our full-service advertising support, we are positioned to provide solutions to many problems common to practice owners.
What role does technology play in your company?
Ear Q "The Intelligent Hearing Aid", our exclusive brand, offers a full line of digital technologies with features and benefits at very competitive price points. Our brand reflects the partnerships we have developed with suppliers who are progressive in their development of new technology. We have created easy-to-use marketing materials that promote the user benefits of some of today's leading hearing aid technology, and this has consistently stimulated more office traffic for our participating members. Providing a clear message to the consumer results in greater consumer confidence, ultimately resulting in the consumer being directed to our members as their preferred providers.
What sort of major changes have you seen in the industry in the last 10 years?
The rapid development of technological advancements over the last 10 years has made it very difficult for many hearing health care professionals to remain current. In speaking with practice owners around the country, I've learned that while most are technically savvy, many have lost touch with the true heart of the needs of those with hearing loss—an improved quality of life. People want to enjoy life more fully. As an industry, we have to do a better job of convincing consumers that hearing better will improve their quality of life. This means we have to make an investment on education through marketing. It is not a choice. It is a necessity if we are to grow as an industry. The Ear Q Group chooses to focus on three or four of the most major advancements in hearing aid technology each year, helping our members to avoid being overwhelmed by a technological flood. We translate these advancements into benefits, and market these benefits in a way that our patients can truly grasp.
What do you envision happening in the future of the industry?
To understand the future, it is important to learn from the past. The increasingly competitive environment in this industry has resulted in mergers and acquisitions throughout all aspects of the industry. I have observed that smaller, independent retail practices are closing every day. While the advent of buying groups and co-ops has held promise, I believe traditional buying groups are facing challenges as well. While group buying power has been beneficial to many businesses, the promise of helping a practitioner reach more of the market and improve business skills has been unfulfilled. It is important that we join together in this effort. Providing a network that allows the practitioner to work and buy together yet remain autonomous, The Ear Q Group is focused on providing marketing and business support programs that will allow us to expand the market together to ensure a bright future.