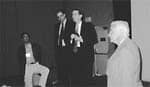 David Sawyer, Siemens Hearing Instruments, VP-marketing
With a market position that accounts for 22%-25% of all the hearing instruments sold worldwide, new digital products and several new support programs for dispensing professionals, Siemens Hearing Solutions has been busy during the past year. HR recently sat down with Siemens Vice President of Marketing David Sawyer to ask him where he believes the company is headed, as well as what he sees in the future for the industry and dispensing professionals.
Q. What's new at Siemens? In particular, how does the Triano fit into Siemens' marketing plans?
A: One big initiative for us right now is our consumer advertising campaign for Triano, our newest digital hearing instrument. The ad we're running in a number of national publications has been fairly controversial so far, since it is an edgy campaign. The headline is, "I hate hearing aids…but I wear my Triano all day long." Initially, we received a few calls from hearing care professionals, who did not understand what we were trying to say, namely that hearing aids of the past were something of a necessary evil [like glasses], but now there's Triano. I can understand why some professionals might initially react negatively to the ads, but when we showed the ad to consumer focus groups, they liked its bold honesty. The bottom line is the message the ad delivers strikes a chord with consumers who already have doubts about hearing aids, and many consumers who have never responded to a hearing aid ad are responding to this one.
Q. What trends do you see for the hearing industry and where does Siemens fit into the changing market?
A: Overall, we are getting more sophisticated as an industry. More consumers are going to the Internet to find answers to their hearing health questions. We are making significant investments to help hearing care providers prepare for that emerging market, such as providing customized Web sites for their businesses. In addition, we're developing Internet services, software systems, and we've been offering online ordering not just for stock items, but for custom products, to our customers for over a year.
Another trend is a move toward hearing care providers grouping together to improve their position relative to securing volume-based pricing and services, and to better take advantage of third-party purchase agreements. That is certainly not to say that the smaller, independent providers will not continue to thrive. If the market is to grow, then it is going to take both types of providers to serve the varying needs and desires of consumers. The independent provider offers advantages that can't always be offered by a retail chain: personalized service for testing, fitting, counseling and service, probably all delivered by the same professional. That kind of service will always be valued by a segment of the market. Likewise, there is also a market segment that will be satisfied with fewer personal services in exchange for quick or lower cost options.
Relative to how Siemens fits into this trend, over 80% of our business comes from smaller, independent hearing care providers, and we believe that it is critical for our customer base to stay that way. It's important to note that Siemens has no interest in entering the retail business, as we do not consider it our business or our area of expertise. Despite rumors to the contrary, we have no ownership stake in any retail hearing care businesses, and we intend to keep it that way.
Q. Dispensing professionals have expressed concern over the prices and incentives offered by corporate chain retailers, contending that these firms leverage far better pricing/deals from manufacturers, in general. Particularly regarding Siemens' affiliations with some of these retail groups, how would you respond to these comments?
A: Even though the vast majority of our customers are independent hearing care providers, we do also provide products to some buying groups or networks. Larger volume businesses in all industries are able to demand lower prices from their suppliers, and that's true as well for all hearing instrument companies. Because major retailers must drive higher volumes of business to support their operations, they often offer products at lower margins in an effort to capture additional business. We would prefer that our products not be associated with low-price advertising, as we believe we offer top-of-the-line products. But we're only able to control the claims made about the performance and features of our products, not the retail prices charged for them. It's understandable that low-price advertising might be frustrating to a provider focused on delivering comprehensive hearing care with a high level of service for each patient – not simply just the lowest prices. I was recently speaking with a dispenser who told me that many of his new patients become eager to do something about their hearing loss after seeing an aggressive price ad from one of his competitors. But when shown the services provided in comparison, the individual almost always decides to work with him. Each of us as consumers have made decisions, depending on the product or service, to find the least expensive or the most complete service. Again, I think both approaches are needed to attract larger numbers of consumers by satisfying different levels of expectations.
However, if an independent provider asks me how to grow their practice or be more competitive, I'll talk to them about support like the Siemens Business Partners program that offers many of the same benefits typically offered only to large retail groups by some companies. One of our primary objectives is to support independent providers and help them grow.
Q. Where do you see Siemens moving toward in the future?
A: One of the reasons we have low market penetration as an industry is that it is still almost a secret to consumers how you get a hearing aid. That is really one of the biggest challenges we are facing as an industry if we are to expand the market. On our horizon to help with awareness are physician education programs, and additional consumer education via e-business and promotion initiatives.
The opportunity for each of us to have a big impact on growing this business is tremendous, especially given the demographics of our potential market. The development and change in our business is very exciting and I absolutely believe the best is yet to come.
— B. Van Houten