President of Mexico Gives Starkey's Bill Austin Highest Noncitizen Award
Above: Bill Austin, Tani Austin, Margarita Zavala (wife of President Calderon), and President Calderon. At left: Bill Austin (left), shaking hands with President Calderon (second from left).
President Felipe Calderon recently presented the prestigious Azteca Eagle Award to Bill Austin, CEO of Starkey Laboratories and founder of the Starkey Hearing Foundation, at the Presidential Palace Los Pinos in Mexico City.
The award is the highest honor bestowed by the Mexican Government to a noncitizen, and was presented to Austin in recognition of his humanitarian service to Mexico. A ceremony was held in honor of Mexico's 200th anniversary of independence celebration on September 16. US Secretary of Labor Hilda Solis attended the event along with numerous heads of state from other countries.
The Foundation has been carrying out missions annually throughout cities in Mexico since its inception in 1973. "Mexico was the start of our international outreach," said Austin. "We partnered with Flying Samaritans in 1973 to deliver hearing aids to the underprivileged in various Mexican communities." The demand for help throughout Mexico has increased over the past 35 years, with more than 100,000 hearing aids distributed to those in need.
To view a video of the event on YouTube, visit www.youtube.com/watch?v=YBFvKTWtoaU.
Four other US citizens have received the distinguished Azteca Award: Dwight D. Eisenhower, Ted Kennedy, and Bill and Melinda Gates. "I am very grateful to receive this honor in the name of the people who have made it possible," said Austin. "No one can do much alone. It takes a team to significantly impact the challenges we face in life."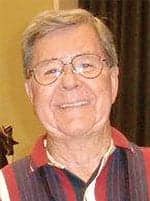 Robert Harrison, PhD
In Memoriam:
Robert Harrison, PhD
Audiologist and Educator (1928-2010)
Robert Joseph Harrison, PhD, known affectionately to his many friends and family as "Cap'n Bob," died August 18 at his St Petersburg, Fla, home at the age of 81.
Harrison received a bachelor's degree in logopedics from the University of Wichita in 1951, and a PhD in audiology from Northwestern University in 1962. In his long and varied career, Harrison served in the Army as cofounder and director of the Speech and Hearing Clinic at Fitzsimons Army Hospital, Denver; Chief ENT and operation room technician for European Theater Auditory Screening Center; Cherokee County Community High School, Columbus, Kan; director, Speech and Hearing Clinic, instructor of audiology, clinical audiologist, at Medical College of Alabama; director, Audiology Clinic, University of Miami School of Medicine; assistant professor of surgery, University of Miami College of Arts and Sciences; adjunct associate professor at the Department of Speech; professor, University of Miami School of Medicine, professor, Speech and Hearing Sciences, chief, Division of Audiology Speech Pathology.
Donations may be made in Dr Harrison's name; visit www.andersonmcqueen.com/obituaries/Robert-Harrison for more information.
Source: Anderson-McQueen Funeral Home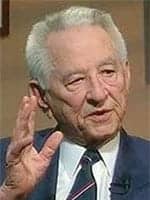 Robert Galambos, PhD
In Memoriam:
Robert Galambos, PhD
Pioneer in Neuroscience (1914-2010)
In a research career spanning more than 70 years, Robert Galambos, PhD, helped lay the foundations of the modern field of neuroscience—the study of how the brain generates our thoughts, perceptions, and actions.
Galambos was professor emeritus of Neurosciences at the University of California, San Diego (UCSD), School of Medicine when he died of natural causes on June 18 at age 96, remaining active and inventive in brain research until the last weeks of his life. Although his research touched on many different aspects of brain function, his major advances were in deciphering the electrical signals that send information from the eyes and the ears into the brain and showing how the electrical oscillations in the brain give rise to our sensory experiences of the world.
In the 1950s, Galambos served as head of neurophysiology research at the Walter Reed Army Research Institute, where he directed a broad research program that revealed how learning new information influences nerve cell activity throughout widespread areas of the brain.
Galambos attended Oberlin University and then went to Harvard for graduate and post-doctoral studies. In his studies, Galambos discovered the basic principles of how sounds activate the auditory nerve and send messages into the brain that allow us to hear. He pioneered the use of tiny electrodes inserted into the auditory nerve, which showed that each nerve fiber was tuned to a specific sound frequency and could convey information to the brain by either increasing or decreasing its activity.
He was a founding member of the new Neurosciences Department at UCSD, which was reportedly the world's first Neurosciences Department. For more information, visit Hearing Review news, August 26, 2010. [Source: UCSD]