OPERATIONS
Former President Bill Clinton Commends Starkey Hearing Foundation
Starkey Laboratories Inc, Eden Prairie, Minn, reports that the Starkey Hearing Foundation was praised for its work during a recent speech given by former President Bill Clinton. He gave a keynote address to help celebrate the 50th anniversary of the Lexington Hearing and Speech Center in Lexington, Ky.
Clinton emphasized the importance of filling the gap between what the private sector can produce and what the government can provide. "We are supposed to stand in that gap," said Clinton, citing that through partnerships we can accomplish the good work faster, cheaper, and better. "We wind up with partnerships with the private sector, which is what the Starkey Hearing Foundation is. It is a partnership between the Foundation, Bill and Tani Austin, and the hearing equipment they produce and sell.
"They have proven their worth. They change lives, and they change the paradigms of providing services to people who are hearing impaired," said Clinton in regard to the work of the Foundation.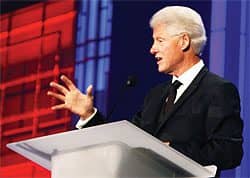 Former president Bill Clinton delivers address at starkey Hearing Foundation Gala.
The Starkey Hearing Foundation was a major supporter of the event and also fit a number of students with free hearing aids. Since 2000, the Foundation has distributed nearly 500,000 free hearing aids to those in need in more than 86 countries, including the United States.
"The opportunity to contribute to the children at the Lexington Hearing and Speech Center is the best investment we can make in the future of our world," said Bill Austin, CEO and founder. "It is an honor to be part of such good work."
In other news, Bill Clinton stressed the critical need for community and global giving recently while addressing nearly 1,400 guests at the 10th Anniversary Starkey Hearing Foundation So the World May Hear Gala at the RiverCentre in St Paul, which generated nearly $7 million in proceeds through sponsorship, silent auction, and live auction bidding. "The Starkey Hearing Foundation was able to raise almost half of our $15 million operating budget to better help children and their families around the world receive the gift of hearing," said Tani Austin, gala founder and Starkey Hearing Foundation treasurer. "There is no greater gift we can give as we help these children stand at their true height so they can meet the challenges of life," said Bill Austin. "And we couldn't do it without the help of so many."
International celebrities such as Steve Martin, Muhammad Ali, and Sam Moore were honored for their contributions to the respective industries of film, comedy, boxing, and music. To read more about the gala event, visit www.hearingreview.com/news/2010-07-30_01.asp.
William Demant Reports Double-Digit Growth and Upgrades Corporate Outlook for Investors
William Demant Holding A/S, Smorum, Denmark, the parent company of Oticon (US headquarters in Somerset, NJ), reports that, in the first half of 2010, the Group had revenues of approximately $575 million (DKK 3,328 million), or a 21% increase from the same period last year.
Corporate organic growth in the period was 13%. The three main business activities all generated double-digit organic growth in the first half-year, to which should be added the effects of acquisitions and exchange movements. According to the company, growth in hearing aids was driven by the launch of Oticon Agil, Oticon's second generation of wireless hearing aids. Unit sales in the corporate wholesale business improved by almost 9%.
In the period under review, the Group reportedly gained sizeable market shares, while the global market for hearing aids in the first 6 months of 2010 was estimated to have grown by 3% in terms of units. Operating profits (EBIT) constituted approximately $115 million (DKK 666 million), or an 18% increase on the first half of 2009.
Based on favorable trends in the first 6 months, combined with anticipation of continued growth, the corporate outlook was upgraded, says the company, which expects wholesale of hearing aids in 2010 to outmatch market growth by 8% to 10% in terms of value, which is 5 percentage points above its most recent forecast. Demant says it also expects the second half-year to produce a profit margin that exceeds that of the first 6 months.
LEGISLATION
Hearing Aid Tax Credit Reaches Record 125 Cosponsors

Rep Ken Calvert (R-Calif) recently joined 124 of his House colleagues to become the 125th member to cosponsor the Hearing Aid Tax Credit, according to the Hearing Industries Association (HIA), Washington.
The legislation has already exceeded previous cosponsorship totals achieved in the Republican-majority 109th Congress (ending in 2006) and the Democratic-majority 110th Congress (ending in 2008)—both of which peaked at 112 cosponsors at the conclusion of each full 2-year session.
Channeling this record support, HIA is working with AARP, AG Bell, ADA, AAA, ASHA, HLAA, and IHS to conduct an August advocacy blitz in the home states and districts of Senate Finance and House Ways and Means Committee members. Each organization will work with its members in select districts as part of an effort to meet with Senators, Representatives, and staff members in district offices during the long August/September Congressional recess.
AWARDS
Recipient of First Annual Judith Gravel Fellowship in Pediatric Audiology Announced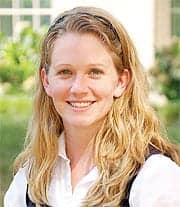 Nicole Duncan, AuD student.
The Phonak Hear the World Foundation, Warrenville, Ill, reports that Nicole Duncan, an AuD student at the University of North Carolina, (UNC) at Chapel Hill, is the 2010 recipient of the Foundation's first annual Judith Gravel Fellowship in Pediatric Audiology.
Duncan has demonstrated her passion for the field of pediatric audiology and amplification. After her initial interest was sparked as a YMCA volunteer working with at-risk children in Florida, she went on to pursue an AuD degree at UNC where she received specialized training in pediatric audiology through a Department of Education Pediatric Audiology Training Grant and LEND Fellowship. During her studies, Duncan was also a research assistant in the Human Auditory Development Laboratory at UNC.
In conjunction with the Department of Otolaryngology at the University of North Carolina School of Medicine, University of North Carolina, Chapel Hill, Phonak's Hear the World Foundation awards the Gravel Fellowship annually to a fourth-year Doctor of Audiology (AuD) student whose externship will be completed at UNC Hospitals with a focus on audiologic management of infants and young children with hearing loss. The Gravel fellow also completes a clinical research project under the mentorship of UNC faculty in collaboration with Dr Richard Seewald.
The Foundation named the fellowship in recognition for the late Judith Gravel, internationally renowned for her expertise in pediatric audiology and for her many contributions to clinical research and professional service.