CONVENTIONS AND EVENTS
Concert to Raise Hearing Awareness
Audiologists and musicians are scheduled to unite May 17 to raise hearing awareness at Turn It Down: an EAResponsible Concert in Kirkland, Wash. The event features musical acts from the Seattle music scene, and is sponsored by Evergreen Speech & Hearing Clinic in partnership with Oticon, Westone Music, and the Grammy Association.
"An average concert can reach or maintain sound levels of 130dB or higher," says Terrence Limb, AuD. "At this rate, concert attendees listening for over 30 seconds without ear protection face hearing damage. This is an alarming figure; however, the even more alarming fact is that concert venues are not regulated like every other occupational or environmental situation."
Musicians who attend this event can enter the raffle for custom-fit musician earplugs, and a set of UM1 musician in-ear monitors donated by Westone Music. Information about the event can be found at www.everhear.com.
AHAA Convention Attracts More Than 400; Expands Strategic Solutions Services
More than 400 associates and exhibitors are estimated to have attended American Hearing Aid Associates' (AHAA) 12th annual convention earlier this year in Orlando, Fla, where the convention's major buzz reportedly came from enhancements AHAA introduced to its new AHAA Expansion Network (AEN) based on input from its network members (associates).
The new service is offered to provide a more focused and definitive professional development and guidance program for five groups or tracks of individuals involved in most practices.
AHAA introduced a Centers of Excellence Award Program this year, which the organization offers to honor top-performing practices nominated from the network membership by AHAA's associate managers. The top award went to Lewis Breslau, AuD, Hearing Health Associates, Bayside, NY. Three other awards went to Chris Borders, MA, Eastside Audiology, Issaquah, Wash; Jami Brooks, MS, Brooks Hearing & Speech Clinic, Paris, Tex; and Carolyn Jaret, MS, El Dorado Audiology, Tucson, Ariz.
AHAA also reports it has significantly expanded the Strategic Solutions services it offers its network to include direct help for associates in identifying and buying out other independent practices that are for sale.
AHAA is now supporting this thrust in several ways, including a multimillion-dollar account that associates can borrow from to fund the acquisitions as well as additional staff members who seek out and vet practices for sale. Support is also being offered for new, comprehensive training programs for owners/CEOs and key staff positions that cover all aspects of expansion, as well as ads in hearing health care trade journals.
2009 Conference Date Set for Kansas Hearing Society
The Kansas Hearing Society announces it has set a date and program for its 2009 Conference, "The Crystal Ball of Hearing Loss … Experts Look at the Future of Hearing Loss Treatment." The event is scheduled for March 12 through March 14, 2009, at the Capitol Plaza Hotel, Topeka, Kan. Kenneth Smith, PhD, is program chair, and 12 CEUs will be offered. Information for the event is available at .
DONATION
Starkey Gift Supports Pediatric Certification
Starkey Inc has made a donation of $75,000 to the American Academy of Audiology Foundation (AAAF) to support the development of a new Specialty Certification in Pediatrics by the American Board of Audiology (ABA). The donation is reportedly the largest single donation ever made to the AAAF. The company says the gift was made to reinforce Starkey's commitment to pediatric hearing care.
According to Starkey president Jerry Ruzicka, "Starkey was pleased to support this pediatric project. It is consistent with our mission of facilitating the patient's journey for quality hearing care. Since Starkey introduced the Destiny and Zon line of hearing instruments with Integrated Real Ear, more audiologists are fitting our products to children because of the ability to verify fittings in an effective and efficient manner."
Ruzicka adds: "Support for the Foundation was consistent with our mission and goals of providing quality hearing care."
HUMANITARIAN
Walls Rise on Oticon-Sponsored Habitat for Humanity Home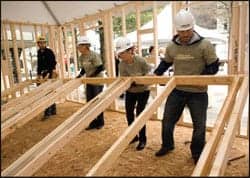 Volunteers hammer, drill, and saw their way to a new Habitat for Humanity home donated by Oticon Inc. Oticon staff organized and helped staff the volunteer project, which spanned 3 days during the AudiologyNOW! conference in Charlotte.
Audiologists and hearing care professionals from across the country gathered in Charlotte, NC, to construct a Habitat for Humanity home during Audiology­NOW! Oticon Inc donated the single-family home in celebration of the Am­erican Academy of Audiology's 20th Anniversary.
"This unique humanitarian effort reflects the importance of the relationship between the hearing care industry and our members in achieving goals that benefit people with hearing loss," says AAA executive director Cheryl Kreider Carey. "We are honored that Oticon has chosen this very public effort to celebrate AAA's first 20 years of advancing the profession of audiology through leadership, advocacy, education, public awareness, and support of research. It is a wonderful way to demonstrate to the general public the caring and commitment to improving life that are at the core of our profession."
Carey and Oticon president Peer Lauritsen donned hard hats and headed separate construction crews in an attempt to be the first to raise the walls.
Construction was completed April 5. For more photos and details, see the April 17 edition of HR's weekly e-newsletter The Insider.