German FCO Objects to Phonak's Acquisition of GN ReSound
The German Federal Cartel Office (FCO) on March 22 expressed competition concerns regarding Phonak's proposed acquisition of GN ReSound. The preliminary ruling could lead to a delay or prohibition of the transaction. Phonak reports that it is in contact with the FCO in order to make the combination possible through additional measures.
The Phonak Group states that it has received all but one of the required clearances from the merger control authorities relating to the closing of the acquisition of the ReSound Group; only the approval of the German FCO is outstanding. The FCO forwarded its appraisal of the investigation to Phonak on Friday.
In the "statement of objections" delivered to Phonak, the FCO indicated its intention to prohibit the combination. This is not a final decision, however, and Phonak will attempt to make the acquisition possible by offering additional measures.
Phonak says that it is surprised by the recent developments communicated by the FCO. The concerns of the FCO are not motivated by a fear that Phonak, as an individual competitor, could obtain a dominant market position; rather, the FCO claims that there will be an oligopoly (collective market dominance) in the German hearing aid market as a result of the combination. The group would be in possession of Phonak, GN ReSound, Unitron, Beltone and, notably, Interton's combined hearing-related businesses, should the acquisition move forward as proposed. Interton Hoergerate GmbH is headquarted in Germany. Phonak is convinced that competition in Germany is very intense today, and that this situation will not change after the closing of the combination.
The FCO will reportedly make its final decision in April 2007. Based on the documentation currently available, Phonak will continue its efforts to make the acquisition possible, and will determine its options and decide on the way forward after the final decision has been rendered, according to the company.
Phonak's acquisition of GN's hearing-related businesses, which also includes GN Otometrics, for $2.65 billion was announced on October 2 (see "Big-6 to Become Big-5 as R&D Costs Drive Consolidation," October 2006 HR. Available at: /issues/articles/2006-10_01.asp). The purchase would make the Phonak Group, headquartered in Stafa, Switzerland, the largest group of companies in the hearing industry, followed closely by the Siemens Group, headquartered in Erlangen, Germany.
As the second-largest hearing aid market in the world, Germany accounts for about 10% of all the hearing aids sold. Financial analysts believe that, should the German FCO not reverse its preliminary ruling, Phonak could decide to sell or exclude parts of GN ReSound's German business units, including Interton, from the deal. Due to this and other factors, they also speculate that the final price of the acquisition could be renegotiated.
Review Shows Hearing Aids Improve Quality of Life
An article published in the February issue of the Journal of the American Academy of Audiology indicates that people with hearing loss who choose to wear hearing aids do experience a better quality of life than those who do not wear hearing aids. "A Systematic Review of Health-Related Quality of Life and Hearing Aids: Final Report of the American Academy of Audiology Task Force on the Health-Related Quality of Life Benefits of Amplification in Adults" concludes that hearing aids improve adults' Health-Related Quality of Life (HRQoL) by reducing psychological, social, and emotional effects of sensorineural hearing loss.
"Hearing aids can be a real challenge, especially for many elderly individuals," says JAAA Editor-in-Chief James Jerger, PhD. "Their small size presents major problems for persons with arthritic fingers or with some loss of fine motor control." Elderly people frequently complain that amplified sound is unnatural and often annoyingly loud. They will often insist that, much of the time, they get along better without the aids than with them. "It is not unreasonable to ask, therefore, whether hearing aids are actually a net advantage, especially for the geriatric population," writes Jerger. "Are we really helping them, or are we just compounding their problems in everyday living?"
In 2003, a task force was formed to answer these questions and conduct a meta-analysis of the existing literature on the link between hearing aids and quality of life in adults. The committee found, on the basis of their systematic review with meta-analysis, that "hearing aid use improves adults' health-related quality of life by reducing psychological, social, and emotional effects of sensorineural hearing loss, an insidious, potentially devastating chronic health condition if left unchecked." Taskforce members include Theresa H. Chisolm, Carole E. Johnson, Jeffrey L. Danhauer, Laural J.P. Portz, Harvey B. Abrams, Sharon K. Lesner, Patricia A. McCarthy, and Craig W. Newman.
Access to the article and the accompanying editorial can be found at www.audiology.org/hearingaidsdo. HR has published supporting articles on the subject, including "Quantifying the Obvious: The Impact of Hearing Instruments on Quality of Life," and "Hearing Loss and Its Impact on Household Income" (October 2005 HR), available at: www.hearingreview.com/issues/articles/2005-10_02.asp.
AAS Unites Scientists and Clinicians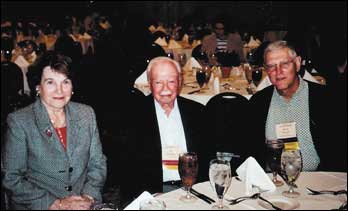 Jozef Zwislocki (center) and his wife were guests of honor at the AAS Scientific Meeting where Zwislocki was presented with the AAS Lifetime Achievement Award by AAS Executive Director Wayne Staab (right).
Scottsdale, Ariz—The American Auditory Society (AAS) held its annual Scientific Meeting, a 3-day auditory conference covering both laboratory and clinical research on March 4-6. Highlights of this year's event included a presentation on the physics of stereocilia and hair cell function by this year's Carhart Memorial Lecturer A. James Hudspeth, PhD, MD, and many diverse presentations from some of the field's most-distinguished scientists and engineers. The scientific meeting, which drew an estimated attendance of 400 multidisciplinary researchers and clinicians, has grown significantly in the last several years, and has for the past 6 years been supported by a conference grant from the National Institute on Deafness and Other Communication Disorders (NIDCD).
The conference, chaired by Incoming AAS President Michael Gorga, PhD, of Boys Town National Research Hospital in Omaha, also featured exceptional Translational Research presentations. Neal Viemeister, PhD, of the University of Minnesota, presented "Intensity, Loudness, and Recruitment"; Lynne Werner, PhD, of the University of Washington presented "The Development of Auditory Attention and Its Affect on Fundamental Aspects of Hearing"; H. Steven Colburn, PhD, of Syracuse University presented "The Benefits of Binaural Listening in Natural Environments"; and Yahoash Raphael, PhD, of the Kresge Research Laboratory at the University of Michigan-Ann Arbor presented "Novel Trends for Protection, Repair, and Regeneration in the Inner Ear."
The AAS Lifetime Achievement Award was presented to Jozef Zwislocki, ScD, one of the world's most-accomplished auditory researchers who is perhaps best known in our field for inventing the Zwislocki Coupler. A special AAS award was established and named in honor of Wayne J. Staab, PhD, executive director of AAS: "The Wayne J. Staab, PhD, Award for Outstanding Contributions to the American Auditory Society." Also honored were outgoing AAS President Roger Ruth, PhD, and outgoing Ear & Hearing Editor Mario Svirski, PhD. Brenda Ryals, PhD, is the new editor of the AAS publication.
Next month's HR will feature more information on the presentations. The 2008 AAS Scientific Meeting will be held at the same location in Scottsdale on March 6-8. For more information, visit www.amauditorysoc.org.