GN Explores Options for Hearing Care Divisions
Taastrup, Denmark—GN—which owns GN ReSound, Beltone, and Interton, as well as GN Otometrics—reports that its Board resolved "to investigate the strategic options for GN's hearing instrument business, GN ReSound, and the associated operations in audiologic diagnostics equipment in GN Otometrics," and said that a decision is expected to occur in the second-half of 2006. The company has reportedly appointed JP Morgan to review its business units to see if it would be better to sell off these companies or if they "…could create similar value to GN's shareholders by continuing its current strategy based mainly on organic growth supported by minor acquisitions and investments in distribution and retail."
Speculation on a merger or sale involving GN, as well as other large companies, has been ongoing for several years, and consolidation among manufacturers has been thought to be inevitable by many hearing industry executives. For example, in a 2004 interview with HR, Oticon A/S President and CEO Niels Jacobsen said, "In my opinion, the resources that companies need to spend on R&D will continue to grow rapidly. And the only way to really justify these expendituresis by gains in volume and market share." William Demant Holding—the group that owns Oticon, Bernafon, Interacoustics, and several other companies—has been cited as one of the most likely purchasers or merger partners for GN's hearing-related divisions (see www.forbes.com/home/feeds/afx/2006/07/06/afx2860531.html), but analysts speculate that, within the hearing industry, Phonak and Siemens would also be interested.
A knowledgeable source within GN ReSound agreed that, regardless of what the company's Board decides, industry consolidation is inevitable, and pointed out that GN currently allots 9% of its annual revenues to R&D. He says US business has doubled in size in the 7 years since ReSound Corp was purchased by GN in 1999, and it has invested large amounts of capital and skilled personnel to ensure its success. "If acquired, the resulting company would be the largest hearing aid company, by far, in the world," says the official. "Whatever the decision, GN product lines are very profitable and would, in all likelihood, only be strengthened by any a merger or acquisition."
GN specializes in communication-related products and is estimated by HR to be the fourth largest hearing instrument manufacturer in the world, with a worldwide market share of about 14%. Besides hearing aids and diagnostic equipment, the company also produces headsets for the contact center and office (CC&O) markets under the GN Netcom brand, and headsets for cell phones under the Jabra brand. For information, see www.gn.com.
Most Moms Uninformed About Hearing Loss
Washington, DC—Nearly 70% of mothers and expectant mothers in a new survey indicate that they were not sufficiently informed about spoken language as an option. Children with even profound deafness can learn to listen and talk as well as their hearing peers, thanks to advances in technology and education. A total of 98% of the mothers surveyed, however, said if hearing loss affected their own child, they would be inclined to explore spoken language, according to the survey released in June by the Alexander Graham Bell Association for the Deaf and Hard of Hearing (AG Bell), Washington, DC.
"I think what it says is that spoken language is preferred by parents who would suspect that their child has a hearing loss, and I think for us that's a very positive thing," says K. Todd Houston, PhD, executive director and CEO of AG Bell. "With today's technology, and with early screening and early intervention, that can happen more often than not with children that do get diagnosed with hearing loss."
Research firm StrategyOne, on behalf of AG Bell, conducted a 15-minute phone survey of 816 expectant and new mothers nationwide who were typically in their second or third trimester, and new mothers had children age 1 or younger, Houston says.
"I think we found some very interesting things about hearing loss and that is, bottom line, hearing loss is not on the radar screen for these expectant mothers and for these new mothers," he says. "Even though there are other health conditions in children and newborns that are less common, there's much more knowledge about those other conditions."
AG Bell found that the poll results underscore the need to better educate parents about available intervention for childhood hearing loss:
• 55% of new and expectant mothers were not concerned about the possibility of their child experiencing hearing loss, yet it is the No. 1 birth defect in America, according to AG Bell.
• 1% of mothers ranked hearing loss as their top concern, even though hearing loss is more common than conditions such as Down syndrome.
• 58% who knew about newborn health screenings were unaware that testing for hearing loss is typically part of those screenings.
• 33% admitted they did not know that early intervention is critical for addressing childhood hearing loss.
• Only 2% of new and expectant mothers volunteered cochlear implant surgery, and only 5% suggested hearing aids as options for children with hearing loss.
• 98% of all moms said they would be inclined to explore spoken language if their child experienced hearing loss.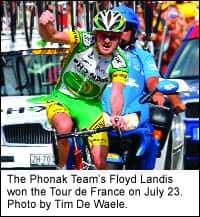 Phonak's Landis Wins Tour, but Questions Emerge
Paris—Floyd Landis, a member of the Phonak Team sponsored by Phonak AG, pedaled his way to an historic victory in the Tour de France on July 23—providing unprecedented media exposure for the company and the hearing industry as the Phonak logo was prominently featured on his cycling jersey. Landis' victory represented a remarkable comeback from a poor mountain segment a week before the race ended; he fell back to 11th place and more than 10 minutes behind the lead, and nearly all the experts and cycling enthusiasts counted him out of contention. His victory—if it stands—goes down as one of the great achievements in the sport.
However, the exposure also highlights the potential problems and the precarious nature of commercial sponsorships in sports. As this edition of HR was going to press, news broke that Landis had tested positive for high levels of testosterone, raising questions about his victory. "The team management and the rider were both totally surprised of this physiological result," a statement from the cycling team said. "The rider will ask in the upcoming days for the counter analysis to prove either that this result is coming from a natural process or that this is resulting from a mistake in the confirmation." In accordance with the Pro Tour's ethical code, the team suspended Landis, pending results of the backup "B" sample of his drug test. If Landis is found guilty of doping, he could be stripped of the Tour title.
The Phonak team has been sponsored by the company for seven years and is part of its Race for Better Hearing (which also includes an America's Cup sailing team). It has been very successful in generating a large amount of press coverage for both the company and hearing healthcare efforts. Phonak says that hearing fosters communication among people around the globe, and counts on its Race for Better Hearing teams to draw attention to hearing healthcare.
Landis' victory was also remarkable in view of the fact that he will be undergoing hip-replacement surgery in August. He won the event by 57 seconds over second-place finisher Oscar Pereiro of Spain, a member of the 2005 Phonak team. It took him 89 hours, 39 minutes, and 30 seconds to complete the 2,272-mile race that has become synonymous with bicycle racing. This year's race was wide open due to the retirement of seven-time Tour winner Lance Armstrong, a doping scandal during the spring that disqualified top contenders Jan Ullrich and Ivan Basso, and exceptionally hot weather. Landis is the third American to win the race and continues the United States' dominance in the event.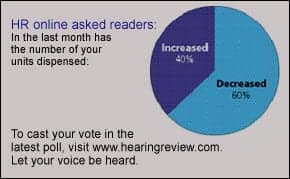 Read about it on HROnline…
The Hearing Review presents news online everyday. Be sure to check out www.hearingreview.com for the latest information. News articles during the last month include:
• According to Hearing Industries Association (HIA) statistics, net hearing aid sales in the US totaled 1.18 million in the first half of 2006. When comparing the total first-half unit volumes with those from 2005, there were 85,559 more hearing aids sold—a 7.8% increase.
• Researchers at the House Ear Institute (HEI), Los Angeles, have found a clue in their search for potential therapeutic targets to regenerate sensory hair cells in the inner ear to restore hearing.
• A protein associated with a disorder that causes deafness and blindness in people may be a key to unraveling one of the foremost mysteries of how we hear, says a study in the June 28 issue of the Journal of Neuroscience.
• Direct evidence of bacterial biofilms has been found on the middle ear tissue of children who suffer from chronic ear infections, according to a study published in the July 12, 2006, Journal of the American Medical Association.
• Cochlear Americas, Englewood, Colo, has received FDA approval for its next generation Nucleus® Freedom™ cochlear implant system designed to mimic the functions of the human ear.
• The Alexander Graham Bell Association for the Deaf and Hard of Hearing (AG Bell), Washington, DC, has awarded $40,460 in arts and sciences awards to 54 students aged 6-19 who are deaf or hard of hearing and use spoken language to communicate.
• Phonak, Stäfa, Switzerland, is hosting and sponsoring an international conference dedicated to the challenges associated with hearing care for the adult population. The conference will be held November 13-15, 2006, in Chicago.
• Twenty-five families who lost everything in the devastation of Hurricane Katrina last fall—including American Sign Language books and videos for their deaf toddlers and infants—will be able to once again practice their early communication skills with the aid of new materials thanks to a donation of more than $4,000 worth of products by DawnSignPress, San Diego.
• AMI Semiconductor, Pocatello, Idaho, has been selected by Interton, Plymouth, Minn, to develop advanced wireless capabilities in hearing devices through an ultra-low power radio frequency (RF) subsystem.
• For the first time in a decade, top international researchers as well as participants from around the United States attended Cued Speech: Celebrating Language, Literacy, and Excellence—a major national conference held July 20-23, 2006, that celebrated the progress in the education of deaf/hard of hearing students since Cued Speech was invented 40 years ago.
• Arizona State University (ASU) researchers are working on a project designed to help people with hearing loss hear clearer with a $200,000 grant from the National Science Foundation (NSF).
• AMI Semiconductor Inc, Pocatello, Idaho, has successfully completed its acquisition of certain assets of Eden Prairie, Minn-based Starkey Laboratories Inc's integrated circuit design center for approximately $6 million in cash.
• Clarity, a division of Plantronics, Chattanooga, Tenn, is among the growing number of tech-savvy companies adapting technology to give Boomers exactly what they want—solutions that keep the aggravations and inconveniences of aging at bay.
• During its annual shareholders meeting, Sonomax Hearing Healthcare Inc, Montreal, announced that it signed a development deal with Hear Atlast, Toronto, for the launch of hearing centers in large retail stores across Canada. The first hearing store is slated to open this fall.
• The opening ceremony for the 4th Pan American Games for Deaf Youth was held at Gallaudet University, Washington, DC, on August 1.
HR's information is also searchable by keyword. To get the latest in hearing-related news and articles, point your browser to www.hearingreview.com.