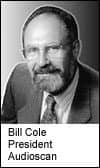 Bill Cole, president of Audioscan, Dorchester, Canada, tells HR how his company's new cochlear hearing loss simulator provides a representation of outer hair cell damage.
What's new at your company?
We are very excited about our new RM500SL, the first portable real ear/hearing aid analyzer to provide well-controlled real speech test signals and accurate dynamic range analysis. We have also launched a new Web site, were awarded a patent for our unique directional hearing instrument test, and we are about to release some great new software.
How do you utilize new technology in your product development?
We base everything we do on delivering real benefits and on solid science. It was apparent to us, even before digital hearing aids appeared, that speech was the only signal that could be used to reliably verify that hearing aids were performing their intended functions. It was also apparent that there would be little real benefit without the right speech signal, accurate and appropriate analysis methods, and meaningful data presentation. Our many Verifit owners know that it was worth getting it right.
Another great example is our new cochlear hearing loss simulator. We had many requests for a tool for counseling teachers, parents, and others dealing with hearing impairment. Available hearing loss simulators just turned down the volume—simulating conductive losses (or earplugs). Our new cochlear hearing loss simulator draws on the latest published research to provide an accurate visual and auditory representation of the most common form of hearing loss—that involving outer hair cell damage. A lot of people are going to discover for the very first time that a real hearing loss sounds nothing like an earplug!
What keeps your customers coming back?
Exceptional products and outstanding support. We keep our products at the leading edge of testing technology with frequent software updates, and we keep our customers out in front with free software updates, free applications support, and frequent workshops and seminars.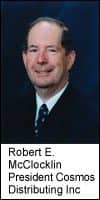 Robert E. McClocklin, president of Cosmos Distributing Inc, Kelowna, British Columbia, Canada, discusses with HR his company's CD hearing test recordings.
Tell us about your company.
Cosmos Distributing relocated in 2003. Our company philosophy is to provide test recordings of the highest quality. We decided to take all of our products to a well-known audio postproduction studio affiliated with a major film and TV network production company. The chief engineer argued that 1950 analog tape recording standards were inadequate for current digital recording techniques.
A person on the ANL research team at the University of Tennessee, Knoxville, which our company had previously supplied the recorded material for, contacted us. A decision was made to produce this test. We independently made a test CD, which was within 0.5 dB of the material used by the researchers. This spelled "success." More recently, we produced a CD, "Speech Intelligibility Tests and Connected Discourse," which should prove useful for hearing aid dispensing.
Cosmos Distributing was formed to distribute auditory tests that were being used in our hearing aid dispensing practice. Our first recordings were "Arizona Travelogue," "Cafeteria Noise," and the SPIN Test. Initially, we manufactured reel-to-reel and cassette tape formats, but discontinued this medium in 2000 as it was too difficult to provide good quality control. All recordings are now only available on CD.
Which of your products are you most enthusiastic about?
I would say I am most enthusiastic about the ANL Test, as it provides important practical information in just a few minutes. It has an 85% accuracy rate in predicting who will accept and wear hearing aids. The test has been shown to be sensitive to the use of noise reduction techniques used in digital hearing aids. The ANL test also provides useful information for making dispensing decisions and for counseling.
What is your company's goal?
Our goal is to provide a catalog of useful auditory test recordings for the hearing health care profession.