A new online 30-credit Audiology Assistant/Hearing Aid Dispensing certificate program is being offered this fall from Bellevue University, Bellevue, Neb. The program is designed to create trained assistants who work alongside audiologists and their professional staffs, performing basic tests—such as audiometry, air-bone conduction thresholds, and tympanometry—then relaying those test results for interpretation and follow-up by the audiologist. The curriculum would also prepare the certificate holder to take the state dispensing licensing exam or apply their credits in pursuit of a bachelor's degree, if desired. Although the curriculum and practicum have not yet been finalized at this writing, it is anticipated that the certificate will take students less than 1 year to complete.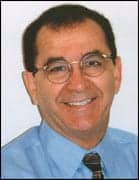 Edward Aleo, PhD
Addressing Practical Dispensing Issues
Most cardiologists don't do the actual ECG; most dentists don't mix the powder when taking an impression of your teeth; most doctors don't draw blood samples for analysis. Instead, they rely on skilled staff support to do these important jobs. So why should audiologists do everything themselves in a busy clinical practice?
This was the question Edward Aleo, PhD, and John Balko, AuD, could not answer to their satisfaction. So they took it upon themselves to craft an educational program that they view as vital for the profession of audiology and the hearing care field. Aleo, an audiologist who has spent his career in private practice in Kingston, NY, has served on numerous professional boards, including the New York State Licensing Board for the Secretary of State's office; has conducted seminars and professional conferences in the field; and spent 8 years as the head of audiology at Elmira College in New York, as well as teaching at one of the SUNY campuses. Balko has been an audiologist for 34 years and is a cofounder of the Academy of Doctors of Audiology (ADA) and the National Hearing Conservation Association (NHCA), serving two terms on the ADA executive board and as an early president of NHCA. He owns three practices, with headquarters in Hermitage, Pa.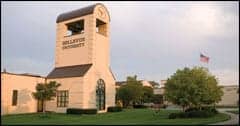 Bellevue University is the largest private university in Nebraska.
"About 20 years ago, I had the time to train my own technicians for my practices," says Balko. "However, like many of my colleagues, I no longer have time for the in-depth training that I would consider optimal. Our goal with this new educational program is to provide a standardization for training audiology assistants so that audiologists, like myself, can employ them from Day 1 and know that they have a person with an excellent background in clinical hearing care support."
"We're talking about basic efficiency issues and entry-level tasks that audiologists can oversee with relative ease," says Aleo. "Our field is already using technicians in nurseries for conducting OAEs and preliminary screening of infants, which is a necessary and positive step forward. These are 'Step 1' tasks that audiologists don't necessarily need to perform, but they do need to review the results thoughtfully, take time to look at all the information, and make recommendations. I think it's clear that 'Step 2' is where audiologists should reside in order to maximize our talents and improve efficiency in a practice…. In fact, if you want to build a large solo or group practice," continues Aleo, "you need more hands helping you—the octopus approach—to get more work done during the day, see more patients, and solve more problems."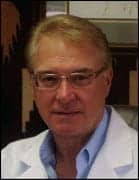 John Balko, AuD
Aleo contends that the new program also addresses a nagging problem related to distribution in the hearing aid market. "If you look at the 2.4 million hearing aids dispensed each year and consider that roughly three-quarters are used in binaural fittings and half go to repeat purchasers, then contrast those figures with the 24 million people who need hearing aids, it's apparent that we don't even put a dent in our own market. One reason for this is that there are only about 11,000 dispensing audiologists in the country [with large concentrations in major cities]. For example, New York state in the mid-1990s had only two or less audiologists in more than 50% of its counties…. Audiologists often have more than one office. If you're going to set up an office, you need a support team that offers appropriate services and rehabilitation programs," says Aleo. "This is akin to the orthopedic surgeon who sets up a program, then oversees it without necessarily doing all the range of motion tasks, etc."
Balko says that the new certification is also important for the AuD movement. "One of the primary goals of the AuD was to make audiology a doctoral profession," says Balko. "We need this educational program to provide our own practitioner assistants (PAs). Another major issue is that I expect many of these students who get involved in this program will probably go on to acquire a higher degree, like a bachelor's degree in the ancillary medical programs, while others may choose to become audiologists. I think Bellevue will let the academic world know that this program is out there, and students will see this as a valuable, affordable, and effective program—from both a time and investment perspective—that provides them with a decent living in virtually any area of the country."
Balko and Aleo say that students interested in the program might include current audiology practice staffers, adults looking for a job change or who are reentering the workforce, as well as high school graduates and current college students.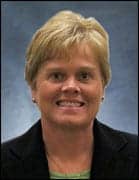 Therese Michels, PhD
Real Learning for Real Life
Bellevue University is the largest private accredited university in the state of Nebraska with an enrollment of over 7,000 students and more than 2,500 degree completions during the past year. Bellevue College was started in 1966 by the Bellevue Chamber of Commerce, a unique origin that fundamentally shaped the outlook of the university: it is a nonprofit university with a particular focus on training the adult workforce. The college changed its name to Bellevue University in the late 90s as its focus expanded with its Internet offerings.
"Our tagline is 'Real Learning for Real Life,' and this describes our mission well," says Therese Michels, dean of the College of Arts and Sciences and a PhD chemist. "We have a strong focus on adult learning…. What's really unique about Bellevue University is that, in 1995, with the coming of the Internet, our president quickly saw that this was the future of higher education, and we were one of the first universities to offer a course online. Three years later, we had a full major online. So we've moved rapidly into online education, and maintained our expertise and excellence, winning several awards in that area."
The university has professional recording studios and an instructional design team of 16 people, and it regularly supports companies and other colleges' online learning initiatives with its resources.
"Drs Aleo and Balko recognized that, up to the AuD program, there is really nothing offered in terms of clinical support staff for audiologists," continues Michels. "What we've created is a 30-credit certificate program leading to a bachelor's degree in which students will gain the education required to support audiologists so audiologists can use their time more effectively. Dr Aleo has put together a remarkable curriculum; Bellevue University will work with the subject matter experts and deliver that curriculum online."
Completion of the certificate is expected to take 36-40 weeks, according to Michels. Although the certificate is not a degree, the 30 credits can be applied toward the overall 127 credits required for a bachelor's degree if desired.
More Information
For information and curriculum details for Bellevue University's Audiology Assistant/Hearing Aid Dispensing certificate program, visit www.bellevue.edu/audiology or call (800) 756-7920.