HR spoke with Anji M. Echele, director of business development at Energizer Battery Co, St. Louis, about the latest product developments in the company.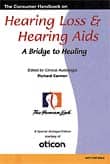 Anji M. Echele
q What's new at Energizer®?
a Energizer is excited about new and improved Amplifier® EZ Change®. EZ Change is the industry's first hearing aid battery dispenser. As you dispense a battery, EZ Change removes the tab and a magnet holds the battery as it is placed into a hearing instrument. Patients don't have to fumble with small batteries or hassle with messy tabs. The touchless process helps maximize battery life because it eliminates the possibility of skin oils clogging the tiny air holes in the battery. The dispenser also doubles as a carrying case. In 2004, we enhanced the dispenser design so that it's even easier to use. Of course, we also improved battery technology. Now, Energizer hearing aid batteries last longer than ever before.
We've also developed a program to entice hearing health care providers to try EZ Change. For starters, we've lowered the price. And, from October through December 2004, Energizer is offering two free cartons of EZ Change with the purchase of 10 cartons of any Energizer hearing aid batteries. Plus, you can receive a free Energizer Bunny™ with any order of EZ Change.
q How does your company set itself apart from its competition?
a We help hearing care professionals better serve patients by offering real innovation that helps people to live more comfortably with hearing instruments. For example, we help patients overcome vanity issues. EZ Change makes it easier to fit a patient with the smallest hearing aid, because with EZ Change, the battery goes straight from the dispenser to the hearing aid. So patients don't have to handle the battery.
As successful as EZ Change is, we know some people prefer traditional spin packs. Energizer enables hearing care professionals to offer patients a full range of options.
q What keeps your customers coming back?
a The Energizer Bunny is a beloved brand icon. Hearing health professionals and their patients recognize that the Energizer Bunny means high quality, long lasting batteries that will keep going.