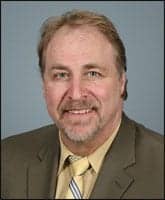 James L. Pehringer, AuD
The standardized test protocol for hearing testing is to use simple pure-tone stimuli in a quiet sound room to assess hearing loss and to administer speech words in quiet to determine maximum discrimination ability. Devices that are recommended based on this testing methodology are then programmed in a quiet office or fitting room to assure comfortable speech levels for everyday conversation. Once the fitting is complete, the patient is offered a trial period with the new devices to acclimate to them and evaluate their effectiveness in those situations where they previously had hearing difficulty.
Because most patients complain of not being able to hear well in noisy environments, it defies conventional wisdom that their hearing, aided or unaided, is not evaluated in noise to assess the root cause of the complaint that led them to seek help in the first place. Many consumers wish to confirm their buying decision at the time of the sale to be sure that the product will produce the intended solution to their needs or at least substantiate the product claims. All too often, the user is sent out on trial to determine the product's effectiveness on their own with little control over their experiences and expectations in the process. If the patient returns with complaints, adjustments are made to the instruments in an attempt to solve the problems and the patient is counseled on the limitations of the product.
PRESENTATION IS EVERYTHING
The "presentation" has become a vital component of the consumer experience in today's marketplace. One cannot miss the digital signage next to new products portraying the product's innovations and boasting consumer benefits in retail stores. In today's competitive environment, multiple messages are constantly bombarding the consumer's senses and companies have taken careful aim at piquing the consumer's first impressions of a product by creating enthusiasm, interest, and desire through use of interactive marketing. Experts have said that a buying decision is made in the first 30 seconds of exposure to a new product, emphasizing the importance of capturing the consumer's interest while they are making the decision to either purchase or wait.1
MULTIMEDIA/VIRTUAL REALITY
Many industries utilize multimedia presentations or virtual simulations to showcase their products to generate a deeper consumer experience or greater knowledge of the product than any ad or brochure could achieve. Real estate agents provide a virtual tour of prospective properties, orthodontists use computer simulation to portray a new smile, and car manufacturers use crash simulations to demonstrate and convey the safety of their vehicles without putting the consumer in danger. The use of multimedia tools and virtual reality displays holds great appeal for the hearing health industry to promote consumer awareness, achieve greater patient satisfaction with amplification, and increase market share.
In a typical hearing aid fitting, many electroacoustic parameters of the hearing aids are set to the manufacturer's fitting rules or other fitting rationale as a starting point in the process. Once these target values are computed by the fitting software, then the instruments are fine-tuned to the patient's perceptions and/or modified to overcome objections such as occlusion, feedback, or sound quality issues. Real ear measurements can be used to quantify the patient's perceptions or help them identify the specific problem by measuring gain and output but cannot equate their subjective complaint qualitatively. Astute counseling and successive approximations in the fitting parameters offer the best approach to determining the root problems and solutions that are most acceptable to patients.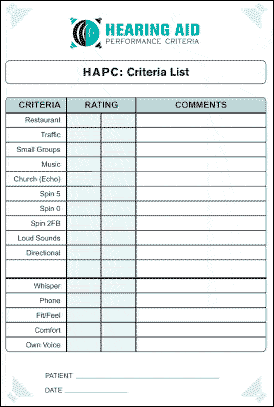 Hearing Aid Performance Criteria (HAPC)
The application of multimedia software in a virtual reality setting or "reality room" can offer the hearing care professional a new forum from which to interact with the patient throughout the fitting and counseling process. This patient-driven method provides a more individualized fitting experience while focusing on patient perceptions rather than target gain settings. It offers the dispenser an ideal medium from which to assess subjective factors such as most comfortable loudness level (MCL), binaural balance, and aided loudness tolerances. What better way to demonstrate a proposed solution to hearing problems than to simulate those listening situations right in your office and let the patients experience the difference for themselves.
Many hearing aid manufacturers offer sound simulation modules bundled within their PC fitting software that can be called up during the fitting of their products. Among others, Starkey's Surround Town, ReSound's RAVE (Resound Audio Verification Environment), Beltone's Beltone AVE (Audio Verification Environment), and Oticon's E-Caps (Electronic Client Assisted Product Selection) incorporate sound libraries and photos of various sounds categorized in frequency, duration, and complexity, which can be called up for immediate use during the fitting or troubleshooting process. Each software module, which can be accessed only when the fitting program is launched, offers unique collections of sounds, ranging from an isolated sound of bird's chirp to that of common background sounds of restaurants, meeting rooms, and parties. Beltone's AVE gives the dispenser the added flexibility to change the signal-to-noise ratio (SNR) of the sound simulation from plus 10dB to 0dB, changing the effects of background noise on the presentation to educate and counsel the patient. Siemens software enables the dispenser to introduce sounds from an external CD input to reproduce a unique listening environment or musical preference of the patient.
An alternative source of sound simulation videos is available on a DVD as a stand-alone application for use with a computer or home theater DVD player. The Environmental Sound Simulator (ESS) and Hearing Aid Performance Criteria (HAPC) DVDs feature a series of motion video and audio clips to interact with the user as stand-alone media for consistent use in all hearing aid fittings regardless of manufacturer. Unlike other software of its kind, ESS and HAPC make use of interactive dialogue between the actors and the patient to engage them in a lifelike conversation in varying noise environments such as restaurants, groups, and other difficult listening scenarios by using dynamic motion video rather than static photos of the environment.
The HAPC is a new DVD designed to give the dispenser a quick verification of any hearing aid's performance in eight different strategic listening situations in 10 minutes or less. The DVD can be played in any computer or home theater system to quickly access 10 sound and video samples that simulate listening in a restaurant, traffic, small groups, music and distance listening, speech-in-noise, loud sounds, and directionality. A checklist is provided to easily incorporate HAPC protocol into the fitting process to give the dispenser and patient the confidence that the instruments are performing to expectations.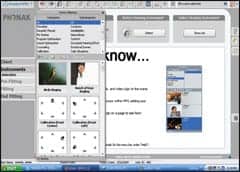 Phonak iPFG Successware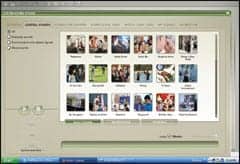 Oticon Sound Studio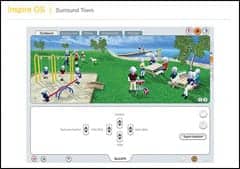 Starkey's Inspire Os Surround Town feature
THE REALITY ROOM
The concept of a reality room or virtual listening theater is still a relatively new idea and can mean many different things to different practitioners. Some offices have created a room decorated more like a living room than an office as a sound simulation environment where patients can experience their new hearing abilities in a comfortable setting. Many of these environmental spaces feature a large wall-mounted screen monitor with surround speakers hidden in the walls or ceiling to allow the room to offer a more realistic experience. Other offices have merely added small speakers to their fitting computer to play these sounds through when the available space or budget was lacking.
The decision to create a reality room and utilize these multimedia programs in your practice can benefit you and your patients in many ways. As a marketing tool, environmental sound simulation can differentiate your practice as offering something more than the standard fitting protocol, adding value to your service and a unique experience for your patients. As a fitting tool, environmental sound simulation will serve as a final verification step in the fitting process before the user leaves the office. The old adage "perception is reality" holds true in many service industries, with hearing aid dispensing being no exception.
Creating a new patient journey during the fitting process can lead to increased patient satisfaction as they witness their hearing improvement in multiple listening environments.2 The opportunity to witness their initial aided experiences while offering situational counseling can lead to more realistic expectations of amplification and develop an optimistic mind-set before starting the trial period. Counseling and troubleshooting patient complaints can be performed in a more realistic environment that users can understand and relate to—while providing control and repeatability in the process.
Explanations of new technological features, such as directional microphones and noise reduction algorithms, can be daunting to seniors and overwhelming to most laymen going through the hearing aid fitting process for the first time. Instead of lengthy word descriptions of these features, demonstrate their function and benefits to users while listening in different environments in the reality room to experience the effects for themselves.
The reality room also can be used to generate a consistent and controlled listening environment from which to judge the comparative performance of the user's current hearing aids to that of newer digital technology. The reality room is ideal to demonstrate to the spouse or caregiver the change in the user's hearing abilities while using a familiar voice in a simulated restaurant or group setting. Be creative in using this tool to represent the real world of communication variables to educate, demonstrate, and compel the users to realize the benefits of amplification in their lives. It just might keep them from calling you the day after the fitting to report that the new hearing aids didn't work well at their grandchild's birthday party at the bowling alley.
References
Underhill P. Why We Buy. New York: Simon & Schuster; 2009:83-84.
Kochkin S. MarkeTrak VII: Consumer satisfaction with hearing instruments in the digital age. Hearing Journal. 2005;58(9):30-43.
---
James L. Pehringer, AuD, is president of Pehratek Products, Chaska, Minn. The company's Web site is www.pehratek.com. Correspondence can be addressed to Pehratek Products, 9285 Pierson Lake Rd, Chaska, MN 55318; (866) 470-3532; .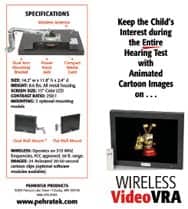 Pehratek Products' Wireless Video VRA.
Profile on Pehratek Products
Pehratek Products, Chaska, Minn, was created in 1979 as a specialty design lab for new product ideas in the areas of audiology, communications, and health care. After obtaining a degree in audiology, James L. Pehringer, Aud, combined his audiology background with his experiences in electronics and engineering to create a company that offered some unique perspectives in the design and function of products to meet the challenges in these areas.
The first product created was the Reinforcer VRA (Visual Reinforcement Apparatus) introduced in 1980. Combining elements of design innovation and reliable product performance, the Reinforcer VRA grew in popularity as it became known world-wide as an easy-to-use, dependable system for testing children's hearing. This original concept has undergone many upgrades and enhancements to offer a wide range of pediatric testing products featuring wireless remote control and multiple stimulus patterns to achieve the best test results.
Today, Pehratek Products offers a line of innovative medical/audiology products that offer sound solutions to communications and hearing assessment issues. The introduction of the new Wireless Video VRA, which displays action cartoon characters on a 15-inch LCD color monitor to attract and keep a child's attention throughout the test, has created a revolution in pediatric testing. This wireless device offers remote control over a multitude of stimulus options to retain and engage the child's interaction while getting reliable responses in a fun-filled activity. Other innovative pediatric testing products include the XM-1000 wireless full motion VRA and the QUAD-500 wired VRA that features four reinforcer boxes for maximum visibility and stimulation in the sound booth.
ENHANCING THE PATIENT JOURNEY
Tackling the issue of enhancing the patient journey through the hearing aid fitting process, Pehratek Products has been developing new products and systems to help dispensers educate and inform the client while streamlining the fitting process. The Client-Center system was released in 2008 to manage and integrate all of the display information from audiological, diagnostic, and fitting equipment into one centrally controlled presentation system on a large screen monitor for the client to follow. The Client-Center system is the heart of a integrated presentation system used to direct the client through the informational displays and instrument selection process and then simulate various fitting environments like that of a "Reality Room" to verify the final fitting. The coordination of visual displays and presentation materials streamlines the fitting procedure and engages the patient in an interactive process throughout each step, capturing their attention in an entertaining manner.
Other notable products designed by Pehratek Products are Noah's Arc cable management system, Scope-Link Wireless Video Otoscope, and Phone-Link line simulator.
For more information, visit www.pehratek.com.