Laura Shiplett
Regional Pediatric Account Managers Announced
Oticon Inc, Somerset, NJ, has named two pediatric account managers to its newly expanded sales and training team. Laura Shiplett, MA, CCC-A, has been appointed Midwest Pediatric Account Manager. In addition to her work as a training specialist, Shiplett brings more than 25 years of clinical experience to her new position. She received her bachelor of science and master of arts in audiology degrees from Kent State University.

Melinda Switzer
Melinda Switzer, AuD, CCC-A, has been named West Coast Pediatric Account Manager. Switzer served as a clinical audiologist for the House Ear Clinic, in Los Angeles, prior to joining Oticon. She earned her master of arts degree from Wichita State University and her doctor of audiology degree from the University of Florida.
In their new positions, Shiplett and Switzer will help Oticon business partners improve their practices with timely updates on new products, marketing, and special initiatives, especially those targeted to a pediatric patient base.
According to Oticon's president, Peer Lauritsen, "We are confident that adding these experienced professionals to our regional teams will build on and enhance our high standards of customer service and audiology support that hearing care professionals have come to expect from Oticon."
---
Extended Company Effort Sends Aid to Disaster Victims
In a combined effort, the more than 70,000 employees of Siemens Hearing Instruments have collectively donated more than $1.4 million to the American Red Cross Disaster Relief Fund to aid victims in the hurricane-stricken South. In addition, Siemens, which is headquartered in Piscataway, NJ, is matching those donations dollar-for-dollar, providing nearly $3 million to provide shelter, food, counseling, and other assistance to those individuals in need.
According to the company's president and CEO, William Lankeneau, "Since Hurricane Katrina struck the US Gulf Coast last August, we have been working closely with Siemens and all of its business units to help assist with the relief effort and rebuild the communities in the South.
"The devastation in these areas is heartbreaking, and our thoughts are with those struggling in the aftermath of this disaster. I'm so proud of the way our employees are rallying together to do what we can to help."
In addition to employee efforts, Siemens has established a program to offer replacement hearing instruments, and is working with hearing health care professionals to coordinate testing, fitting, and programming services. Those professionals who are partnering with Siemens receive specific information regarding the process for obtaining the replacement hearing instruments. Those professionals willing to donate their services—or to learn more about the process—can call (800) 766-4500, or e-mail [email protected].
---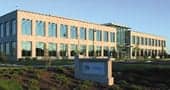 Beltone's new North American corporate headquarters and the GN ReSound technology center is in Glenview, Ill.
Ceremony Marks HQ Launch
Beltone and GN ReSound recently celebrated the launch of Beltone's North American corporate headquarters and the GN ReSound technology center, in Glenview, Ill. The October 10 event began with a ceremonial ribbon cutting, performed by Jesper Mailind, president and CEO of GN ReSound. Afterward, Mailind, Todd Murray, president of Beltone, and Alan P. Dozier, vice president of the GN ReSound Group and president of GN ReSound Group North America, spoke to the attendees about the new building and its special significance. Ceremonies continued as guests were treated to an afternoon of refreshments and entertainment, performed by a jazz trio.

Jesper Mailind, left, and Todd Murray
According to Murray, "This new facility represents the growth of the Beltone brand, and our extraordinary North American network of hearing care practitioners. In celebration of our 65th anniversary, we proudly recognize our past accomplishments and great legacy, while looking forward to a bright and successful future.
"This building symbolizes our commitment to the future while at the same time allowing us to pay homage to our past. Our being here today would not be possible without the legacy that many in this room have created with loyalty and dedication to Beltone."
---
FDA Approves Import of Advanced Cochlear Implant Technology
MED-EL Corporation, Research Triangle Park, NC, an implantable hearing technology firm, recently introduced its PULSARCI100 in the United States. PULSARCI100 features some of the most advanced cochlear implant technologies available—including capabilities for the profoundly deaf. The Food and Drug Administration has given MED-EL permission to begin importing the new cochlear implant system, which is already on the market in Europe and Canada. PULSARCI100 incorporates I100 technology, a highly durable and power-efficient electronics platform with wafer-thin layers of sophisticated electronics arranged on a single miniaturized chip.
MED-EL is currently conducting research with PULSAR patients around the globe to explore a number of key concepts in cochlear implantation, including:
• SmartSystem™ Research, which examines how technology patented by MED-EL could be used to reduce channel interaction with simultaneous stimulation.
• Fine Structure™ Research, which explores various approaches to providing fine frequency detail to cochlear implant users, comparing and contrasting the potential outcomes of temporal and place coding with sequential and simultaneous stimulation.
• Auditory Nerve Response Telemetry™ Research, which investigates uses for patented adaptive sigma-delta modulation and precision triphasic pulses in EAP recordings.
Cochlear implants were developed in the 1970s to help individuals with severe to profound hearing loss who gain little or no benefit from hearing aids. Patients wear a small speech processor behind the ear that picks up sound from the environment and transmits it to an internal component using specialized radio-frequency transmission.
MED-EL's founders developed one of the first cochlear implants in 1975, and it has continued setting new standards in hearing implant technologies, developing and manufacturing technologically advanced hearing solutions for people with varying degrees of hearing loss.
---
Major Design Exhibition at Museum of Modern Art Includes Earplugs
The recently reopened Museum of Modern Art, New York City, will present "SAFE: Design Takes On Risk," which will exhibit more than 300 contemporary products designed in response to psychological or physical needs, including 10 Howard Leight® earplugs. The earplugs were designed for a variety of reasons, including to protect the body and mind from dangerous or stressful circumstances, respond to emergencies, ensure clarity of information, and provide a sense of comfort and security. Among the earplugs on display will be Matrix™, SmartFit®, Max Lite®, MultiMax®, AirSoft®, Laser Trak®, QB2 HYG®, and QB3 HYG™.
The exhibit, which runs from October 16, 2005, through January 2, 2006, will display objects that address the spectrum of human fears and worries, from the most mundane to the most exceptional, from the dread of earthquakes and terrorist attacks, to those of darkness and loneliness.
For more than 30 years, Howard Leight has been an international manufacturer of in-ear hearing protection for the industrial market and is noted as an innovator in protection and fit. Since 2001, the company has been part of the San Diego-based Bacou-Dalloz™ Hearing Safety Group.
---
Scholarships Offered for Students with Hearing Loss
Peer Lauritsen, president of Oticon Inc, Somerset, NJ, recently announced that the company will fund twelve $1,000 scholarships for students with hearing loss through Sertoma International, one of the oldest civic service clubs in the United States promoting civic responsibility through community service. The scholarships are open to students with mild to profound hearing loss (minimum 40 dB bilateral hearing loss) who are pursuing a bachelor's degree in any discipline. Each $1,000 award is designed to cover tuition, books, and supplies during any academic term, including summer term.
"By investing in this unique scholarship program, Oticon is investing in the future of young people with hearing loss," says Lauritsen. "We believe that people with hearing loss have the potential to make enormous contributions to the world. Through this scholarship program, we aim to help them acquire the education they need to achieve their goals."
Oticon is a long-time supporter of scholarship programs for students with hearing loss through Sertoma International. Scholarship applications can be downloaded from www.sertoma.org. The deadline to submit applications is 4 pm CST, May 1, 2006.