AG Bell Launches Internet Resource on Hearing Loss for Families, Individuals, and Professionals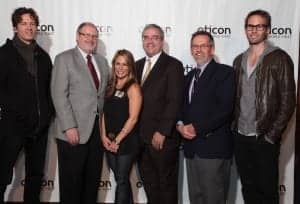 More than 2,500 conference participants rocked for a great cause at "Rock NOW!. (L-R) Third Eye Blind band member Stephan Jenkins, Oticon president Peer Lauritsen, Student Academy of Audiology board member Hilary Rosenstrauch, the AAAF's Dick Danielson and Ed Szumowski, and band member Brad Hargreaves.
The Alexander Graham Bell Association for the Deaf and Hard of Hearing (AG Bell) has launched the Listening and Spoken Language Knowledge Center (www.listeningandspokenlanguage.org), an Internet resource for parents of children with hearing loss, individuals with hearing loss, and professionals who serve them.
The content on the Knowledge Center will be focused on guiding parents through the stages that their children will experience as they grow up with hearing loss. At launch, content will focus on new parents who have children from birth to 4 years old, who may have just received a diagnosis of hearing loss. The Web site also will include tips and strategies, downloadable checklists and tools, information about hearing loss and listening and spoken language, as well as captioned videos and support letters from real parents.
Parents often feel a sense of crisis after learning that their child did not pass a newborn hearing screening or is identified with a hearing loss. Through audiovisual content, the Knowledge Center will show parents that children with hearing loss are still able to listen, talk, demonstrate communication skills, and in short, learn and thrive in the mainstream. Additionally, a directory will offer a variety of listening and spoken language resources in their area.
For professionals, a high level of content and user-friendly material will be available, such as checklists, videos, interactive guides, and step-by-step strategies to help guide new professionals and provide new tools for existing ones. The site promotes evidence-based practice with new research in the field.
AG Bell partnered with The Helen Beebe Speech and Hearing Center through a grant to fund the development of the Knowledge Center and will have a special section devoted to the history and influence of Helen Beebe, author and developer of the auditory-verbal approach to speech therapy for those with hearing loss.
Oticon Donates $25,000 to AAAF at "Rock NOW!"
The totals are in: Over 2,500 hearing care professionals rocked for a cause at Oticon's "Rock NOW!" benefit during the 2012 American Academy of Audiology conference, where Oticon donated $10 to the AAA Foundation (AAAF) for each party attendee.
In addition to contributing to the total $25,000 donation, guests enjoyed an hour-long concert by rock band "Third Eye Blind."
Oticon Inc, Somerset, NJ, reported that its gift would fund five $5,000 academic Empowering People Scholarships for graduate education. The scholarships are offered to third-year AuD students who show exceptional promise as clinical audiologists.
"We are pleased to again partner with AAAF to support educational programs for the students of today that will ensure skilled and caring hearing care professionals who share our commitment to putting the needs of people with hearing loss first," said Oticon president Peer Lauritsen.
"Oticon's generous gift will help lighten the financial burden for deserving audiology students and help to ensure the vitality of the profession of audiology," said AAAF chair Dick Danielson. "We thank Oticon for its ongoing support of the AAAF's educational programs."
SoundCure's Serenade Tinnitus Treatment System Launched at AAA
SoundCure recently launched its Serenade® Tinnitus Treatment System at the AAA Meeting in Boston, marking the formal commercial release of its tinnitus treatment system that was cleared by the FDA and developed independently with hearing researchers at the University of California, Irvine (UCI).
Serenade is a handheld device that is programmed in the audiologist's office for each individual patient according to his specific condition. Through the device's earphones, the patient listens to therapeutic sounds that are designed to address the underlying neurological cause of tinnitus. Four different treatment sounds are available, anchored by advanced, proprietary S-Tones. According to SoundCure, long-term relief can be achieved when they are used in an ongoing sound therapy program.
The American Tinnitus Association provided a grant to UCI to develop the technology. S-Tones are low frequency, amplitude modulated tones that are frequency pitch-matched to a patient's unique tinnitus, representing a significant clinical breakthrough compared to previous approaches.
Dr Fan-Gang Zeng, one of the technology inventors, stated that these modulated tones "keep the brain's interest," thus "inhibiting and reducing the perceived tinnitus sound and bringing relief." In addition, S-Tones are intended to be "listened to at a volume that is lower than the patient's tinnitus, reducing the sound burden," added Zeng.
Audigy Group Hosts AGX Technology Summit
Audigy Group recently hosted more than 350 hearing care professionals in Scottsdale, Ariz, for a national summit on the newest advances in hearing care and hearing technology.
The 2-day program included seminars and workshops designed to provide hearing health participants with more knowledge and training to help their patients benefit from the latest hearing products, including new invisible-ITC products from Oticon and Starkey Hearing.
Participants also saw a demonstration of a new cell phone hearing solution that includes a cell phone transmitter, assistive listening device, media streamer, and hearing aid remote all rolled into one.
"Meeting patients' expectations for quality care and optimal hearing treatments was a key focus," said Audigy CEO Brandon Dawson in the press statement. "With the emerging Boomer population, we looked at ways to increase outreach to people who hesitate to take the first step to finding a hearing instrument that works for them."
New Picture Book Centers on a Little Girl with Hearing Loss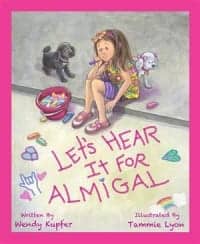 Wendy Kupfer's new picture book, Let's Hear It for Almigal, is the story of a happy little girl who feels unlucky because she can't hear everything she wants to hear due to hearing loss.
As the mother of a child born with severe-to-profound hearing loss, author Kupfer was inspired to write Let's Hear It for Almigal when she became frustrated with the lack of characters wearing hearing aids or cochlear implants in children's books.
"I was working with the University of Miami Cochlear Implant Center," she explains in the press release. "I felt strongly about the need for these children to see hearing aids and implants in the media, both to boost their self-esteem and to educate their friends."
Kupfer, a former financial services executive, said she has worked closely with Thomas Balkany, MD, a cochlear implant surgeon and chair of the University of Miami Department of Otolaryngology.
In the book, Almigal feels lucky most of the time. She has lots of friends, and each one is different. But she's unhappy when she can't hear a baby's giggle, or the music in ballet class, or her parents saying, "I love you." By the end, she finds a satisfying solution.
Almigal and her friends are portrayed in colorful art by award-winning illustrator Tammie Lyon, whose books have won the Retailers Choice Award and have been chosen as Bank Street College of Education's Best Books.
By showing Almigal's life as a confident little girl, Kupfer hopes that the book will be a resource for teachers, parents, and caregivers who would like to start a conversation or lesson about hearing loss and other disabilities.
More information about the book is available at www.almigal.com.
Sonitus Medical Gets $25 Million Funding for SoundBite Hearing Device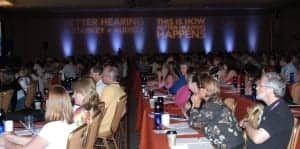 The Audigy AGX Technology Summit held in Scottsdale, Ariz, provided attendees with a unique opportunity to learn more about advanced technology—ranging from CICs to assistive devices—as well as selection and fitting techniques.
Sonitus Medical Inc, maker of SoundBite™ Hearing System, has closed a $25 million Series D round of venture capital funding. Abingworth, an international investor, led the round of funding and will have representatives on Sonitus' board of directors.
"We are pleased to receive a large round with attractive terms in the midst of a challenging funding environment for medical device companies," said Amir Abolfathi, CEO of Sonitus Medical. "We view this financing as validation of both the Ear Nose and Throat (ENT) market and Sonitus Medical's emerging leadership in the bone conduction hearing device category."
The company's non-invasive SoundBite Hearing System is described as "a prosthetic device that makes novel use of the established principle of bone conduction by transmitting sound via the teeth and thereby replacing the function of the impaired ear." It has already received FDA 510(k) clearance for two indications, single-sided deafness and conductive hearing loss.
"We believe Sonitus Medical has positioned itself exceptionally well to win in a market that historically has been inadequately served and has the potential for significant growth," says David Mayer, partner at Abingworth. "The company has brought to market a non-invasive alternative to a prevalent surgical treatment, while its underlying technology can be leveraged as a platform for market expansion into other important applications." Mayer has joined the Sonitus Medical board of directors.
The company is now marketing SoundBite in the United States and reportedly has plans to rapidly expand its availability.