ARA's Student Research Award Applications Due May 30, 2012
The Academy of Rehabilitative Audiology (ARA) has announced that applications for its Herbert J. Oyer Student Research Award are due May 30, 2012. The award recipient will receive complimentary registration to the 2012 ARA Institute in Providence, RI, 1-year free membership in ARA, and $1,000.
The Oyer Award supports new investigators and is meant to encourage outstanding research in the area of audiologic rehabilitation.
In addition to the cash prize and Academy membership, the student investigator selected to receive the award will be required to present their research at the ARA Institute and submit the work for publication in the Journal of the Academy of Rehabilitative Audiology.
To apply, applicants must be a student when submitted research was completed, and may be up to 1 year post graduation at the time of the judging.
Criteria for submission:
The research study must be in the area of audiologic rehabilitation, which can include research related to communication strategies, speech reading, auditory speech perception and training, hearing aids, cochlear implants, counseling, and tinnitus management.
Design of research study:
Purpose of study stated
Experimental hypotheses or questions stated
Relevant and current references cited
Subject variables
Procedures explained
Results reported
Relevance of results discussed and summarized
Professional writing skills and presentation
Use of current APA style
Applicants must also submit two letters of reference that should be e-mailed to .
Completed applications are to be submitted by May 30 via www.audrehab.org/oyer.htm. The winner will be announced by June 30, 2012.
For further information or questions, contact .
ARA will be hosting its next Institute September 9 to 11, 2012, in Providence, RI. Submissions for podium or poster presentations in topics related to audiologic rehabilitation are being accepted until June 10, 2012.
Oticon Foundation Invests in German Wind Project and Will Be Over 100% Green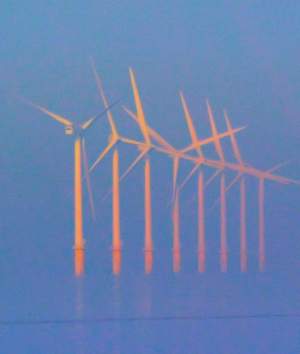 The Oticon Foundation has invested 1.7 billion DKK (about $300 million USD) in an offshore wind farm, Borkum Riffgrund 1, developed by DONG Energy, and will subsequently own 18% of the project. Once online, the wind project will produce far more energy than the company's global energy footprint, according to the company.
The investment from Oticon, made through its William Demant Investment division, allows DONG Energy to divest part of its share of the wind project. Aside from Oticon's 18% stake, the other new partner is LEGO Group's parent company, KIRKBI A/S, which will own a 32% share. Consequently, DONG Energy will retain a 50% stake, plus earn management and maintenance fees over the lifetime of the project.
When completed, Borkum Riffgrund 1 will consist of 77 3.6 MW of wind turbines from Siemens Wind Power and will supply the equivalent annual energy of more than 285,000 households. KIRKBI and the Oticon Foundation expect to take over the offshore wind farm and the earnings that come with their ownership interests in October 2015.
In the press statement, the Oticon Foundation said that it views the construction of the wind farm as a good, long-term financial investment and an important step toward achieving a positive balance on the William Demant Group's energy portfolio. In 2015, when the farm is fully operational, the stake owned by the Oticon Foundation will reportedly generate more than five times Oticon's total global energy consumption.
While more than offsetting the company's energy footprint, the wind farm's energy will not go directly into Oticon's facilities, but be fed into the overall electric grid and sold to German utilities.
"As one of the world's leading hearing aid manufacturers, we have a long tradition of using innovation and foresight to enhance quality of life for people suffering from hearing loss, and that is an important task as these number 500 million," says Søren Nielsen, CEO of Oticon A/S. "We would like to take our share of the responsibility for meeting the energy challenges of the future, and we therefore consider this considerable investment in renewable energy as a very positive step that far exceeds our own consumption as a company."
Construction of Borkum Riffgrund 1 is expected to commence in 2013, and the first power generated in 2014. The farm will be located in the North Sea, approximately 55 km off the northwestern coast of Germany.
Dialysis Centers Settle with HHS to Ensure Access for Patients with Hearing Loss
The US Health and Human Services (HHS) Office for Civil Rights (OCR) has entered into a settlement agreement with Advanced Dialysis Centers in Randallstown, Md (ADC).
The settlement follows an OCR investigation into a complaint filed by a deaf patient's sister, who alleged that ADC repeatedly failed to provide adequate sign language interpreter services essential to her brother's understanding of important medical decisions and treatment options.
"Despite their right to equal access and opportunity to benefit from and participate in programs funded by federal dollars, individuals who are deaf and hard of hearing continue to face unlawful barriers to getting needed health services," said OCR Director Leon Rodriguez in the press statement.
Section 504 prohibits disability-based discrimination by all health care providers that receive federal financial assistance. Where necessary to afford equal access to health care services, providers must provide free of charge to the deaf or hard of hearing person, auxiliary aids and services including sign language interpreters.
OCR found that ADC engaged in unlawful discrimination on the basis of disability by repeatedly failing to provide the deaf patient with a sign language interpreter while he was receiving treatment at the facility.
In addition, OCR also found that ADC did not have any policies or procedures in place to address how to communicate with patients with hearing loss, and had not developed resources or auxiliary aids to assist in effectively communicating with these patients.