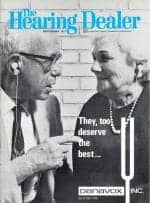 September 1971 HD
40 Years Ago. The National Hearing Aid Society (later to become International Hearing Society) was celebrating its 20th anniversary, and planning for its upcoming October meeting in Chicago. NHAS Executive Secretary Anthony DiRocco writes in the September 1971 edition of Hearing Dealer: "Back in 1951, when the [NHAS] was born, a small group of conscientious hearing aid dealers looked ahead, and structured an organization which provided hearing aid dealers with a mechanism for growth, and in doing so, embarked on a series of ambitious programs with a singular goal—to improve competency of all in the field. One mechanism for growth is the Annual Meeting. Here, you can rejuvenate your dedication by contact with colleagues. You become exposed to the latest ideas advanced by top authorities in the field. The meetings provide an annual opportunity to improve competency, and to return to work refreshed and armed with new ideas." The meeting would feature a general session by C.P. Goetzinger of the University of Kansas Medical Center on "The Psychological Impact of Hearing Loss" as well as a panel discussion on the "Otology-Hearing Aid Dealer Relationship" with Howard House, MD, Aram Glorig, MD, Anthony P. Mynders, Ray Rich, Esther Daniel, and Alfred Dunlavy. Other notable speakers during the conference included Terry Griffing, A.E. Monk, Ron Morgan, Richard Scott, John Courson, Otis Whitcomb, Gene Spencer, Jim Curran, Marvin Pigg, M.L. Fortner, Marjorie Skafte, and James Delk.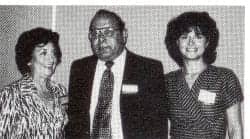 1981: Margaret Giannini, MD, director of the VA Rehabilitative Engineering Research and Development Service, Henry Spuehler, PhD, director of VA Audiology and Speech Pathology, and Lucille Beck, PhD, were among the speakers at the research conference at Vanderbilt Univ.
30 Years Ago. Hearing Instruments offered an impressive editorial package on cochlear implants, and a report on a conference at the Bill Wilkerson Hearing and Speech Center, which would ultimately produce one of the seminal research publications in hearing health care. Articles included those by William House, MD, Daniel Bode, PhD, and Karen Berliner, PhD, on the CI performance in deaf patients; Charles Luetje, MD, on the single-electrode CI; and C.T. Campos, MA, on findings from the Denver Ear Institute. The report on "A Working Conference for the Hearing Impaired: Research Needs" held June 7-10 featured many of the top researchers in hearing care who outlined and identified some of the field's most persistent questions. A year later, these presentations were published in Gerald Studebaker and Fred Bess's The Vanderbilt Hearing Aid Report.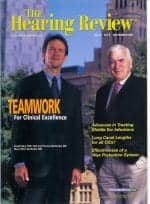 September 2001 HR
20 Years Ago.Articles in the September 1991 Hearing Instruments focused on analog programmable hearing aids, with articles by Jerry Agnew, PhD, of Starkey; Elizabeth Alexander of Gennum; Chas Pavlovic, PhD, of the University of Iowa; and Nikolai Bisgaard and Ole Drylund of GN Danavox.
10 Years Ago. The September 2001 HR profiled research at the Mayo Clinic and featured David Fabry, PhD, and Thomas McDonald, MD, on the cover. Ali Andalibit, PhD, and colleagues at the House Institute contributed an article about treating middle ear infections in children; Rose Bongiovani, MA, Jane Auriemmo, AuD, and Francis Kuk, PhD, wrote on CIC canal lengths; and Mark Ross, PhD, reflected on the history of aural rehab. In the news, William Demant acquired a minority share of American Hearing Aid Associates (AHAA), and the August 14 Today Show featured Matt Lauer and Dr Bob Arnot talking about hearing loss and showing examples of BTEs and CICs, RC technology, and directional instruments.