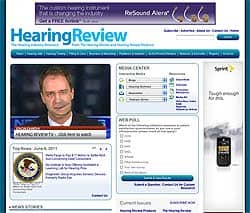 TOP NEWS and HEADLINES
William Demant Selected as Stalking Horse Bidder for HearUSA
EarQ Group Offers 4-Year Warranty Standard for Multiple Manufacturers
WHO: World's Poor Are Hardest Hit by Hearing Loss
Hearing Aid Tax Credit Reintroduced in the US Senate
JAMA: Injection Therapy as Effective as Steroids for Sudden Hearing Loss
NowiHear.com Launches Android App for Testing Hearing Loss
Babies with Cochlear Implants Can Hear, But May Not "Listen" Until Later
EPIC Hearing Offers Group Discounts to Consumers via The Buying Group
FDA Clears Cochlear Americas' Baha 3 Power
Sonic Innovations Offers Business Development Services for Practices
Songbird Consumer Survey: Cost, Education, and Convenience Highlighted
William Demant selected as stalking horse bidder for HearUSA. William Demant, Smorem, Denmark—the parent group of Oticon, Bernafon, Interacoustics, Maico, and GSI—announced in late May that it has entered into an Asset Purchase Agreement as "stalking horse bidder" for the assets of bankrupt hearing aid distributor HearUSA Inc with the possibility of acquiring HearUSA's assets and selected liabilities. A stalking horse is a bidder chosen by a bankrupt company from a pool of potential bidders to make the first bid for its assets.

Due to liquidity constraints in HearUSA, the transaction is being facilitated with court assistance under Chapter 11 by the United States Bankruptcy Court Southern District of Florida. In order to accelerate the court process, and thus the sale of its assets, HearUSA selected William Demant as stalking horse bidder under Section 363 of the United States Bankruptcy Code. The Asset Purchase Agreement defines a lower limit for the subsequent auction process over HearUSA's business assets at $80 million, which includes $10 million debtor-in-possession financing plus certain assumed liabilities.

According to William Demant, the transaction is subject to a competitive bidding process under Section 363, which could lead to a situation where WDH's offer is not considered the highest and best possible bid for the creditors of HearUSA. In such case, William Demant will not be the acquirer of HearUSA. The related legal proceedings are expected to be completed in about 8 weeks with closing of the transaction shortly after bankruptcy court approval.

With a US hearing aid market share of about 2%, HearUSA (NYSE: EAR) has 134 retail centers in Florida, New York, New Jersey, and Michigan, as well as the northeastern United States. In 2010, it reported revenues of $83.5 million and an operating loss of $2.6 million.

William Demant says the purpose of the potential transaction is to expand the distribution platform for Bernafon's state-of-the-art hearing instruments, thereby strengthening Bernafon's market position in the United States.

HearUSA reports that its operations during the sale will remain "business as usual," although Stephen J. Hansbrough has resigned as the company's CEO and chairman. He has been replaced by interim CEO Gino Chouinard, who is also president and COO.

"After exploring a range of possible alternatives to meet our liquidity needs to operate our business, management and the Board of Directors of HearUSA concluded that a court-supervised sale of our assets is in the best interest of the company and its stakeholders," said Chouinard in a press statement. "We are committed to continuing our business operations with minimal impact throughout the process and will continue to serve our customers with the high standard of care they have come to expect from us."

According to the company, to ensure that day-to-day operations continue as usual, HearUSA has filed "first day" motions seeking assurances from the court that employees will continue to receive their usual pay and benefits on an uninterrupted basis, that the company can honor its agreements, and that customers will continue receiving goods and services as they normally would. HearUSA said that, as part of the Chapter 11 process, it will seek to obtain the "highest and best" offer for its assets, holding a court-supervised competitive auction for its assets with William Demant's stalking horse bid as the floor, and seek court approval to close a final transaction. The company said it expects to close within a matter of months.

Sophono Inc's new Alpha 1 (M) bone conduction hearing system.

FDA clears new magnetic bone conduction hearing system. The US Food and Drug Administration has cleared the new implantable Alpha 1 (M) Bone Conduction Hearing System from Boulder, Colo-based Sophono Inc.

The Alpha 1 (M) is reported to be a fully implantable hearing device, thus making it different from traditional bone-anchored hearing devices (BAHAs) in that the patient does not have a visible skin abutment, such as a titanium screw, after surgery. In addition, no permanent hair removal or daily hygiene routines are needed, according to the company. Instead, the device utilizes bone conduction via an implanted magnetic coupling.

According to Sophono Inc, the Alpha 1 (M) delivers a fully digital solution for those with bone conduction hearing thresholds of 45 dB or less. Another advantage is that it eliminates the necessity of daily site cleansing of the abutment. It was first implanted in 2006 and approved for release in Europe in 2010. The company reports that hundreds of Alpha 1 (M) implants and sound processors have been placed in patients in Germany and Western Europe. Thus far, there have been no reported loss of implants or issues with post-surgical infections.

David Friedland, MD, PhD, division chief of Otology and Research at the Medical College of Wisconsin, commented in the press release, "Many patients suffer with their hearing loss rather than choose a penetrating abutment." He added that the absence of an abutment should greatly reduce the significant level of complications seen with current bone anchored hearing aids.

The device is expected to compete with Cochlear America's Baha and Oticon Medical's Ponto Pro devices, as well as Ear Technology Corporation's TransEar.

EarQ offers 4-year warranty on its branded products. The EarQ Group reports that all EarQ-labeled hearing devices now come with a standard 4-year warranty, characterizing the announcement as its most significant in the company's history. The standard warranty is a unique program offered exclusively through EarQ that will be an added value for patients, providing them with security in their device's performance.

"Private practices are facing many challenges from the Internet as well as large chain competitors," says Ed Keller, president of EarQ Group. "Our new standard 4-year warranty is a fresh approach that shows your commitment to patients' hearing health care."

Hearing HealthCare News celebrates 25th anniversary. Hearing HealthCare News was started in 1986 by audiologist Dennis Hampton, PhD, and is celebrating its 25th anniversary this summer. After seeing the success in his own practice, Hampton began publishing customized versions for other audiologists to send to their own patients.

The publisher also developed in 2003 the Practice Development Program, a collection of the best audiology marketing tips and techniques collected from several hundred practices over the past 25 years, including a patient retention program, patient and physician referral programs, and patient satisfaction surveys. For more information on the newsletter, see page 50 of this month's special "How To…" section.

Injection therapy as effective as oral steroids for sudden hearing loss. According to a new Journal of the American Medical Association (JAMA) study, treating idiopathic sudden sensorineural hearing loss (ISSHL) with injections of steroids directly into the ear appears to result in recovery of hearing that is not less than recovery obtained with the standard therapy of oral corticosteroids and may be a preferable treatment for some patients to avoid the potential adverse effects of oral steroids.

ISSHL has an estimated annual incidence between 5 and 20 per 100,000 persons, although this is likely to be an underestimate because many who recover quickly never seek medical attention. The current standard treatment for ISSHL has been a course of oral corticosteroid (prednisone or methylprednisolone).

In recent years, intratympanic cortico-steroid treatment by direct injection into the middle ear has gained wide popularity. One theoretical advantage of intratympanic treatment is an increased drug concentration in the targeted area, with reduced systemic steroid exposure and associated systemic adverse effects that may accompany oral steroids. "However, no adequately powered prospective randomized controlled trial has compared oral and intratympanic steroid treatments to demonstrate that increased local drug concentration leads to improved hearing outcome," the authors write.

Steven D. Rauch, MD, of Harvard Medical School and colleagues conducted a multicenter, randomized, noninferiority (outcome not worse than treatment compared to) trial comparing the efficacy of oral prednisone to intratympanic methylprednisolone for primary treatment of idiopathic hearing loss. Noninferiority was defined as less than a 10-dB difference in hearing outcome between treatments.

In the study involving 250 patients with unilateral ISSHL, the researchers found that improvement in puretone average (PTA) at 2 months in the intratympanic methylprednisolone group was not inferior to PTA improvement in the oral prednisone group. "In the oral prednisone group, PTA improved 30.7 dB compared with 28.7 dB in the intratympanic group. Puretone average at 2 months averaged 56.0 dB for the oral group and 57.6 dB for the intratympanic group. The point estimate of the difference between the oral and intratympanic groups in the [average] change in PTA from baseline to 2 months after randomization is 2.0 dB," the researchers write.

Further comparison of hearing recovery in the oral and intratympanic treatment groups also showed that the two treatments were comparable at 2 and 6 months. The frequency of hearing recovery to normal was 20.7%; to hearing aid range, 66.9% in the oral treatment group versus 24.8% and 62.0% in the intratympanic group, respectively.

"Overall, intratympanic methylprednisolone was shown to be not inferior to oral prednisone for treatment of idiopathic sudden sensorineural hearing loss. Noninferiority was also indicated for certain subgroups. Both oral and intratympanic treatments are safe but can cause unpleasant adverse effects. The comfort, cost, and convenience of oral prednisone are better than intratympanic treatment. Intratympanic treatment is a suitable alternative if there are medical contraindications to oral prednisone," the authors write.

The researchers add that there are a number of hearing loss treatment questions that remain unanswered by this study. "In future analyses, we hope to explore our data for possible predictors of treatment outcome. Although we observed similar efficacy of oral and intratympanic treatments overall, our subgroup analyses suggested that certain subgroups might achieve greater benefit from one treatment than the other."

Hearing companies positioned for $1.4 billion China and India markets. According to a new report by iData Research, Vancouver, British Columbia, the Chinese and Indian retail and wholesale markets for hearing devices is valued at over $1 billion and will almost double in value by 2017. It says that hearing device companies that focus on customer education will benefit most.

iData reports that improved distribution, hearing aid promotion, and education from brand-name manufacturers is driving adoption among the over 400 million hearing aid candidates in these countries, according to the report. "Hearing aid penetration among those with hearing loss in China and India is only 1%," says Douglas Fung, MD, analyst manager at iData. "Increased disposable incomes in these countries will drive these hearing aid markets to become two of the fastest growing in the world." He also noted that despite the growth, the penetration rate will progress only marginally by 2017 due to limited education among consumers and underdeveloped retail networks. "Companies that promote awareness will benefit the most from this lucrative industry," he said.

World's poor have largest burden in hearing problems. Recent United Nations World Health Organization (WHO) worldwide estimates indicate that, of the 642 million people estimated to have hearing loss, 208 million have moderate-to-severe hearing loss, and 70% live in developing countries. As a result of the current lack of hearing health care in these countries, only 1 of 40 people with hearing loss will ever have the opportunity to wear a hearing aid.

Claudio Bussandri, chairman of World Wide Hearing, which works with WHO, said in a press statement, "The problem is enormous. World Wide Hearing is working on a major breakthrough in the way hearing aids are fitted and delivered to the world's poor and underserved communities. We are on the right track to change the world of hearing."

The organization is reportedly in its advanced trial phase of an alternative hearing health service model called Hearing Express, which is designed to administer quality hearing health services to large volumes of individuals. These services are said to include affordable and rapid screening, diagnostics, and hearing aid services.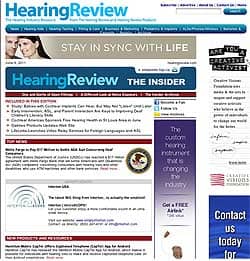 Get Your Weekly Edition of THE INSIDER
Every week The Hearing Review sends out THE INSIDER, a weekly FREE e-newsletter devoted to the top hearing-related news, research, product introductions, fitting topics, and marketing research stories that are influencing your business or practice, as well as the industry at large. [register]Sign up for your free subscription[/register].