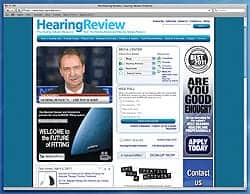 TOP NEWS and HEADLINES
Sonova Hit by Insider Trading Probe; Rihs, Chapero, and Walker Step Down
Blueprint Solutions and CounselEAR Announce Strategic Partnership
HearUSA Granted Temporary Restraining Order Against Siemens
ExSilent Releases Ytango Line, the World's First BTE with MaRiC
JAMA: One Third of CI Patients Missed in Newborn Hearing Screening
Taste Changes, Childhood Obesity, and Chronic Ear Inflammation
NIH Research Shows Light Can Activate Ear Cells
Sixth International Adult Aural Rehabilitation Conference: May 23-25
Unitron Launches "Favorite Sound" Social Media Initiative
SoundCure Receives $3 Million for Acoustic Therapy Tinnitus Treatment
Otometrics: Happy 30th Anniversary to ICS Balance Testing
Sonova rocked by insider trading probe; Rihs, Chapero, and Walker step down. An insider trading investigation at Sonova, Stäfa, Switzerland—parent group of Phonak, Unitron, InSound Medical, Advanced Bionics, and HearingPlanet—has prompted the resignations of three of the group's top executives. Chairman of the Board Andy Rihs has denied accusations of insider trading, but demoted himself to a lesser role on the board, while CEO Valentin Chapero and CFO Oliver Walker have resigned.

According to various financial news sources, Sonova is the subject of both internal and external investigations that concern sales of shares prior to an unexpected profit warning on March 16, which it attributed primarily to the November voluntary recall of the Advanced Bionics HiRes 90K cochlear implant (see December 9, 2010, edition of HR The Insider e-newsletter) as well as reduced hearing aid sales due to US regulatory uncertainties that have affected several hearing industry product introductions. In the profit warning, the company said it expected total sales of US$43-54 million less than its original business-year estimates, and confirmed a US$70 million decrease in sales for Advanced Bionics, prompting many financial analysts to downgrade their ratings.

Although it remains unclear exactly who and how many shares are involved in the insider-trader allegations, Sonova confirmed that, on March 8 (8 days prior to the profit warning), Rihs sold 300,000 shares. Rihs, who is well known as Phonak's founder and has been a prominent industry figure since the 1960s, told a Swiss financial news organization that, because board members meet only a few times each year and rely on executives to keep them informed of day-to-day progress, he was the victim of poor communication. He added that he had nothing to fear from regulators examining the transaction; an independent law firm investigating the matter found no evidence of wrongdoing. Rihs has since bought back the shares. However, other news reports suggest that the insider trading may have been more widespread, with warrants in the period immediately prior to the profit warning amounting to more than 20 times the value of such trades throughout February.

Whatever the case, Sonova acknowledged that it failed to follow its own rules about issuing a timely internal blackout period for trading in its shares and options prior to the profit warning. In a company statement, Rihs noted: "Even though the internal investigation concluded that I carried out my share transactions of 8 March in good faith, as chairman of the Board of Directors, I too am partly responsible for the shortcomings that happened. For that reason, I have decided in the interests of the company to step down as chairman of the Board of Directors." Rihs will remain a member of the Board.

Sonova announced that Chapero is being replaced on an interim basis by Alexander Zschokke, a member of Sonova's management board. Additionally, Paul Thompson, a former Phonak CFO, will replace Walker as interim-CFO, while Robert Spoerry, a director, will become chairman.

HearUSA Granted Temporary Restraining Order Against Siemens. HearUSA Inc, West Palm Beach, Fla, announced that, on March 29, the Appellate Division of the New York State Supreme Court granted a motion by HearUSA for a temporary restraining order against Siemens Hearing Instruments Inc, Piscataway, NJ.

According to a press release from HearUSA, Siemens is now enjoined from declaring HearUSA to be in default under the credit agreement, from engaging in self-help to collect under the credit agreement, and from making any efforts to seize assets or take control of HearUSA's business pending the May 2, 2011, hearing on HearUSA's motion for a preliminary injunction. The court ordered the temporary restraining order contingent upon HearUSA continuing to make all payments currently due under the credit agreement, except the disputed amount relating to the Canadian asset sale.

"The court's decision is a positive step toward resolution of our legal dispute with Siemens regarding an alleged prepayment obligation that we believe has already been satisfied," said HearUSA Chairman and CEO Stephen J. Hansbrough in the company statement. "We continue to be current in all payments due to Siemens and will continue to vigorously defend our rights to ensure that Siemens does not improperly foreclose on company assets."

The restraining order comes after a heated battle between the two companies that started with an SEC filing by Siemens over a dispute in payments owed to Siemens (see February HR Online). In the SEC filing, Siemens stated that it might acquire some or all of HearUSA, which could cause the stock to be delisted. Among several subsequent developments, Arcadia Capital Advisors, one of HearUSA's major shareholders, issued an open letter to shareholders on March 16 that urged its shareholders to stand against Siemens. The investment group, noting April 23, 2011, is the 10th anniversary of the two companies' business partnership, also said it hoped that the fissure between the two companies could be repaired.
AudiologyNOW! 2011 Sets Attendance Record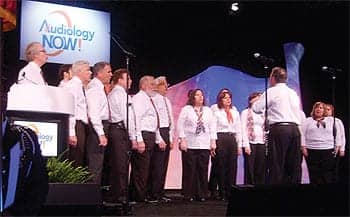 The AudiologyNOW! General Assembly was kicked off with the National Anthem sung by an audiologist choir organized by Robert DiSogra, AuD.
The American Academy of Audiology (AAA) AudiologyNOW! Convention at Chicago's McCormick Place drew a record 7,364 attendees through its second day, according to the organization, including over 800 students. The 4-day event held April 6-9 featured five "SuperTracks" on the themes of neuro-audiology, pediatrics, practice-related issues, vestibular treatment, and hot topics, including 48 feature sessions, 114 learning modules, 16 exhibitor courses, 38 industry updates, and nearly 200 poster presentations. The Audiology Solutions exhibit floor was comprised of more than 200 companies and organizations showing their latest offerings.
At the AAA General Assembly, AAA Convention Chair Richard Roberts, PhD, noted that the goals of the convention include a renewed sense of professional identity for attendees and the ability to return to your practice the following Monday with ideas that can be immediately implemented.
AAA President Patricia Kricos, PhD, highlighted many of the Academy's recent public awareness efforts, and noted a March 21 USA Today article by Anita Manning that, in general, provided a good overview of hearing loss and amplification, but ended by implying that professional services were superfluous and stating, "We really don't have evidence that higher-end hearing instruments are needed." The Academy and AAA President-elect Therese Walden, AuD, responded by getting USA Today and Manning to publish an April 4 article that addressed the effectiveness of audiological services. Dr Kricos also commended Sharon Sandridge for the development of AudiologyNOW! Discovery Zone, a consumer-oriented educational area featured annually at the convention.
Among the foremost objectives of Dr Kricos' presidency has been an initiative to "loop America" and increase awareness on the benefits and need for telecoils, hearing loops, and other assistive technologies (see David Myers, PhD, February 2010 HR article "Progress Toward the Looping of America—and Doubled Hearing Aid Functionality"). This has led to a collaborative project with the Hearing Loss Association of America (HLAA, formerly SHHH), that has created a host of informational materials including PowerPoint presentations, Fact Sheets, and the 2nd International Hearing Loop Conference, to be held in Washington, DC on June 18-20 in conjunction with the HLAA Annual Convention. Dr Kricos presented AAA President's Awards to HLAA Executive Director Brenda Battat, and hearing loop advocates Dr Myers, Juliette Sterkens, AuD, and Linda Remensnyder, AuD.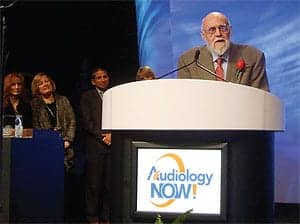 James Jerger, PhD, a founder of AAA, spoke on how the future of audiology is dependent on the organization's nascent leaders.
Included in the AAA General Assembly were presentations from the Academy's partners, known collectively as the "A4," in which AAA Past President and AAA Foundation board member Kristina English, PhD, described that organization's philanthropic activities; American Board of Audiology (ABA) Chair Tony Joseph, AuD, PhD, spoke on the two current specialty ABA Certifications for Cochlear Implants and Pediatric Audiology; Accreditation Commission for Audiology Education (ACAE) Board Chair Ian Windmill, PhD, addressed the value and need for academic programs to become ACAE accredited, and congratulated UNC Chapel Hill and Nova Southeastern on their recent completion of the accreditation process; and Student Academy of Audiology (SAA) President Ryan Bullock provided an update on SAA's 55 chapters and 1,500 members. Kricos presented Carmen Brewer with a President's Award for her work on the Future Leadership of Audiology (FLAC) program, which fosters leadership qualities in young practitioners, and it was announced that this program is now renamed the Jerger Future Leadership of Audiology (JFLAC) after AAA founder James Jerger.
The Academy honored four individuals for their outstanding contributions to the field during its Annual Awards Banquet: John Bamford, PhD, and William Keith, PhD, received the International Award in Hearing; Judy Dubno, PhD, received the Jerger Career Award for Research in Audiology; and Theresa Chisolm, PhD, was presented with the Distinguished Achievement Award.
The new AAA president-elect is Deborah Carlson, PhD. AudiologyNOW! 2012 will take place in Boston on March 28-31.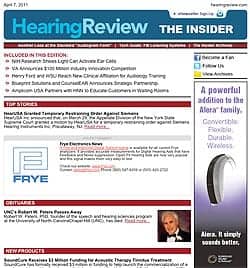 Get Your Weekly Edition of THE INSIDER
Every week The Hearing Review sends out THE INSIDER, a weekly FREE e-newsletter devoted to the top hearing-related news, research, product introductions, fitting topics, and marketing research stories that are influencing your business or practice, as well as the industry at large. [register]Sign up for your free subscription[/register].