Unitron Names Two Executive Appointments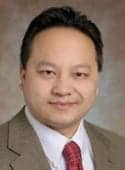 Chue Yang
Unitron, Plymouth, Minn, a subsidiary of the Sonova Group, has announced two new appointments in its Unitron US division.
Chue Yang has been named senior operations manager and will oversee the company's manufacturing operations. Additionally, Brian Taylor, AuD, is now the company's director of practice development and clinical affairs and will oversee the customer loyalty program.
Yang joined Unitron in 1994, starting as an operator in manufacturing. In 1999, he became a lead technician, followed by his promotion to manufacturing manager in 2002.
"In his 16 years with Unitron, Chue has been a leading force behind many improvements in our manufacturing processes and product quality," says Unitron US president and CEO Rodney Schutt. "Going forward, I'm confident he will play an even more pivotal role in meeting the needs of our customers and keeping Unitron at the forefront of our industry."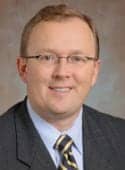 Brian Taylor, AuD
Taylor previously served as manager of professional services. In his new position, Taylor will manage Unitron's Unite Program, a customer loyalty program launched in July 2010. He will also direct the company's best practices and clinical research initiatives and be responsible for all Unitron initiatives related to key opinions, leadership, and clinical best practices.
Taylor stated in a press announcement that he was most enthusiastic about running the Unite Program. "Essentially, it gives our most loyal customers access to a broad spectrum of value-add services, offered by a dozen independent vendors. In these challenging times for hearing care providers, it's our goal to provide Unite members an extra advantage in every clinical and business facet of their practices."
Otonomy Names David A. Weber as New CEO
Clinical stage biopharmaceutical company, Otonomy Inc, San Diego, announced that David A. Weber, PhD, has joined the company as president, CEO, and member of the Board of Directors. He will take over the CEO position from Jay Lichter, PhD, who cofounded Otonomy and is also managing director of Avalon Ventures.
Founded in 2008 by Avalon Ventures, Otonomy is a clinical stage biopharmaceutical company developing novel drug therapies for disorders of the inner and middle ear. Otonomy's core technology is a sustained release formulation developed for optimal delivery of drugs from a single intratympanic (IT) injection.
The company reports that Lichter will continue to actively support the company as a member of the Board of Directors, and Lichter commented that Weber's "excellent credibility in the venture capital community and proven success in strategic partnering will be essential skills in leading Otonomy forward following our successful recent Series B financing."
Weber has reportedly spent more than 20 years in the life sciences field and, for the last decade, has led companies developing locally delivered therapeutics. Among his past positions is CEO of MacuSight, a venture-backed start-up focused on local treatments for ocular disorders. At MacuSight, Weber completed a strategic transaction that generated $50 million in upfront payments and advanced the development program through clinical studies in several areas.
Hip-hop Producer and Musician Will.i.am Admits He Suffers from Tinnitus
In an interview with the British tabloid newspaper, The Sun, hip-hop producer William Adams (aka "Will.i.am") of the famous rap group, The Black Eyed Peas, revealed that he suffers from tinnitus.
Will.i.am, 35, said in the interview, "I don't know what silence sounds like any more. Music is the only thing which eases my pain."
As a result, Will.i.am says that he works as much as he can so he can drown out the constant ringing in his ears. He said that his condition continues to worsen, but does not mention trying any specific therapies or treatments beyond continuing to work.
Will.i.am joins Pete Townsend of the rock band, The Who, as a famous musician with tinnitus. Townsend has reportedly been suffering with tinnitus for many years now, but the condition did not mean the end of his career. He performed most recently with The Who at the January 2010 Super Bowl half-time show.
According to The Sun, Will.i.am has sold 28 million albums with The Black Eyed Peas, as well as millions more from his work with Cheryl Cole, Rihanna, Usher, and other noted pop and rap musicians.
Oticon Medical Announces Two New Appointments in Research and Sales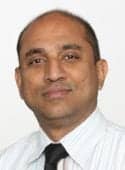 Ravi Sockalingam, PhD, FAAA, Aud(C)
Oticon Medical, Somerset, NJ, part of the William Demant Group, announced the appointment of Ravi Sockalingam, PhD, FAAA, Aud(C) as director of clinical research and professional relations and Luis Espinoza as director of sales, Latin America.
In his new position, Sockalingam will be responsible for setting strategic directions and managing research in bone conduction across North America and Europe. The company says Sockalingam will also be focusing on the dissemination of research findings from clinical and experimental research activities at key scientific meetings and conferences.
Sockalingam's background encompasses both teaching and research, including his tenure as a professor of audiology at the University of Queensland, Dalhousie University in Canada, Sichuan University—West China Medical School, and Canterbury University in New Zealand.
Sockalingam previously served as senior audiologist and manager of audiology communications at Oticon's Kongebakken headquarters.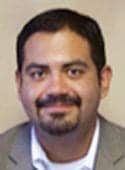 Luis Espinoza
Luis Espinoza is joining Oticon as director of sales for Latin America and will help launch the new Oticon Medical in that region. To accomplish this task, Espinoza will be utilizing his 12 years of experience in the Latin America medical device marketplace.
Specifically, Espinoza will be responsible for sales, marketing, and distribution management and the development of business plans and launch strategies.Previous to this appointment, Espinoza worked at another medical device company, developing an extensive network of physicians, hospitals, clinics, medical schools, and related health care institutions in Central and South America.
Sonic Innovations Appoints Joseph Lugara as New President
Last year, Otix Global, the parent company of Sonic Innovations, was acquired by the William Demant Holding (WDH) Group. As a result, 2011 will see a restructuring of the Sonic brand. The changes, which include a new president and headquarters, are designed to streamline and integrate the company with WDH and its considerable resources.
Joseph A. Lugara
Joseph A. Lugara was recently appointed president and COO of Sonic Innovations and, along with his management team, will oversee the strategic restructuring of the company. Lugara is a 25-year veteran of the hearing industry, most recently with WDH.
"For our customers, this will mean a more competitive and comprehensive product portfolio with advanced technologies and enhanced support and services," says Lugara. "Our goal is to create a sustainable brand that will enable us to grow our business to better meet the needs of our customers and the hearing impaired individuals they serve."
For more information and appointments at Sonic, see HR Online News.
Avada Hearing Center Executives Meet for 2011 Planning Summit
The Executive leaders of Avada Audiology and Hearing Care Centers, operating subsidiary of Louisville, Ky-based Hearing Healthcare Management Inc (HHM), met for a 2011 leadership meeting in early December. Detailed discussions took place throughout the 3-day meeting on the implementation of goals for 2011, including budgeting and action plans for each region.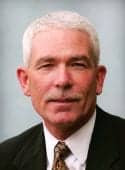 Steve W. Barlow
Founded, owned, and operated by hearing professionals, Avada has more than 280 hearing health care centers nationwide.
Some sessions were led by Steve W. Barlow, CEO of the company, who said in a post-meeting press release that the topics of the meeting centered on 2011 sales goals for the company. More specifically, the focus was to review the detailed budgets and action plans for each region in order to meet objectives for the coming year.
"At the end of the day, developing detailed budgets, reasonable goals, definitive action steps, and constant review and management of these items will lead to the success of our organization," said Barlow in the press statement.
The company also noted that all Avada members are invited to participate in these quarterly meetings and network with Avada's executives. In addition, members may also have educational opportunities for business development and making Avada centers more profitable.
Film Documents Deaf Man's Journey to Hearing
A deaf man takes a chance on a risky surgery in hopes of hearing for the first time in his life in the award-winning documentary From Silence to Sound from Brooklyn Girl Productions, which screened for a limited engagement recently at the American Film Market in Santa Monica, Calif.
From Silence to Sound documents the life-changing journey of Justin Garrett, a man profoundly deaf since birth, who undergoes bilateral cochlear implantation in Oklahoma in 2006. Prior to the surgery, Justin had less than 2% hearing in both ears. Today he has nearly 98% hearing delivered via his Nucleus cochlear implants made by Cochlear.
Director Chase Matthews follows Garrett as he prepares for, submits to, and recovers from the high-stakes surgery. The film has received numerous other high-profile awards, including:
Winner—

Best Inspirational Documentary (New York International Independent Film & Video Festival)

Winner—

Best North American Documentary (International Film Festival Egypt)

Winner—

Best Documentary USA (Everglades International Film Festival)

Nominee—

Best Documentary (Trail Dance Film Festival)

Nominee—

Best Documentary (International Film Festival South Africa)
The 48-minute film is now available on DVD through the From Silence to Sound Web site (www.fromsilencetosound.com), or as a video-on-demand rental or purchase at Amazon.com.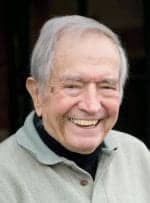 Jack Vernon
In Memoriam:
Jack A. Vernon, PhD
Co-founder of ATA and Tinnitus Researcher
Jack A. Vernon, PhD, the co-founder of the American Tinnitus Association (ATA), researcher, and patient advocate, died on November 11, 2010.
Vernon was a long-time tinnitus patient advocate and clinical researcher at Oregon Health & Science University in Portland, Ore. In 1971, he co-founded ATA with Charles Unice, MD, a California physician and tinnitus sufferer.
In forming ATA, their goal was to fund necessary tinnitus research and to ultimately find a cure. Although the latter goal has not been reached, Vernon's own research led to the creation of tinnitus "masking," the first clinical sound therapy for tinnitus.
Among his many achievements and milestones, Vernon was presented with the American Auditory Society's Lifetime Achievement Award in 2004 and awarded first place in Oticon's 2001 Focus on People Awards in the Practitioner Category for his work on behalf of tinnitus patients.
Beyond his research, Vernon worked tirelessly for the ATA to develop and fund further tinnitus research. With the ATA, he enlisted stars, such as Tony Randall, Ann Landers, Al Unser, and many more celebrities to do public service announcements.
Vernon was also known for his personal attention to patients. The ATA reports that, every Friday, Vernon opened his personal phone line to receive calls from tinnitus sufferers, listening and giving them hope that treatments were available. He retired from the ATA and his research at the age of 74.
For those who would like to honor the memory of Vernon's life and tinnitus research, the ATA is suggesting making a donation to its ATA donation page (www.ata.org/involved/donate_secure.php). Once there, enter "Research Fund" in the Type of Donation field. Under "Additional Information," one should indicate that the donation is to be in memory of Jack Vernon.
The ATA stated in its notice of Vernon's passing that 100% of all monies raised through these donations will be restricted exclusively for tinnitus research.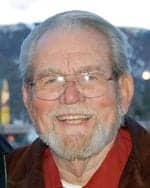 Ronald W. (Ron) Morgan, Sr
In Memoriam:
Ronald W. (Ron) Morgan, Sr
Founder of Westone
Westone, Colorado Springs, Colo, has announced that the company's founder, Ronald W. (Ron) Morgan, Sr, passed away on October 4, 2010, after a brief illness. He was 91.
In 1959, Morgan and his wife, Mickey, started Westone on the kitchen table of their home in Divide, Colo. According to the company, it is there that Morgan began experimenting with finding a way to create better fitting custom-fit earpieces for the hearing instruments he sold as a Beltone representative.
The family and the business eventually moved to Colorado Springs in 1962, and it is there that Morgan's five sons started working for Westone after school and during the summers.
Westone began to expand during the 1970s and 1980s, increasing its production capacity with satellite labs and adding additional clinical supplies and materials. In 1986, after having spent almost 30 years building Westone from scratch into a well-established brand in the hearing health care industry, Morgan, Sr retired.
The company says that Morgan's business philosophy for the company was derived from "The Golden Rule"—that one should treat others as one would like others to treat oneself.
The company statement added, "He was not only an adherent of this principle in all that he did as a businessman, but in his personal life, as well. He treated his business associates and employees with respect and admiration and was, in turn, respected and greatly admired by all."
Morgan is survived by his wife Mickey, brother Lewis Morgan and his sons Rusty, Rick, Rod, and Robin.