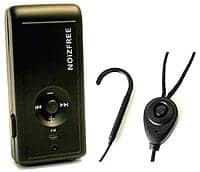 Bluetooth Headset for Hands-Free Listening
Oaktree Products Inc, St Louis, offers the new NoiZfree Beetle H-3ST stereo Bluetooth headset, which enables wireless, hands-free listening of cell phone conversations, stereo music from audio devices, and FM radio stations. The unit features speech clarity, crisp music listening, and FM radio reception. It has a built-in scanner for FM radio and volume control to amplify incoming speech and sound from Bluetooth-enabled devices. Two listening options are included for telecoil-equipped hearing aid wearers, a neckloop, and silhouette. The XTRA-3 version is available with dual earbuds for non-hearing instrument wearers.
(800) 347-1960
www.oaktreeproducts.com
---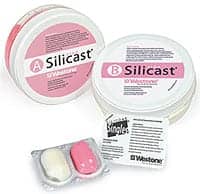 Reformulated Impression Materials
After years of research and testing, Westone, Colorado Springs, Colo, has released reformulated Silicone Singles and Pink Silicast impression materials. During the development process, the company evaluated mix time, flow rate, cure time, and the release agent. The end result is user-friendly, dimensionally accurate, and stable impression material. It is available in Silicone Singles packaging or Pink Silicast tubs.
(800) 525-5071
www.westone.com
---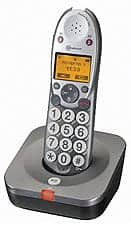 Versatile Amplified Phones
The PowerTel 500 from Amplicom USA, Wantagh, NY, is suitable for consumers with varying degrees of hearing loss and the aging population in general. The series of corded and cordless amplified phones and related products, which offer noise and interference reduction for clear communication, are compatible with hearing aids and cochlear implants. The phones feature yourSOUND multiple hearing profiles, and DECT 6.0 technology. Each phone features a big button, a high-contrast keypad, a bright LED display, and an extraloud visual ringer. Accessories designed for those with hearing loss include analog and digital alarm clocks with extra-loud alarms and wireless vibrating pads.
(516) 783-7171
www.amplicomusa.com
---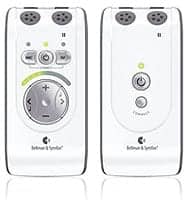 Wireless Personal Hearing System
Domino Classic, from Bellman & Symfon, Vastra Frolunda, Sweden, is a personal hearing system that uses state-of-the-art DSP and wireless broadband technology to isolate speech, while removing disturbing background noise. People who wear a hearing aid and those who experience occasional hearing difficulty may find the system helps them hear better in everyday situations. Features can be accessed with a single push of a button, eliminating complicated menus. A 2-year worldwide warranty is provided, as are a travel case, earphone or neckloop, and USB-charger kit. In the United States, Bellman & Symfon products are available through Harris Communications, Sound Clarity, and other distributors.
---
LED Replacement Lamps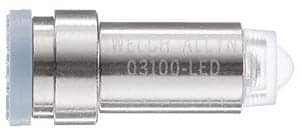 Welch Allyn, Skaneateles Falls, NY, introduces light-emitting diode (LED) replacement lamps for its most popular otoscopes and ophthalmoscopes. The replacement lamps are tested to 30 times longer life than traditional halogen lamps and enable three times the examination time per single charge when used with Welch Allyn rechargeable handles. The efficiency of LED lamps results in lower temperature output, which may increase comfort for the patient and the caregiver. LED lamps are available as simple upgrade kits, providing a lamp, lamp removal tool, and step-by-step instructions for replacement in a matter of seconds.
(800) 535-6663
www.welchallyn.com
---
Audio Processor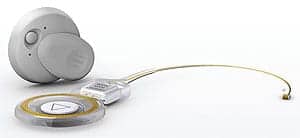 MED-EL Corp, Durham, NC, has received FDA approval for the Amadé audio processor for use with the Vibrant Soundbridge Middle Ear Implant System. The Soundbridge is designed to treat people with moderate to severe sensorineural hearing loss. The Amadé can be used by new and existing Soundbridge users. The Amadé is designed to help distinguish between speech and background noise, allowing users to enjoy communication in a range of situations. It features multiple programs, wind noise reduction, sound smoothing, a new housing design and color options, and more.
(888) 633-3524
www.medel.com