New Series of RICs and BTEs Offered

Panasonic, Secaucus, NJ, introduces an open-fit hearing aid option for mild to moderately severe hearing loss. The contemporary, waveform design of the RIC is small and stylish, and it can be worn discreetly behind the ear. Both the 2-Series BTE and 4-Series RIC use Pansasonic's Dual Focus technology that integrates noise reduction and directivity control. The focus is on voice communication in front to produce comfortable hearing conditions and improve speech recognition in places where there is a lot of ambient noise.
(888) 422-6309
www.panasonic.com
---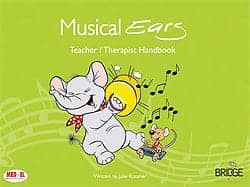 Musical Resources for Working with Children with CIs
MED-EL Corp, Durham, NC, introduces two new resources for teachers, therapists, and parents of children with cochlear implants (CIs): The Musical Ears instrument and CD set, and the Music and Young Children with CIs guide. Musical Ears, a music therapy program for professionals working with young children, consists of a set of child-friendly musical instruments and a CD, which includes a series of PowerPoint presentations. Music and Young Children with CIs is a companion piece for parents. The guide covers activities parents can use to strengthen their child's musicality.
(888) 633-3524
www.medel.at/US
---
Mobile Captioned Phone Solution for BlackBerry
Hamilton CapTel, a service of Hamilton Relay, which is a division of Hamilton Telecommunications, Aurora, Neb, introduces Hamilton Mobile CapTel, their mobile captioned telephone solution for use with the BlackBerry browser. It is available on the BlackBerry Bold and BlackBerry Storm2. Hearing-impaired individuals can place and receive captioned telephone calls directly from the convenience of their BlackBerry smartphone anytime, anywhere. Users must have a BlackBerry-compatible headset to place and receive the mobile captioned telephone calls, and can listen to what is said while simultaneously reading captions of what is said on the smartphone's screen.
(877) 455-4227
www.HamiltonCapTel.com
---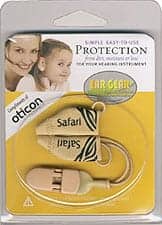 Accessory for Pediatrics Hearing Aid Kits
Oticon Pediatrics, Somerset, NJ, will include Ear Gear Mini Curved Corded in beige from Ear Gear, British Columbia, Canada, in all of its pediatric kits from birth to 18 years of age. The product has been specially created for Oticon and includes a Safari graphic imprinted on the sleeve. It features a lightweight plastic clip. The Ear Gear/Oticon Safari Mini Curved includes full-color instructions specifically created for installation and use of this model by Oticon's clients.
(888) 766-1838
www.gearforears.com
---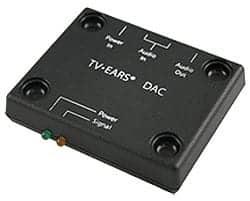 Digital to Audio Converter Accessory
TV Ears, San Diego, introduces its digital to analog converter (DAC) for consumers. The product's introduction is in direct response to the increasing trend by many electronic manufacturers to reduce the amount of analog audio ports on many TV models. The DAC stacks neatly underneath any TV Ears transmitter, and converts the digital audio signal from a TV, cable/satellite box, or DVD player to an analog audio signal.
(888) 883-3277
www.tvears.com
---
Dual Alarm Clock Radio for iPhone/iPod with Pillow Shaker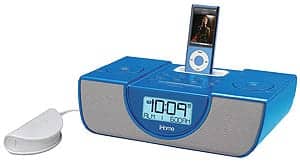 The iHome iP43 from SDI Technologies Inc, Rahway, NJ, offers two independent alarms that can be set separately to wake users to iPhone, iPod, custom playlist, FM radio, or pillow shaker on weekdays, weekends, or every day. The pillow shaker vibrates under the pillow to wake deep or hearing-impaired sleepers. The built-in snooze button on the pillow shaker lets users sleep in from 1 to 29 minutes. The clock features universal dock charges and plays iPhone and docking iPod models. A time sync button instantly sets the clock to always-current iPhone time.
(732) 956-9328
www.sditechnologies.com